It's so crowded. Understandably it's a long holiday. It didn't take for long to me to feel the effect. It's a little bit uncomfortable for being unable to fully control my walking speed. Too many people in front. Instead of chasing our porters, Hasan and Udin, I have even more left behind. Their speed is no match for me whereas they only wear flip-flop with a pair of twenty kilos basket in their shoulder for each person. Mean while Sari, Sisil, Fanani, Ferhat had their selfie time behind and Apoy already up in front. Fortunately, I was fascinated by the beautiful scenery along the way. Rinjani is so pretty. An exotic view outspread along the hiking trail from Sembalun. A vast grassland stretched decorated with a few numbers of stand alone tree. I wish they can talk maybe those trees will mourn lonely. The nature also shows it's carving art in form of fractures, faults, cliffs, water stream, and sort of vertical holes which makes it more astonishing. At the top end there the crown lies with all its glory, the peak of 3726 ASL of Rinjani. Sometimes we spent so much time when taking a break just to realize how majestic it is. We're mesmerized.

For the nature lovers Rinjani is like a magnet. But sometimes we're stunned to realize how crowded the Rinjani that time, as we're not hiking a mountain but visiting a picnic spot. What we saw when lunch break in Shelter 2 Sembalun for the example. So many climbers, or tourist exactly. Some were even a family group complete with their young children with unusual service that we never saw before when hiking a mountain. Folding chair, mat, and food served with a five-star hotel style. Ofcourse the porters provide it all. Just like a garden party. But we did this anomaly too although not entirely the same. It was my first mountain hiking with porters. These porters have been trained to provide a full service. Besides carrying goods they also cook, look for water, set up the tents and so on. The porter will meet all requests. Usually we do all those things. How weird.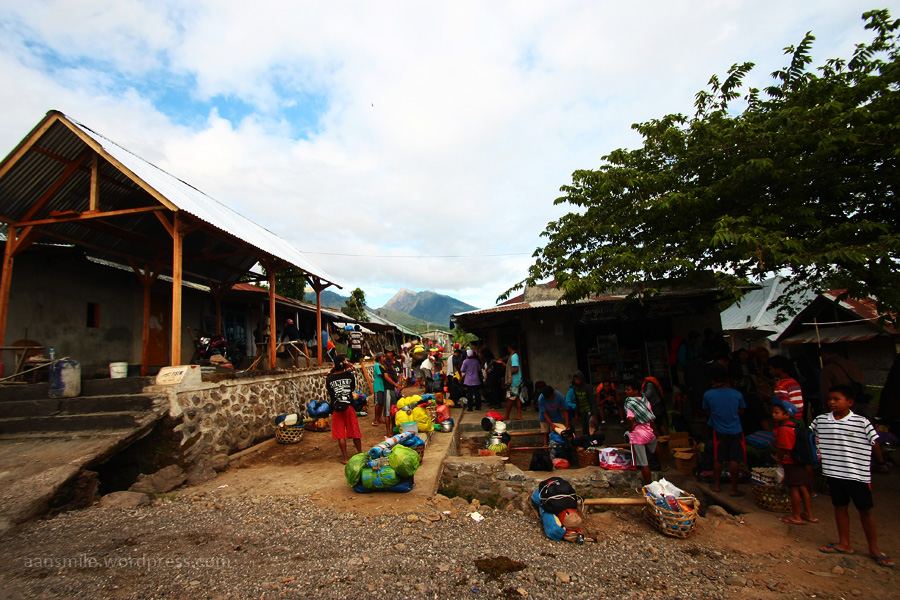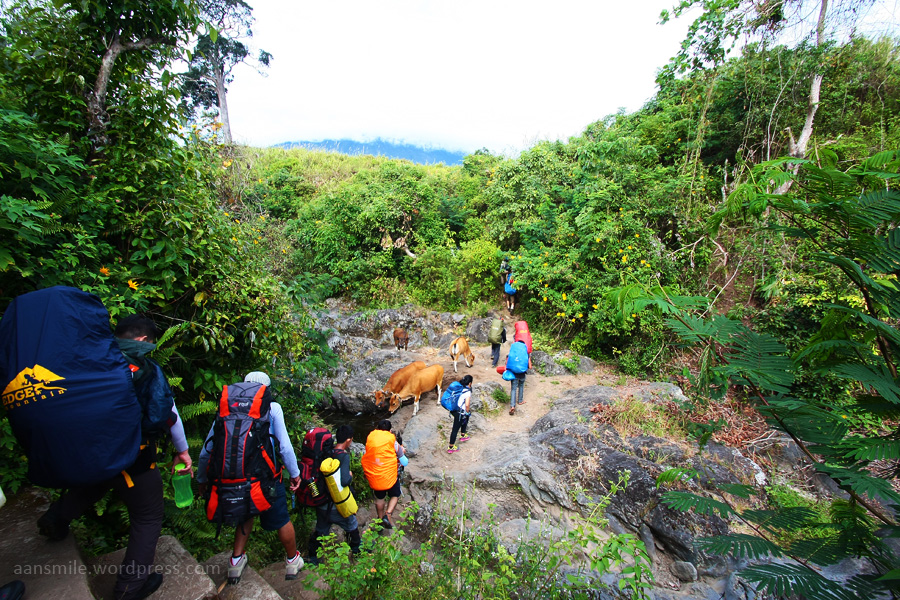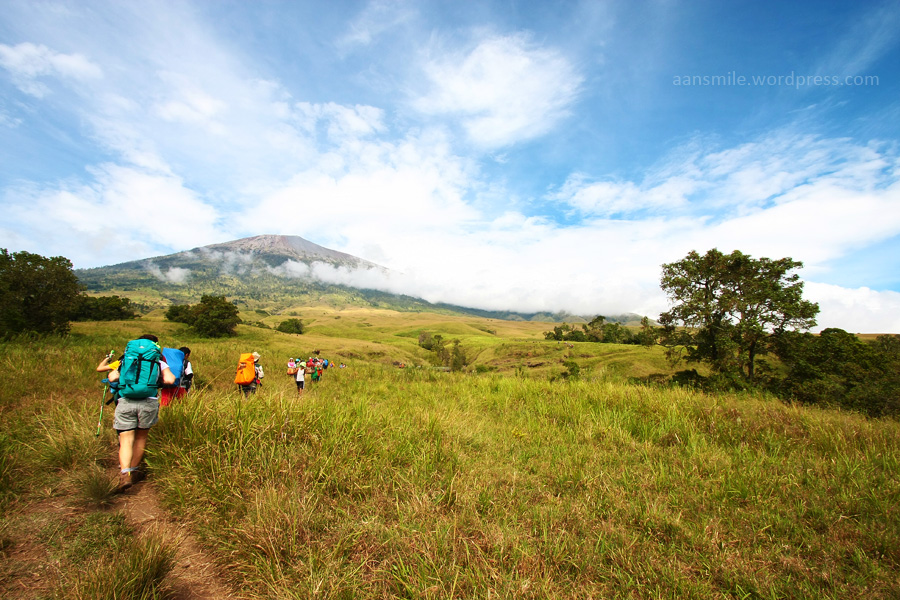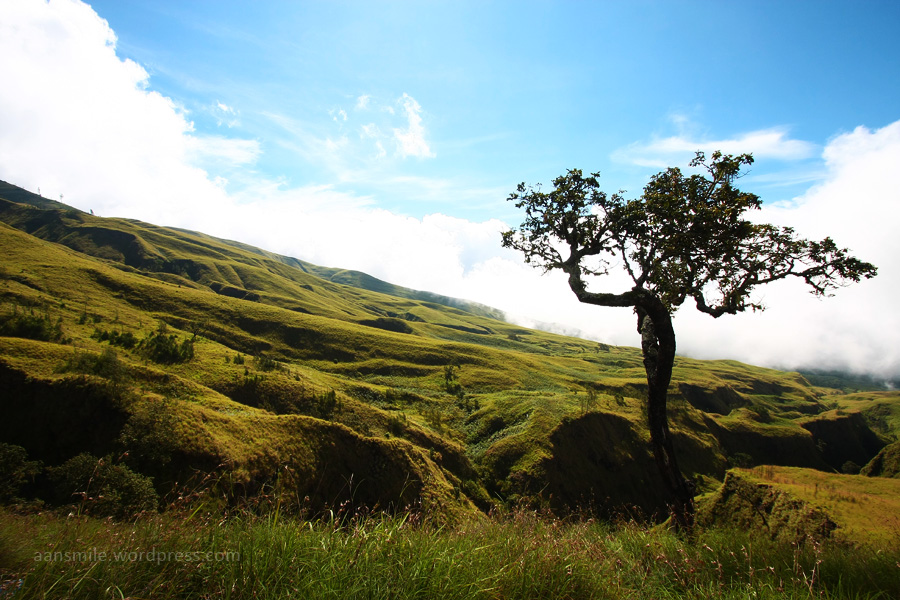 Five afternoon we arrived at Shelter 3 Sembalun and decided to spend the night. The next morning we continued our journey to Plawangan Sembalun, the last stop before the peak. Our rute is so famous, the Hill of Regret. A six hours of walking on uphill without any flat route. Hasan and Udin already far ahead, perhaps even being cooked for our lunch at the pitstop location. Yeah, we're not so wrong.
Once again I was stunned. How dirty this place. We opened the tent at the top side of Plawangan Sembalun right next to a brink which seemed converted to a landfill. I heard a totally different story from a friend who came here three years ago. I got an information from some porters and other visitors that once there was a NGO that manages waste at Rinjani. They pay the garbage carried by porters to help maintain Rinjani keep clean. Even this NGO provides training for porters to cook and speak English, at least that's what I heard. Understandably many foreign tourists come here. Things got changed a years later when the NGO was no longer in operation. Rinjani became dirty. I heard that their contract expire and the local government have no interest to extend. Dewi Anjani, the name of the legendary character which the mountain got its name, must have been crying now. The human falls to just enjoy the beauty but forget to keep. I prayed that not be a part of that kind of human.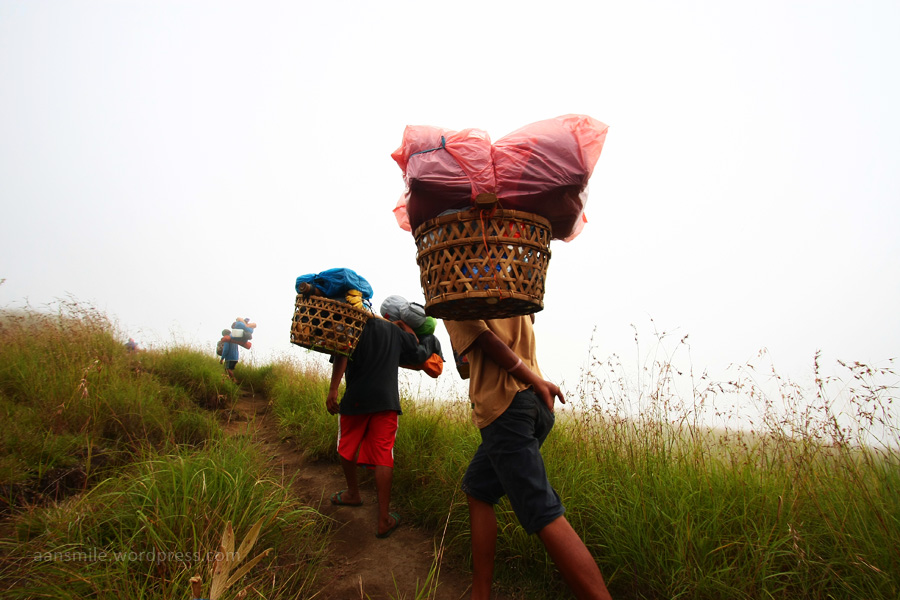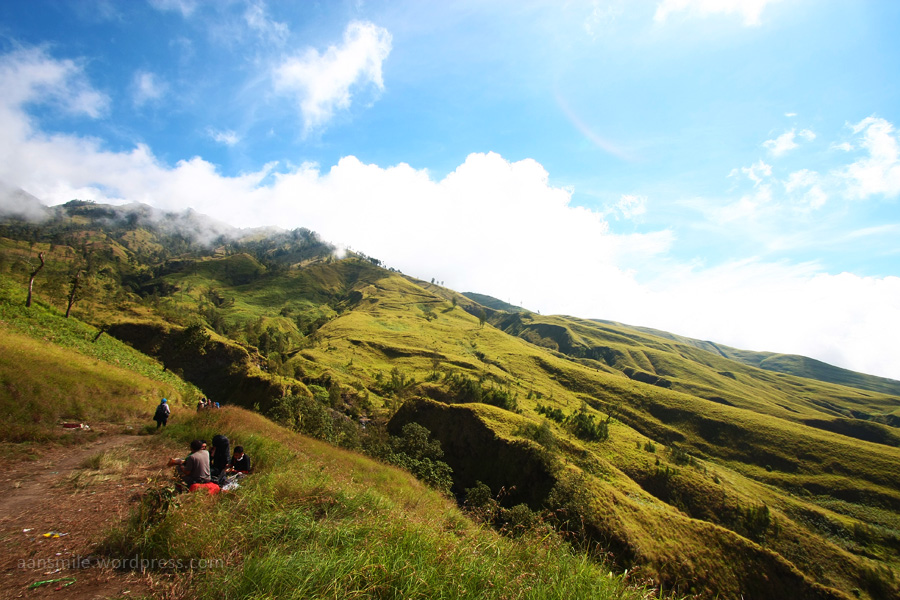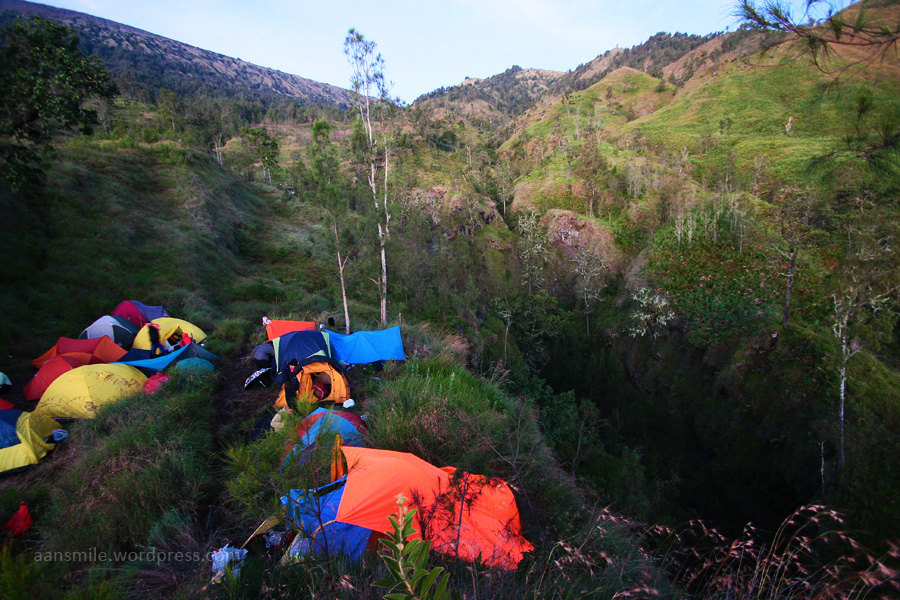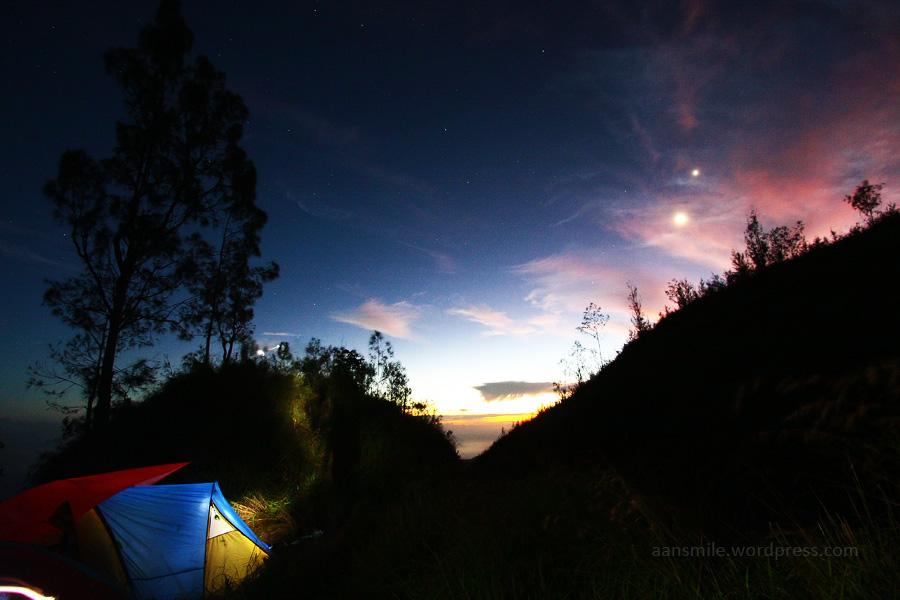 The night wind was so strong and forced us to wake. At twelve midnight we started to walk to the summit. The sky is full of stars and I'm so excited. Some say someone's real personality will seen when he go to mountain. Not take for long to us to saw it. It's only an hour when we saw two climbers arguing each other. Hard route and strong wind seemed to have made one of them desperate, though its not half way yet. He beg to his friend to return. Desperation is like a virus, it spread out. In the end one of them sounded so upset and bane his friend and himself.
The journey's getting tough. More gravel and the uphill were even getting hard. But not as hard as Mahameru peak in Mount Semeru. The climbers forced to crawl there. We're still able to walk upright but the biggest enemy was about to start it's raid, the wind. Gosh..!! I've never been hitted by wind like this, so strong and continously striking for long. For several times I had to take a rest. I sat down and hugged my own leg to keep out the cold. It's like I couldn't feel my own face and palms. The only way is to keep moving so the body remain generating heat. I don't know where're my other friends anymore. A test for physical and mental. What a moment.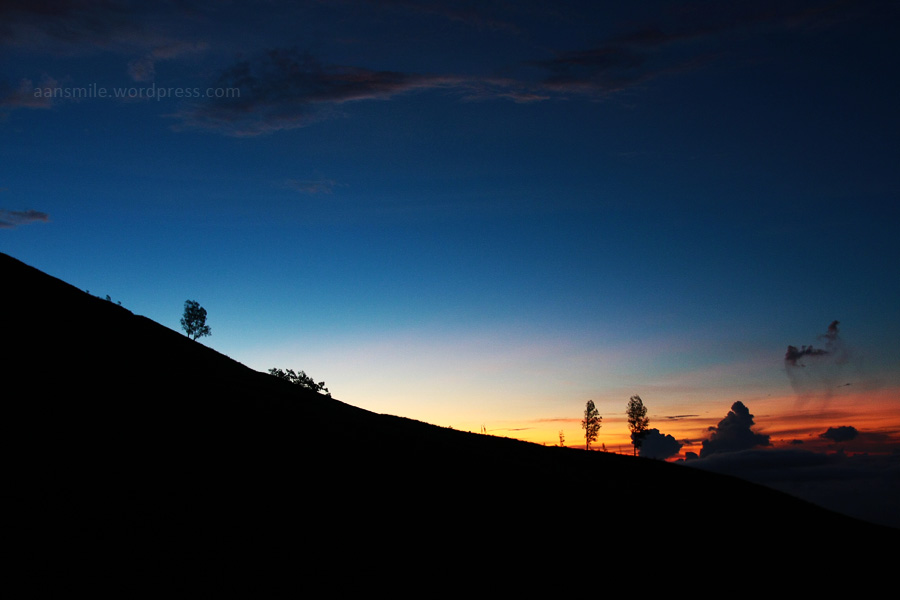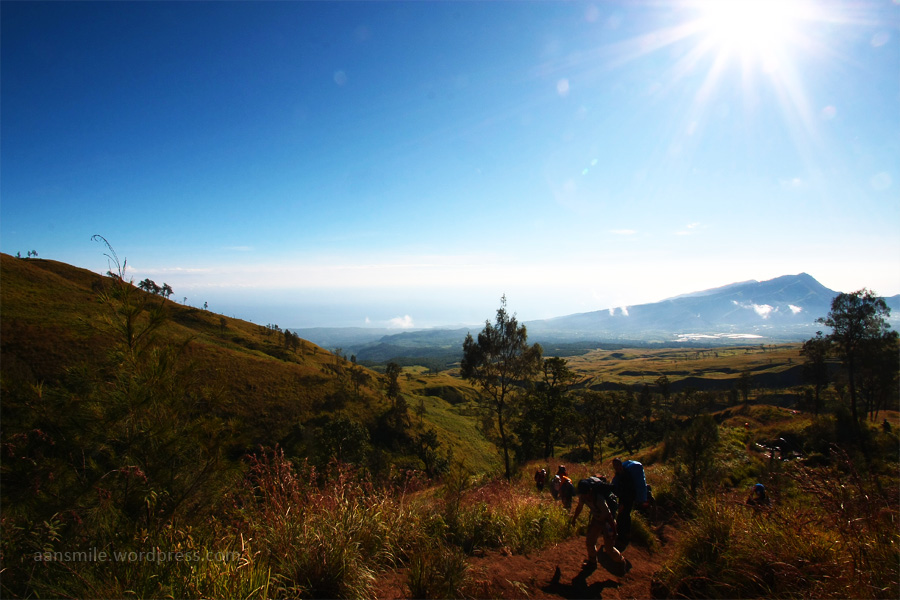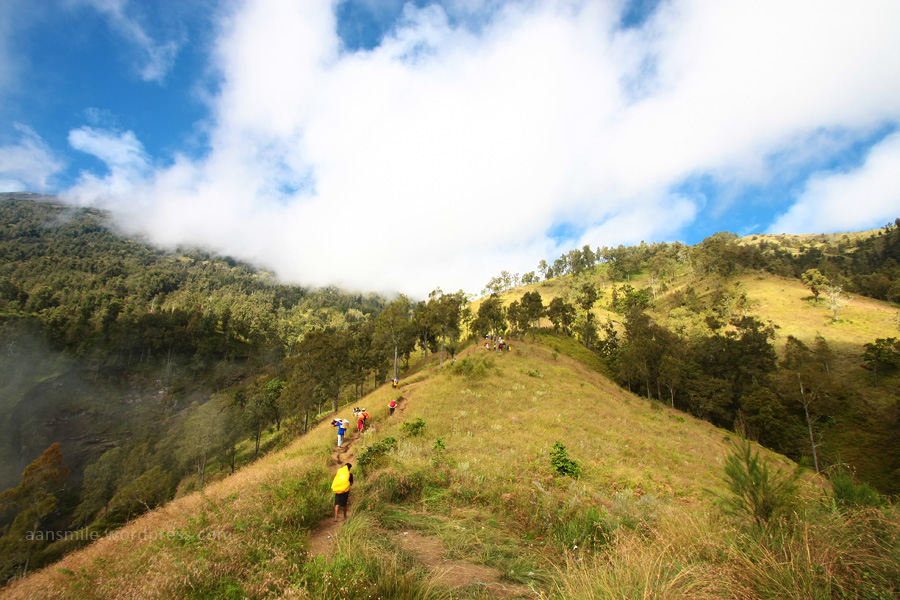 It's six in morning, finally the journey meet the end. The peak of 3726 ASL land area is only about a futsal field and it's so cramped of visitors. Praises of amazement uttered spontaneously when the sun began to greet. The dark blue sky seemed to splitted by yellow tinge of sunlight. A classic moment made by The Creator through the sky. If God is an artist, then It must be the greatest artist since It inspires all artist in the world at all times. Two hours later I went down from the peak. A breathtaking scenery along the way down feast the eyes. The lake Segara Anak lie down on the left side with mount Barujari at the edges. Yes, it's mountain inside a mountain. Finally we arrived after four hours trip. Having a rest and lunch, we continued the journey to Segara Anak for another five hours.
The next thing I really want to do is having a hot bath. We could't agree for more when Hasan offered his hands to guide us to the hot spring near the lake. It's so dark but I knew there were a lot of people there. Then I take off my clothes immidately and soak my body into a small pool of hot water. I stuck out my head into a hot shower. Gosh, so cozy. It feels like all of my fatigue has gone. The next best thing is having a dinner then got a sleep.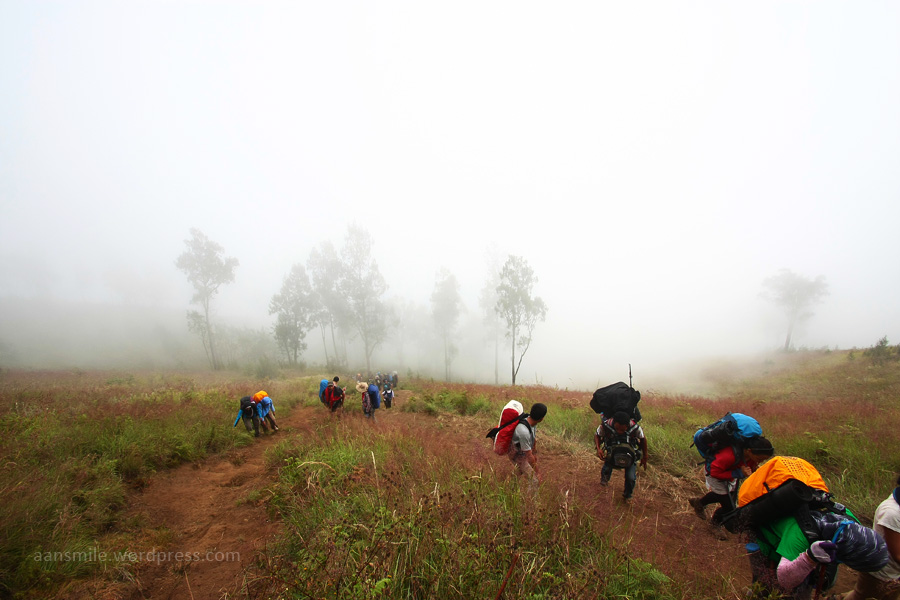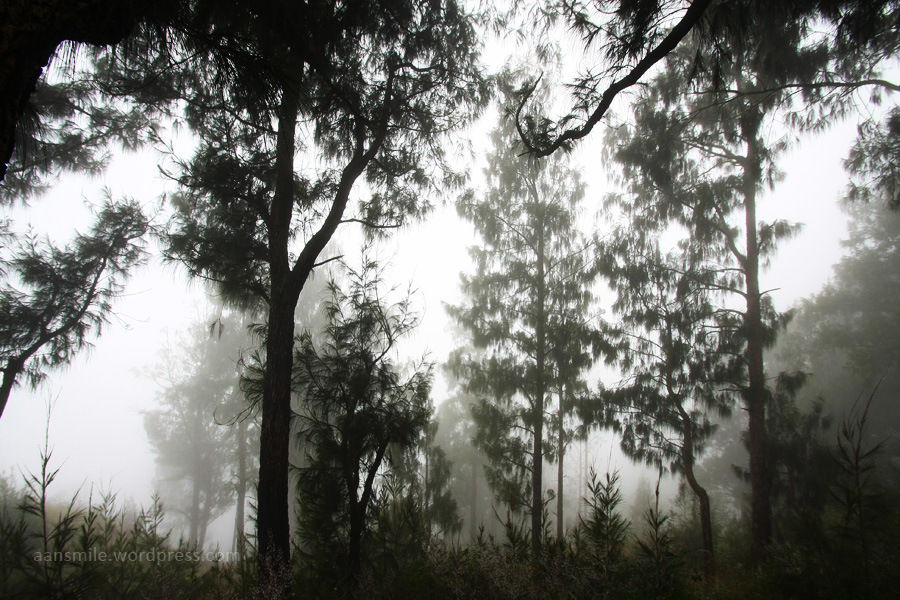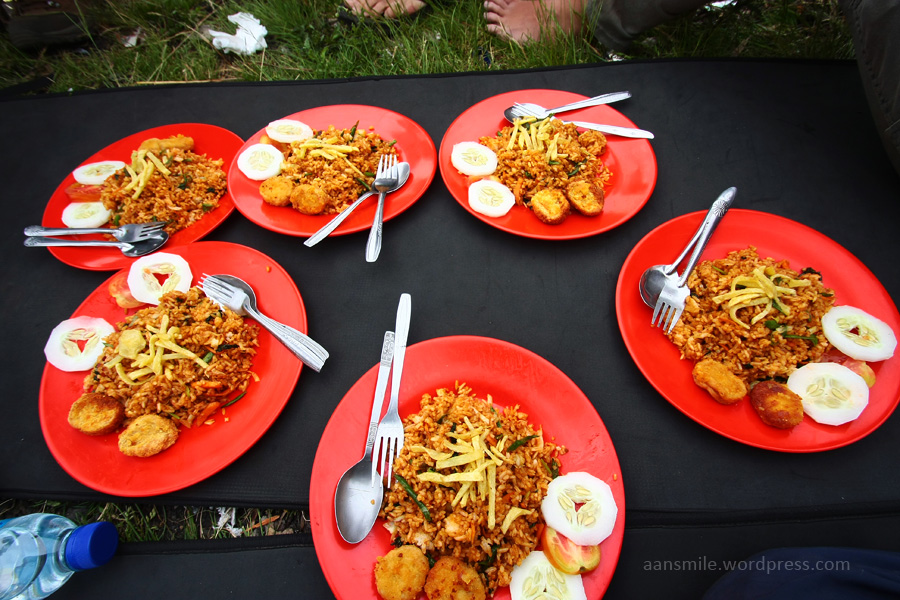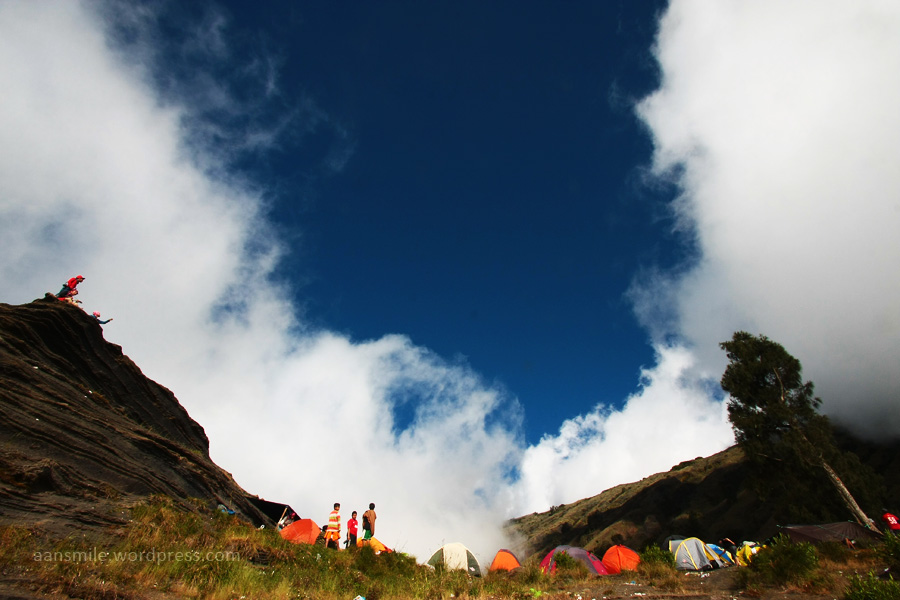 It's so hard to leave, I still feel tired and I don't have so many chance to savor this beautiful places. The going home journey began at ten. While Hasan in front, Udin which carries most of our logistics has no longer in sight. The route from Segara Anak to Plawangan Senaru seemed to be a relentless uphill. Sometimes we had to climb up the slippery rocks. We just reached a third way but we're already running out of water. After nearly four hours finally we met Hasan waiting for us at the top of Plawangan Senaru. Unfortunately he also running out of water. Not a good news. Our hope lies in the water source which located in Shelter 3 Senaru.
We race in hunger against the time to get up in Senaru before dusk. Overnight is not an option since the tent was also carried by Udin which possibly has arrived at Senaru. Along the way we beg kindness from anyone we met to give us some water. Steepy rock and slippery sand tortured our feet. I got a cut in my two toes under the nail. Fanani and Sari fell twice while countless for Sisil. But my salute for her. Although phisically small but she didn't complain a lot. Apoy has some distance behind me. It looks like his legs were very tired so he walked backwards through slippery sand track. He's great on uphill but a little bit slow on downhill. Ferhat just the opposite. He's already far ahead, probably waiting for us in the next post.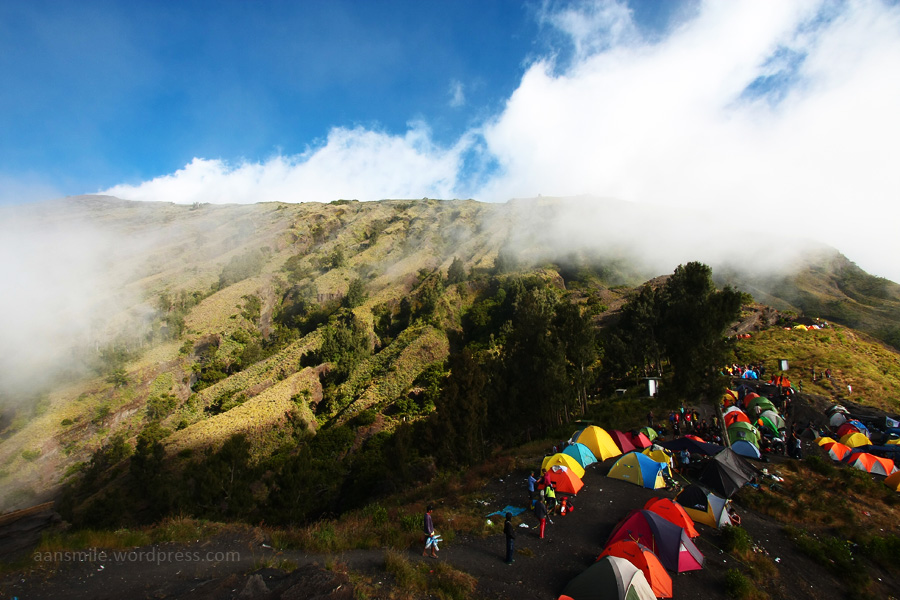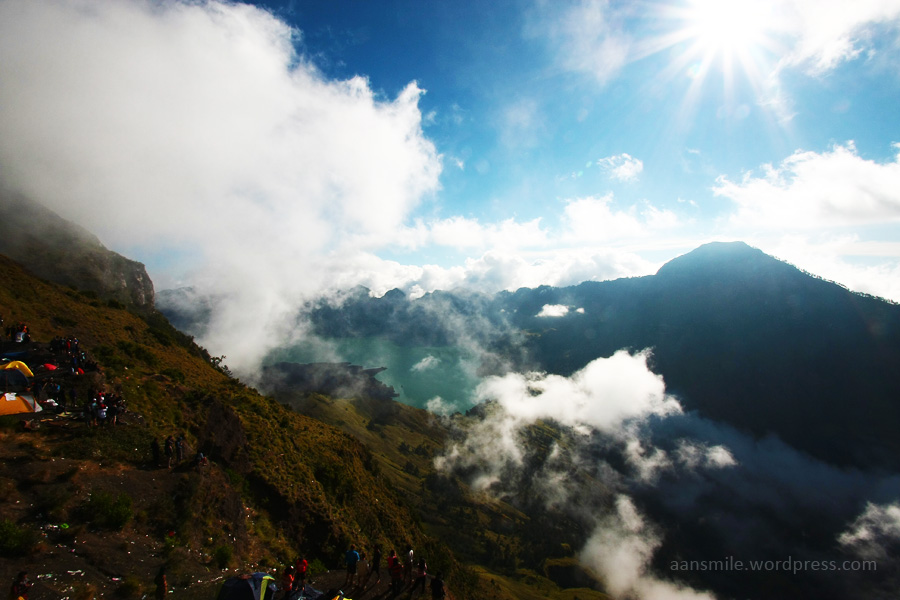 Bad news. The water source in Shelter 3 Senaru is empty. We're getting frustated. The only hope now is to walk as faster as we can down to Shelter 2. There's a water fountain down there which is more promising. At six when the sky leaving only it's dim light we arrived in the Shelter 2 which is located in the middle of the forest. Ferhat was already waiting us here. As soon as refilling the water supply, we went back on our way home. Our time is running out. We walked so fast and almost no break. Too long in a jungle with lack of logistics supply is a bad option. But after five hours walking on limping leg finally we arrived at the entrance of Senaru. Thank God, all of this suffering meets the end. A suffering because we're lulled by all of easines that makes us rely too much on others. This journey has give me a lesson. Nature is the best place to learn. It's beauty give us a joy and pleasure however the fierceness teach us to always independent, keep alert, stay humble, not give up, and protect things aorund us. Because in the end, what we do will come back to us.
***
Dugaan saya benar. Ramai sekali, mirip pasar. Yah, maklum liburan panjang. Tak butuh waktu lama untuk merasakan efeknya. Saya kurang nyaman karena tidak bisa mengontrol kecepatan berjalan sesuai keinginan. Terlalu banyak orang di depan. Niat hati ingin mengejar Pak Hasan dan Pak Udin, porter kami. Tapi saya malah makin tertinggal. Kecepatan mereka bukan tandingan kami, padahal mereka hanya bermodal sandal jepit dengan sepasang keranjang dua puluh kilogram di bahunya. Sementara itu Sari, Sisil, Fanani, Ferhat asyik ber-selfie di belakang dan Apoy sudah sampai di tanjakan depan. Untungnya saya terhibur dengan pemandangan indah sepanjang jalan. Rinjani sungguh cantik. Sepanjang jalur pendakian dari Sembalun memang eksotis. Padang rumput luas nan hijau kekuningan terhampar seperti permadani berhiaskan pohon yang tampak sesekali sendirian. Jika ia dapat berbicara mungkin pohon-pohon itu akan meratap kesepian. Sang alam juga menunjukkan seni memahatnya berupa rekahan dan patahan membentuk tebing, aliran air dan semacam lubang vertikal yang membuatnya makin jelita. Di ujung atas sana sang mahkota bertahta dengan segala kemegahannya, puncak Rinjani 3726 mdpl. Kadang kami membuang waktu begitu lama saat beristirahat hanya untuk menyadari betapa indahnya pemandangan. Kami terlena.
Layaknya magnet, Rinjani telah menarik siapapun pecinta keindahan. Namun kadang kami harus menggelengkan kepala menyadari ramainya Rinjani waktu itu. Seolah kami bukan mengunjungi gunung melainkan tempat piknik. Seperti yang kami lihat ketika istirahat makan siang di Pos 2 Sembalun. Begitu banyak pendaki atau turis lebih tepatnya. Beberapa bahkan adalah rombongan keluarga yang lengkap mengajak anaknya yang masih kecil dengan pelayanan yang tak biasa kami lihat ketika mendaki gunung sebelumnya. Kursi lipat, alas tikar, makanan yang dihidangkan dengan tampilan ala hotel berbintang. Tentu saja para porter lah yang menyediakannya. Macam pesta kebun saja. Tapi yang kami lakukan sendiri juga ikut menyumbang keanehan ini walaupun tidak sepenuhnya sama. Inilah pertama kalinya bagi saya naik gunung dengan menyewa porter. Para porter disini sudah dilatih untuk menyediakan jasa full service. Tak hanya membawakan barang tapi mereka juga memasak, mencari air, mendirikan tenda dan yang lainnya. Apapun yang diminta, para porter itu siap melaksanakan. Aneh rasanya karena biasanya kami sendiri yang melakukan semua hal itu.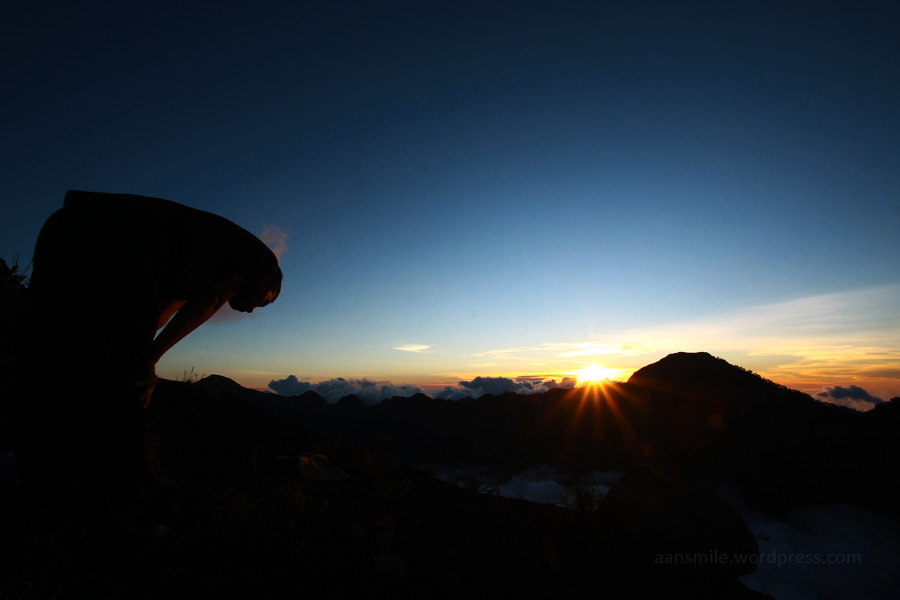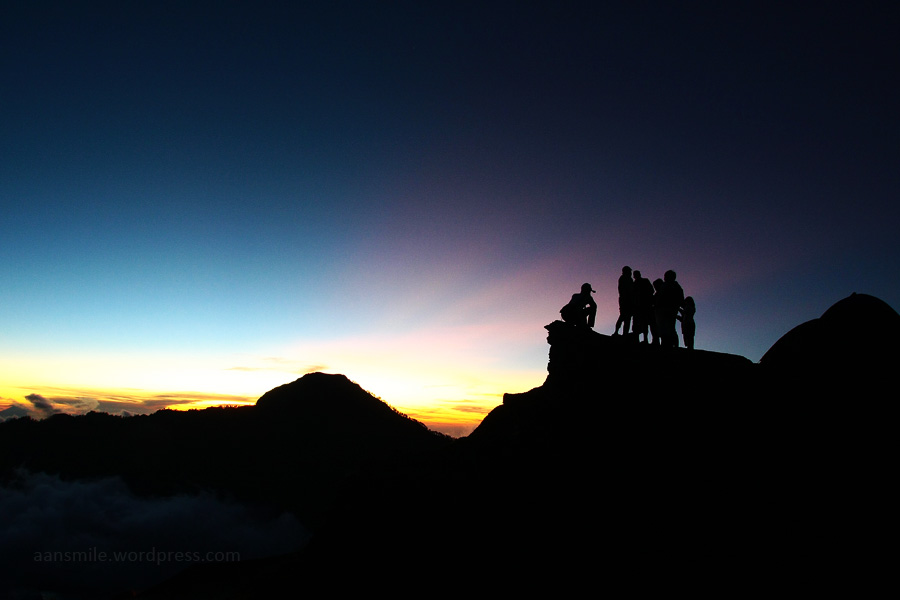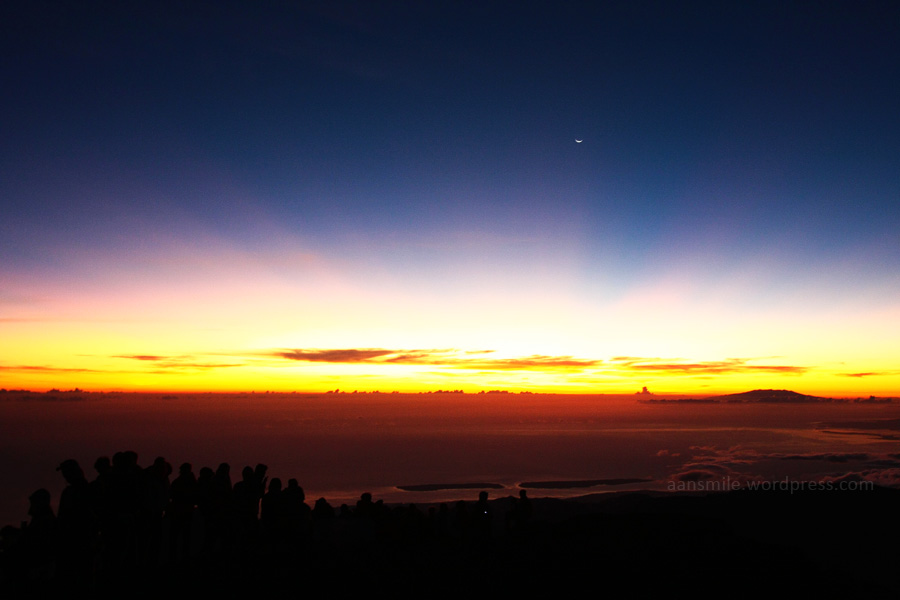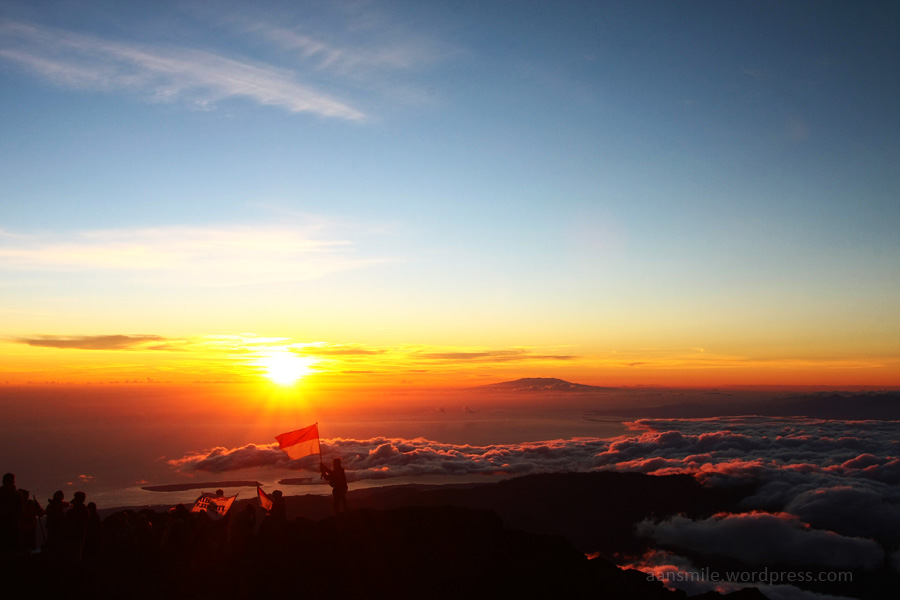 Jam lima sore kami tiba di Pos 3 Sembalun dan memutuskan untuk bermalam. Esok harinya kami melanjutkan perjalanan menuju Plawangan Sembalun, pos terakhir sebelum ke puncak. Rute yang kami lalui kali ini begitu terkenal, Bukit Penyesalan. Kaki ini dipaksa bekerja keras melalui rute tanjakan nyaris selama enam jam berturut-turut tanpa ada bonus jalan landai. Pak Hasan dan Pak Udin sudah jauh di depan, bahkan mungkin sudah memasak makan siang untuk kami di lokasi buka tenda. Dugaan kami tepat.
Sekali lagi saya terperangah. Betapa kotornya tempat ini. Kami buka tenda di Plawangan Sembalun bagian atas. Di samping kami terdapat sebuah jurang yang seolah beralih fungsi menjadi tempat pembuangan sampah. Apa yang saya lihat bertolak belakang dengan cerita salah seorang teman yang mendaki Rinjani tiga tahun lalu. Saya mendapat informasi dari beberapa porter dan pengunjung lain bahwa dulu ada sebuah LSM yang mengelola sampah di Rinjani. Mereka membayar sampah yang dibawa oleh porter ketika turun untuk merangsang pengunjung dan porter menjaga kebersihan. Bahkan LSM inilah yang (katanya) memberikan pelatihan kepada para porter untuk memasak dan berbahasa inggris. Maklum banyak turis asing yang berkunjung kemari. Keadaan mulai berubah sekitar satu tahun yang kemudian ketika LSM tersebut tak lagi beroperasi. Rinjani mulai kotor. Dengar-dengar kontrak mereka habis dan tidak diperpanjang lagi oleh pemerintah daerah setempat. Dewi Anjani, nama tokoh legenda yang diambil namanya menjadi nama gunung ini, pasti sedang menangis sekarang. Kecantikannya ternoda oleh manusia. Terlena hanya sekedar menikmati kecantikannya namun terlupa untuk menjaganya. Terucap doa semoga saya bukan menjadi bagian dari manusia-manusia itu.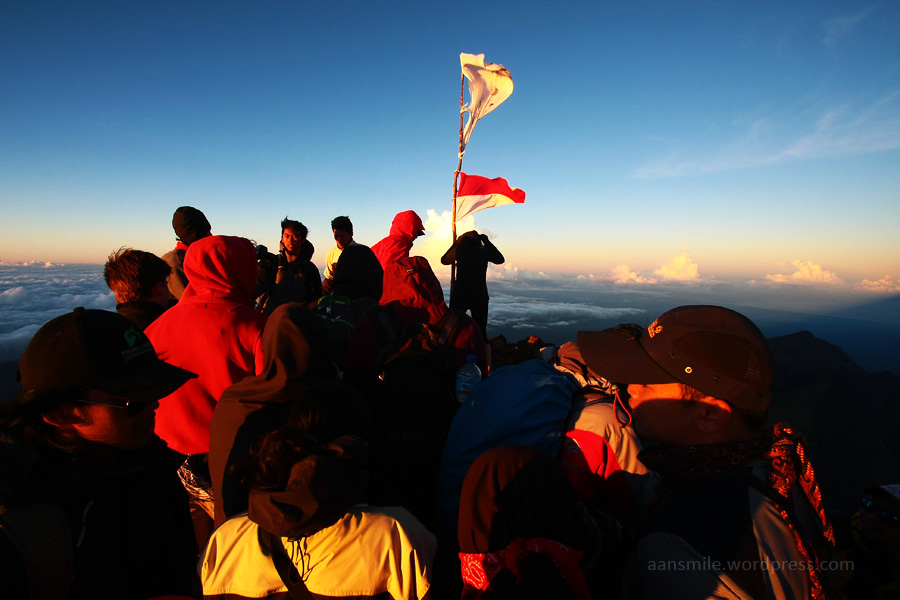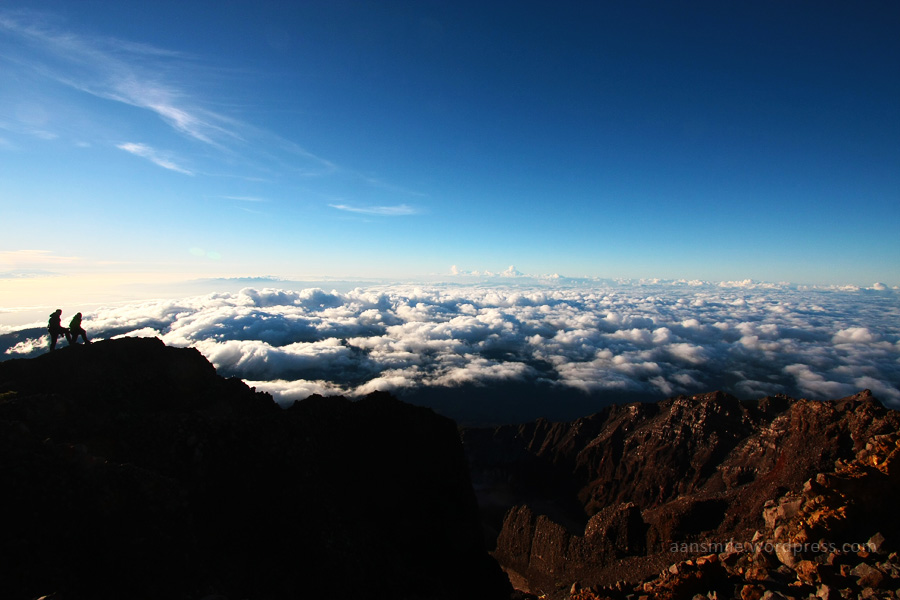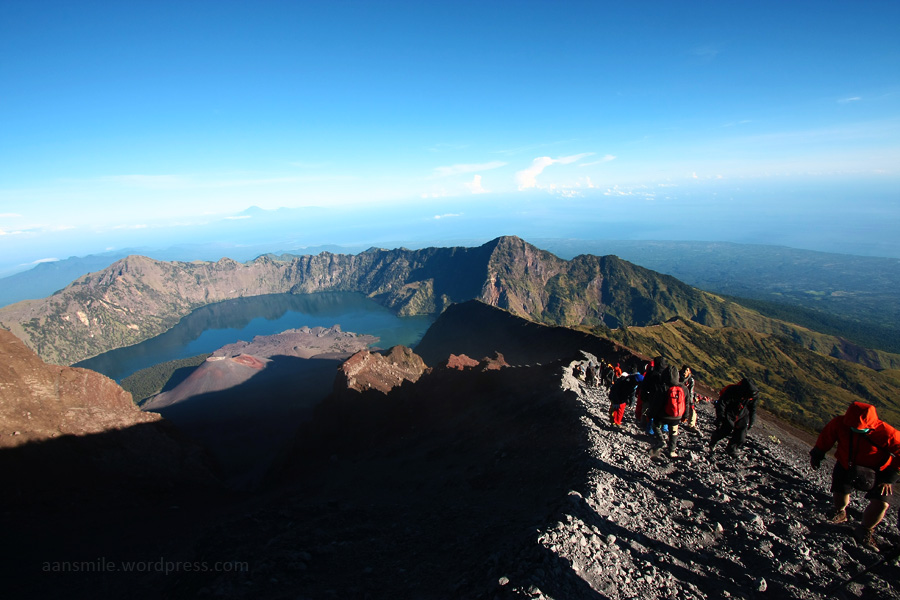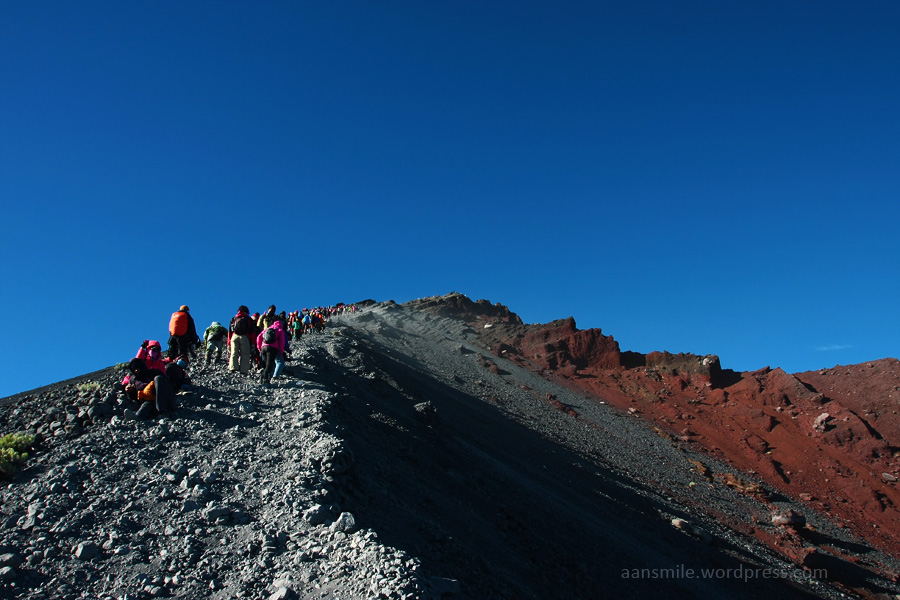 Angin malam begitu kencang dan membangunkan kami. Jam dua belas malam kami mulai berjalan menuju puncak di atas sana. Ditemani oleh langit yang bermandikan bintang, saya begitu bersemangat. Kata orang, watak orang sesungguhnya akan terlihat ketika mendaki gunung. Tak berselang lama kami melihatnya sendiri. Baru satu jam perjalanan kami melihat dua orang pendaki saling berdebat. Medan berat dan hembusan angin yang kencang sepertinya telah membuat salah satu dari mereka patah arang padahal belum setengah perjalanan. Ia merajuk setengah merengek ke temannya yang masih bersemangat untuk kembali. Putus asa itu seperti virus, ia menular. Pada akhirnya sumpah serapah terlontar dari mulut salah seorang dari mereka. Ia mengutuki temannya sekaligus dirinya sendiri.
Perjalanan makin berat. Jalan yang dilewati makin berkerikil dan sudut kemiringannya makin bertambah. Memang tak separah rute ke puncak Mahameru di Gunung Semeru yang sanggup membuat pendakinya merangkak. Kami masih sanggup berjalan normal namun musuh terbesar baru saja memulai puncak serangannya. Angin. Gila! Saya belum pernah dihantam angin sekencang dan selama ini. Beberapa kali saya harus duduk istirahat dan memeluk kaki sendiri untuk menahan dingin. Saya seperti tak bisa merasakan wajah dan tangan saya sendiri. Satu-satunya jalan adalah terus bergerak agar badan senantiasa menghasilkan panas. Saya tak tahu lagi dimana teman-teman yang lain. Sungguh momen yang sangat menguji fisik dan mental.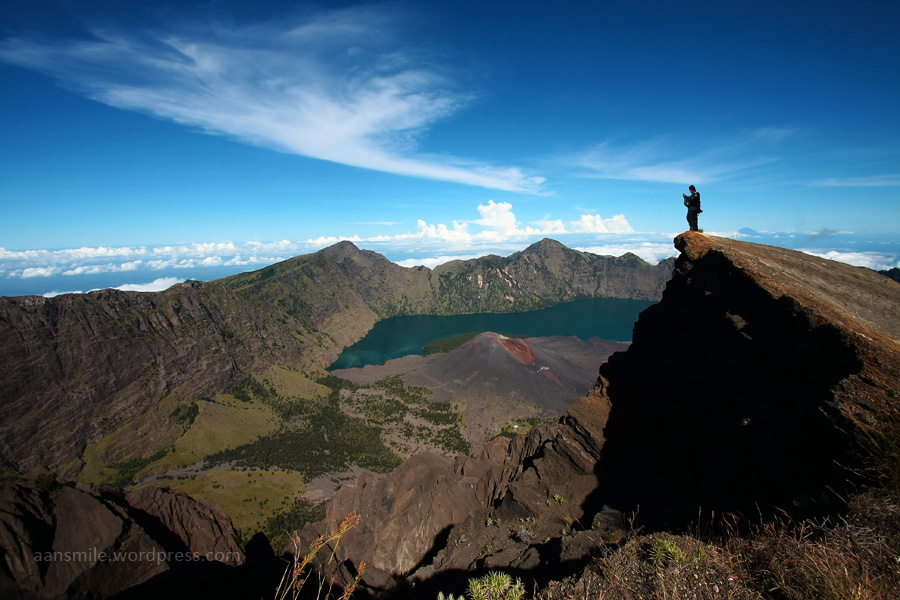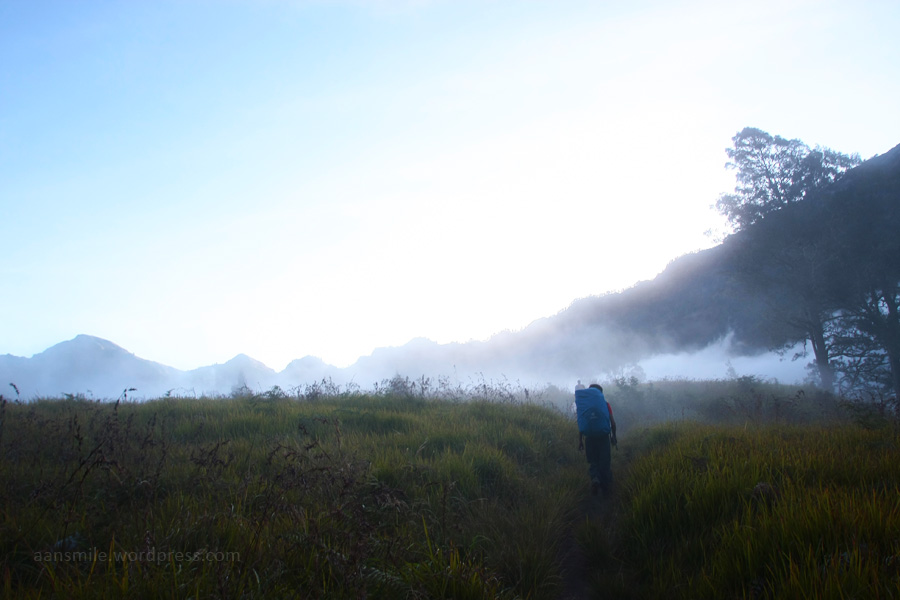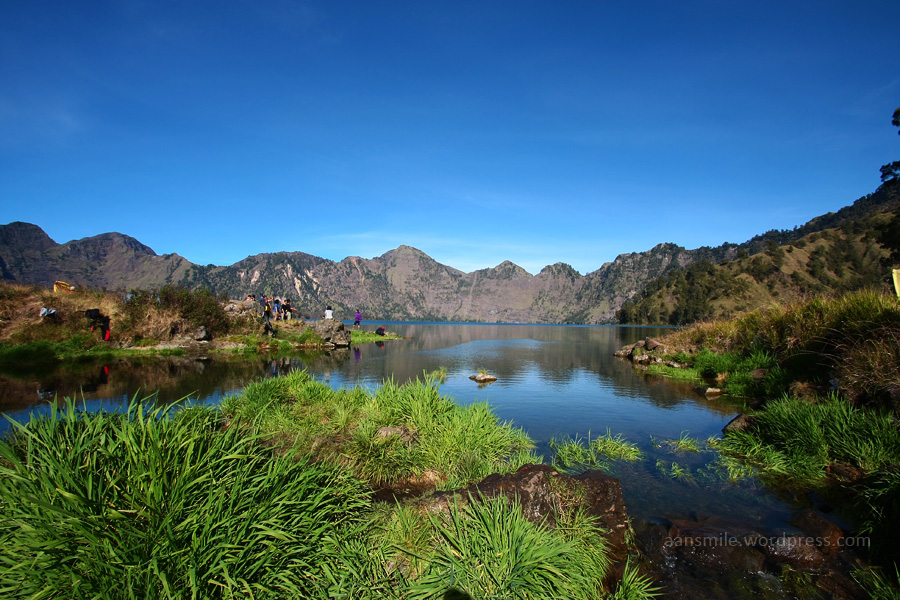 Jam enam pagi, perjuangan ini menemukan akhir. 3726 mdpl yang seluas kira-kira lapangan futsal terasa begitu sempit dengan manusia yang menyemut. Berbagai puja-puji ketakjuban terucap ketika sang mentari mulai menyapa. Semburat sinar kuning seolah membelah langit biru tua. Sebuah momen klasik karya Sang Pencipta melalui panggung langit. Jika Tuhan adalah seniman, maka Dia lah seniman terbesar karena menginspirasi semua seniman di dunia di semua zaman. Dua jam kemudian saya turun dari puncak. Pemandangan yang tak kalah indah menemani perjalanan turun. Di sebelah kiri tampak danau Segara Anak dengan gunung Barujari di pinggirnya. Ya, gunung dalam gunung. Setelah empat jam kami akhirnya tiba. Setelah istirahat dan makan siang kami melanjutkan lagi perjalanan selama lima jam turun lagi ke Segara Anak.
Hal yang paling ingin segera saya lakukan sekarang adalah mandi air panas. Saya langsung mengiyakan tawaran Pak Hasan untuk mengantar ke sumber air panas tak jauh dari danau. Suasana begitu gelap tapi saya tahu ada banyak orang disitu. Segera saya melepas baju dan merendam badan ke dalam kolam kecil air panas. Sambil membasuh badan saya menjulurkan kepala ke pancuran air panas. Ahhh….nikmat sekali. Seolah semua rasa lelah sirna. Hal terbaik setelah ini adalah makan lalu tidur.
Berat rasanya ketika kami meninggalkan tempat ini. Selain masih lelah, saya belum bisa menikmati semua kecantikan Segara Anak. Jam sepuluh pagi kami memulai perjalanan. Pak Hasan ada di depan. Namun Pak Udin yang membawa hampir semua logistik sudah tak terlihat lagi. Trek dari Segara Anak menuju Plawangan Senaru seolah tanjakan tanpa henti. Kadang kami harus memanjat batuan yang licin. Kami baru sepertiga jalan dan sudah kehabisan air. Setelah hampir empat jam akhirnya kami bertemu dengan pak Hasan yang menunggu kami di puncak Plawangan Senaru. Bukan berita yang bagus. Ia juga sudah kehabisan air. Harapan kami ada di sumber air yang terletak di pos 3 Senaru.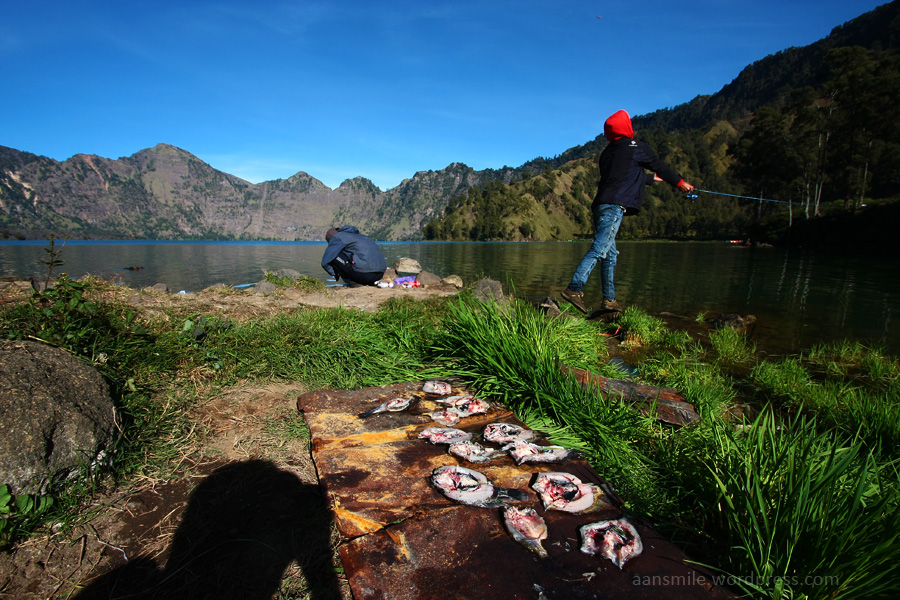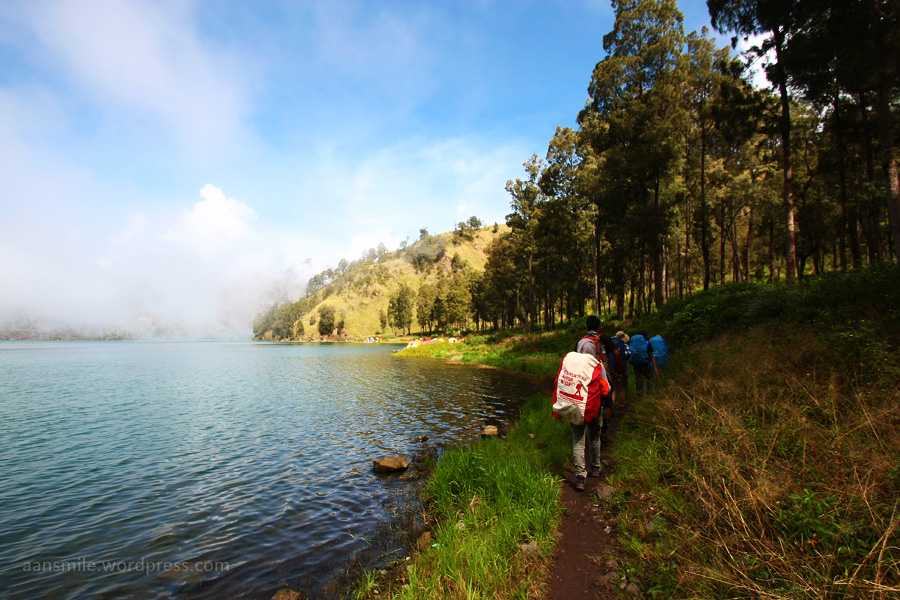 Dengan perut yang mulai kelaparan kami berpacu mengejar waktu agar bisa sampai sebelum malam. Bermalam bukanlah sebuah opsi mengingat tenda juga dibawa oleh pak Udin yang kemungkinan sudah sampai di Senaru. Sepanjang perjalanan kami mengharap belas kasihan siapa saja yang mau berbaik hati memberikan sebagian airnya. Rute terjal berbatu dan pasir licin menguji batas kekuatan kaki kami. Saya mengalami luka bagian dalam pada dua jari kaki tepatnya dibawah kuku. Fanani dan Sari dua kali terjatuh. Sementara Sisil sudah tak terhitung lagi. Tapi saya salut dengannya. Meskipun badannya kecil namun tidak mudah mengeluh. Apoy agak jauh di belakang saya karena kakinya sepertinya sangat kelelahan. Ia berjalan mundur ketika melewati trek menurun berpasir yang sangat licin. Apoy tangguh ketika trek menanjak tapi agak lambat ketika menurun. Ferhat justru sebaliknya. Ia sudah jauh di depan, mungkin sedang menunggu kami di pos berikutnya.
Berita buruk. Sumber air di pos 3 yang hanya berupa tadahan air ternyata kosong. Frustasi mulai menyerang. Satu-satunya opsi sekarang adalah berjalan secepat mungkin turun ke Pos 2 sebelum gelap. Sumber air disitu lebih menjanjikan karena berupa pancuran air. Jam enam sore kami tiba di pos 2 yang berlokasi di tengah hutan ketika langit hanya menyisakan cahaya remang. Ferhat ternyata sudah menunggu. Segera setelah mengisi air kami melanjutkan perjalanan pulang. Kami seperti berjalan dikejar setan. Cepat dan nyaris tak beristirahat. Terlalu lama di tengah hutan dengan kondisi gelap tanpa makanan memadai bukanlah pilihan. Akhirnya setelah lima jam perjalanan kami tiba di pintu masuk pos Senaru sambil terpincang-pincang. Alhamdulilah semua penderitaan ini berakhir. Penderitaan karena kami terlena oleh berbagai kemudahan yang membuat kami terlalu mengandalkan orang lain. Bagi saya perjalanan kali ini memberikan hikmah tersendiri. Alam adalah tempat terbaik untuk belajar. Berbagai keindahannya memanjakan indra namun keganasannya mengajarkan manusia untuk selalu waspada, mandiri, tetap rendah hati, tidak pantang menyerah dan menjaga hal-hal di sekitar kita. Karena pada akhirnya, apa yang kita lakukan akan kembali pada kita.