It's still dark and flickering stars was crystal clear. Meawhile the wind blew the pungent smell occassionally. So many people gathered in the serene night. Their voices sounded boisterous. From up here they're enjoying the wonders blue fire. Only the brave can see it close in the bottom of the crater thanks to the rocky slippery pathway and dense sulfur smoke. Through it all is an adventure for visitors. Yet it's a daily routine for these man, the miners who make a living by way of traditional sulfur mining at the crater of Mount Ijen.
The morning has come when Muchtar, 29 years, walked down with his equipment, two bamboo baskets and a cut of bamboo to bear. Some times he had to pulled over when he met with other miners carrying sulfur from the bottom. The path is so narrow and steep which almost impossible for two people passing at the same time. They greeted each other even some conversation took a place in Madurese. Yes, most of about 200 miners in Ijen is the Madurese while the rest is Javanese and Osing.
The increasing of sulfur needs as material raw of food, drugs, cosmetics and various chemical industry has made some people like Muchtar to be a miner since teenage. Muchtar himself has been a miner for the first time since the age of 19. Others even younger. Meanwhile some of senior miners are still on duty. One of them is the 50 years old Budi, who has been mined from late 1970's. He is quite popular since he often covered by national and international media frequently.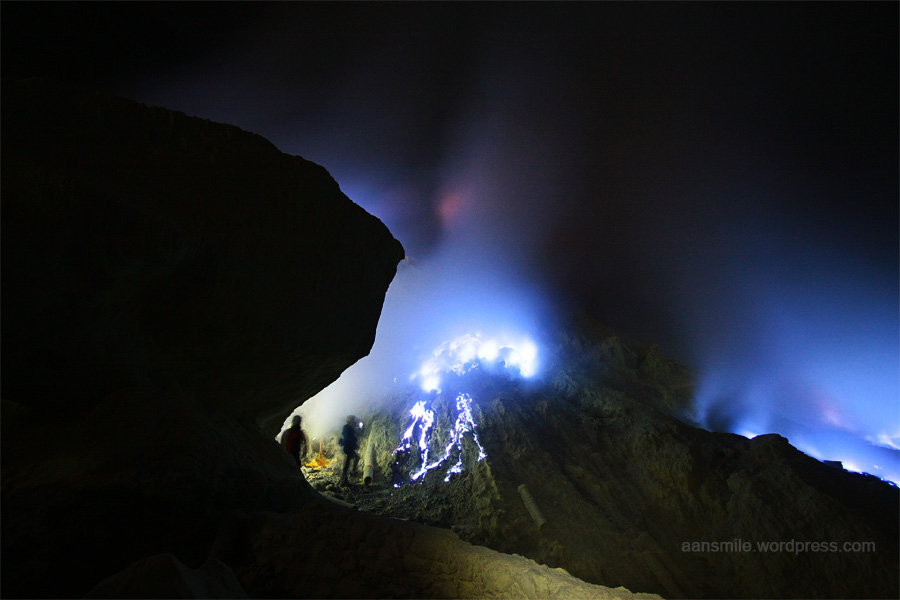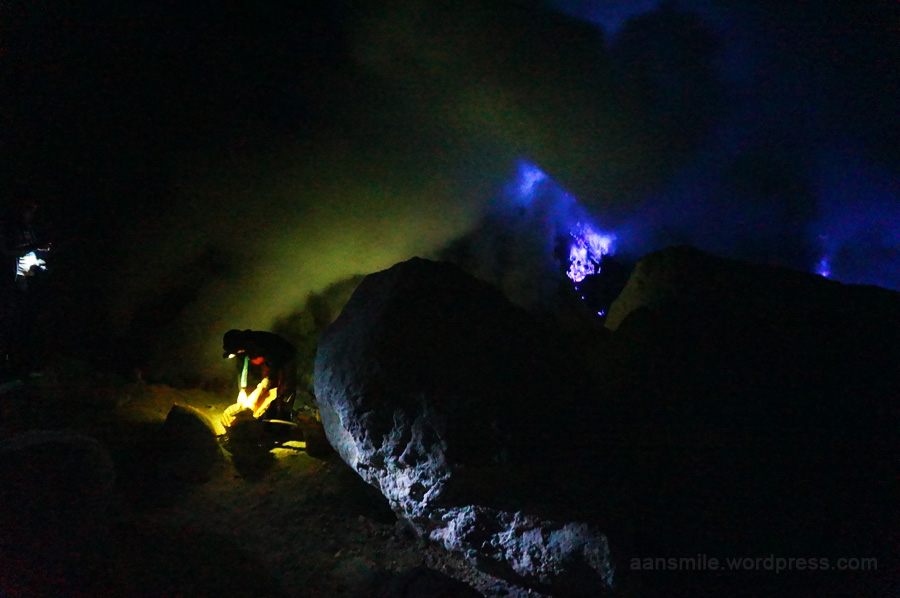 Muchtar arrived at the mining area when the blue fire which burning the sulfur in the crater wall left only a dim light as the sun gets brighter. Shortly he joined his friends to break up the large chunks of sulfur using a crowbar. The solid sulfur is naturally in form of gas, gushing from the sidewall of the crater which then distilled by way of flowing it into the bottom through pipes and stored in perforated drums. Finally the gases turns into liquid and then solidifies as exposed by cool air. Meanwhile near the pit other miners performed different activities, making handicraft mold from sulfur. They poured the liquid sulfur into various shape of plastic molds and sold it to the tourists. An easy money thanks to high number of visitors during holiday.
It seemed the miners were not disturbed by the pungent smell. Even sometimes the wind blows the sulfur fumes right into the mining spot, making itchy nose, throat pain and watery eyes. Then the cough sound were the only human voice heard down here. What a miserable condition to work everyday. But it all could not stop them to make some living. Muchtar has no special trick for this one. To minimize the health risks caused by sulfur fumes he just rely on simple trick, drink milk and lots of water every day.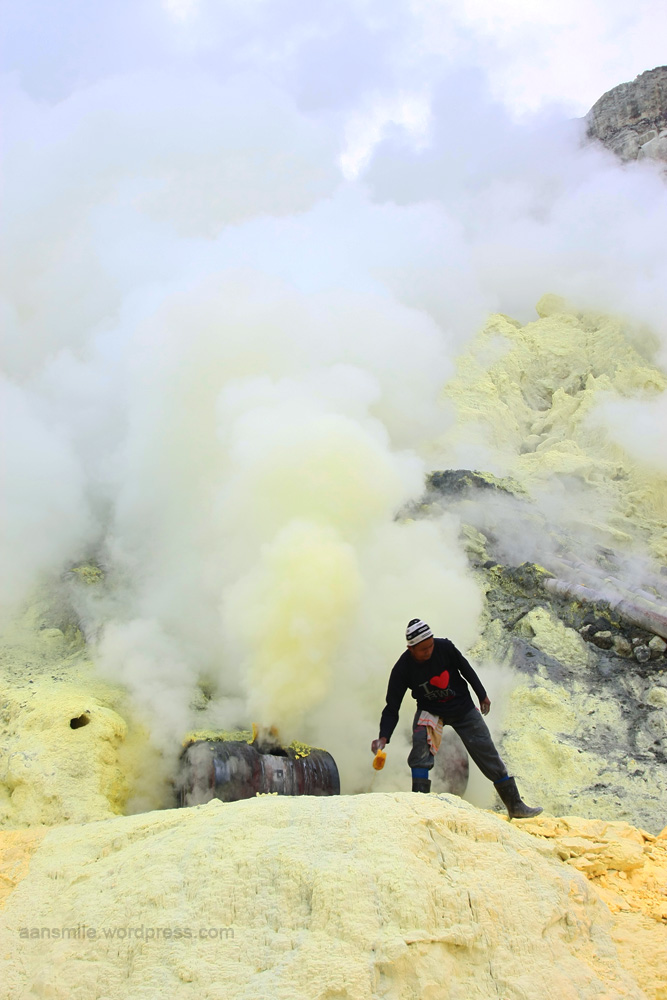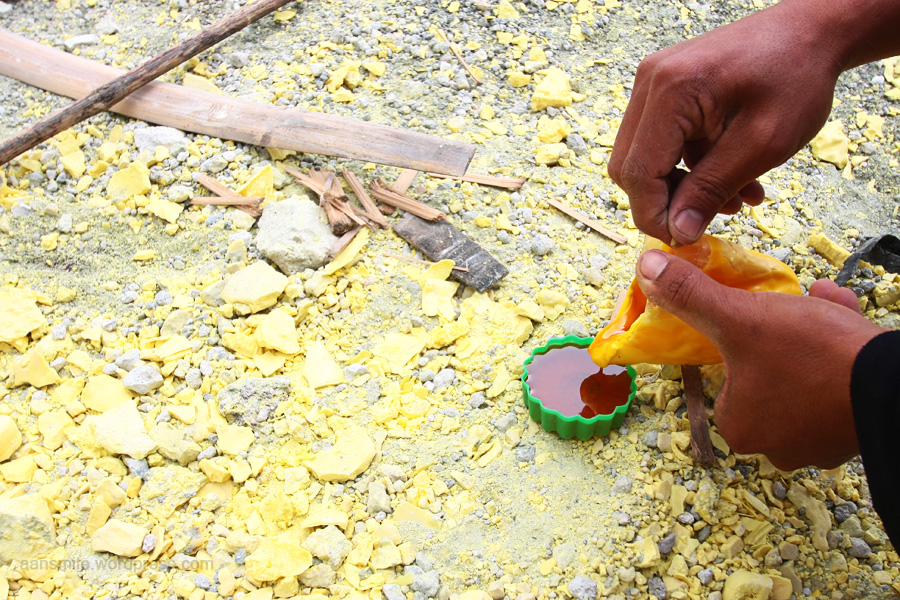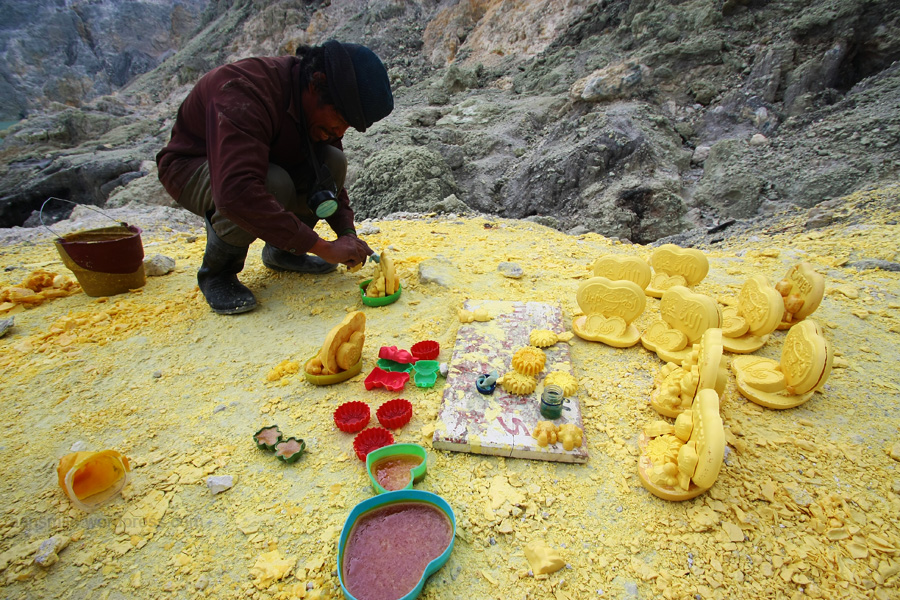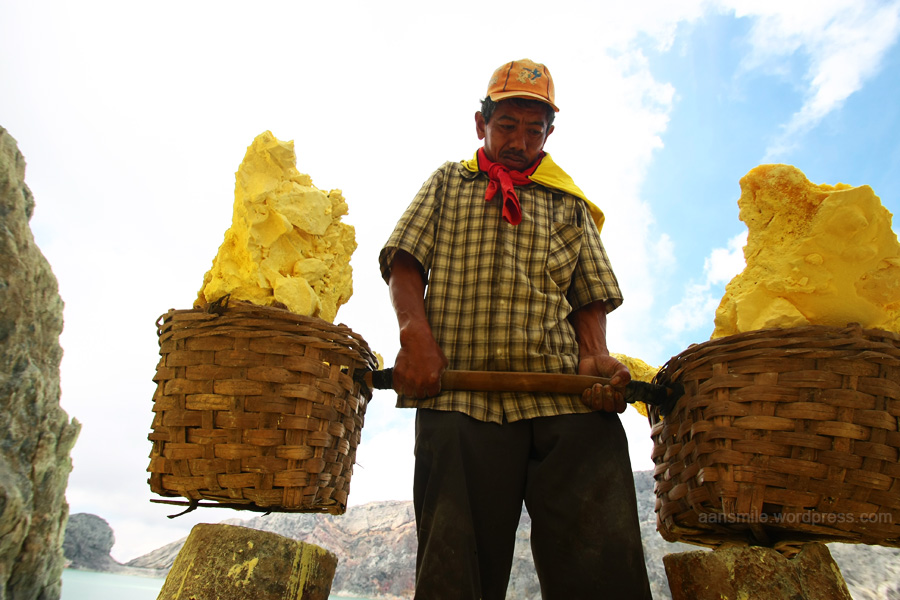 Muchtar already done with his part. Now it's time to upload the yellow chunk into the baskets. Having full loaded he put the baskets on two iron columns and performed strength test to ensure he will able to carry the load until its end point. Usually every miner is able to carry 70 kilograms for once haul. On their best the miners could perform three times tote per day. But on average is only for once or twice.
The real hard work was about to begin. After Muchtar put the load up to his shoulder now he had to bring it up along 600 meters, the same route he had passed down. The only thing he can do now is stay focus treading one by one the steep and slippery rock. At least when he reach the top side of the crater, he will complete the hardest part. Sometimes he coughed while covering his nose and eyes with a damp cloth bitten on his mouth when the sulfur fumes strikes. He took a rest for several times by sitting leaning on stone wall while he put the baskets next to him. Even in his rest Muchtar still have no idea how much money he will earn today. He was about to know it later after weighing the load at the end point of his journey.
After nearly an hour Muchtar reached the top rim. Now he walked much faster, passed the downhill along a kilometer to the Pos Bunder. This is where he will weigh his load for the first time. Next to it is a small green-painted wooden house which is used by the miners as a resting place. There is also a food stall which is used by visitors to rest and have some eat. The journey still continues. Having a rest, shortly Muchtar proceeded the trip along with his yellow chunk and a piece of paper containing his load scales given by the officer.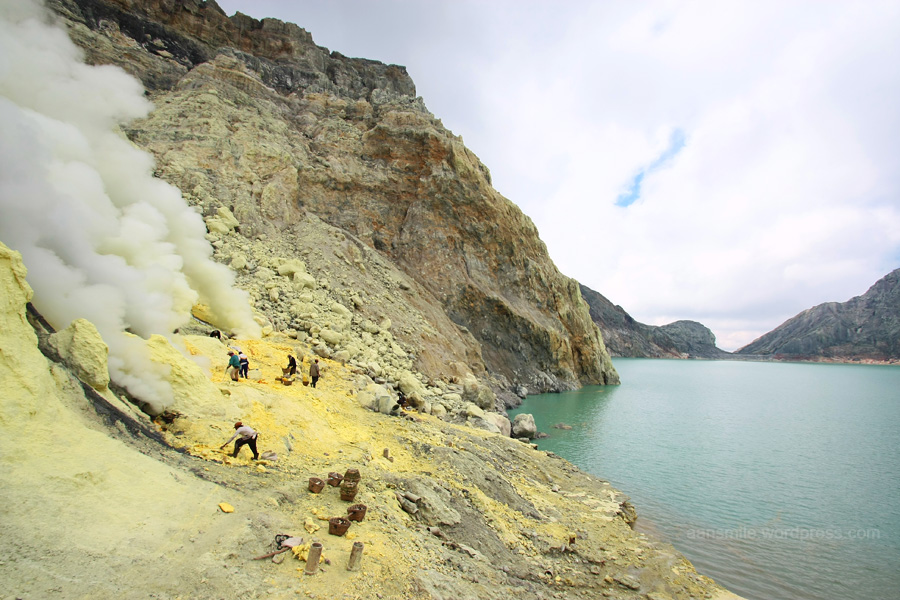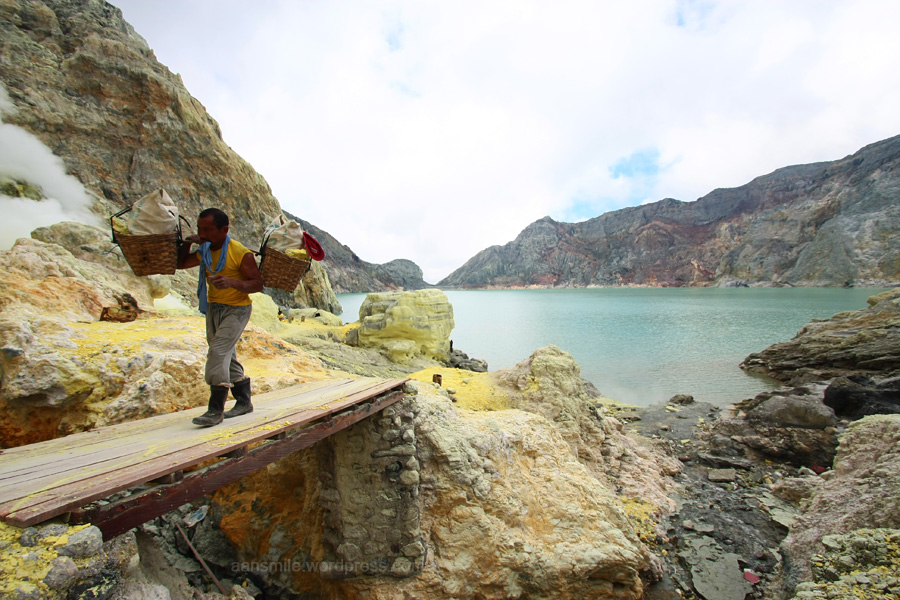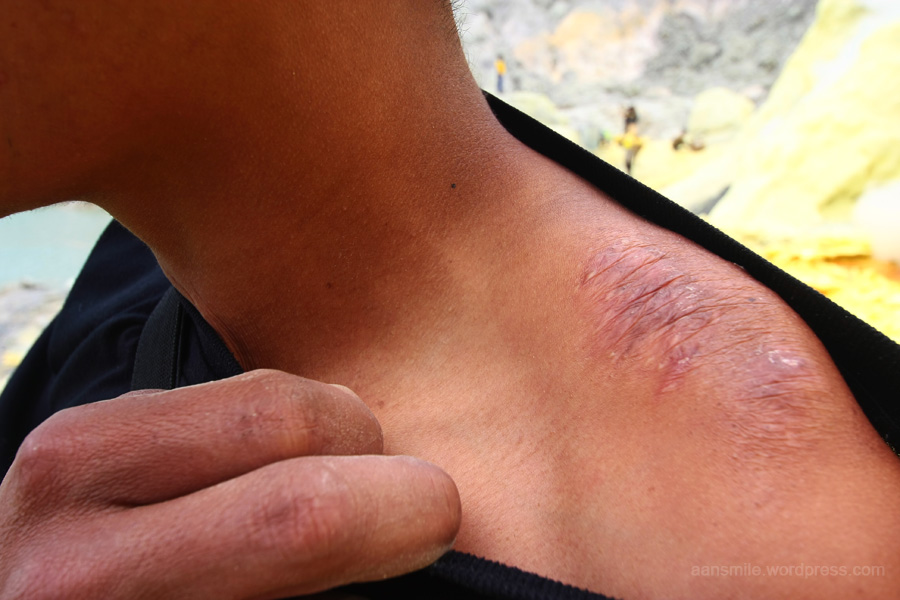 Finally the end point reached after nearly two kilometers on foot. A small wooden house not far from the main entrance of Ijen area is called Pos Sodong. The miners gathered at the side of the house. One by one they called by an officer from behind the booth in the house to scale back their load. Having weighed, the chunks brought into a truck which already parked next to the house. Furthermore the truck will carry the sulfur to a smelter facility in Paltuding village about 12 kilometers away from Ijen. Later the raw sulfur will have a further process so it will be ready to use as ingredients for the chemical industry.
In a booth at the other side of the house, Muchtar queued to get his paid. Today he gained no more than 65 kilos while the sulfur price was IDR 780 per kilos that time. He was ready to go home to his house in Banyuwangi, an hour drive on a motorbike bringing the sustenance to his familiy, a wife and a four-years son. An amount that may not be worth with the effort and the risk. Probably become a traditional sulfur miner is tough job that never thought before for most people. Hazardous work area, high risk of health, heavy physical work, and low income. What a hellish factors. But for these man, it's a daily routine that must be faced. Behind a breathtaking view of Ijen, there is a true story of a hard work for a living. Despite they seem always have a smile upon their face hopefully one day they will get more an appropriate reward. And hopefully this story makes us give more respect and gratitude for what we have.
***
Hari masih gelap. Bintang-bintang bersinar terang. Sesekali bau menyengat tertiup oleh angin yang datang menyergap. D dalam kesyahduan malam sudah ada banyak orang berkumpul. Suara mereka terdengar riuh rendah. Dari atas sini mereka sedang menikmati salah satu keajaiban alam bernama api biru. Jalan berbatu yang licin dan asap belerang yang sangat pekat membuat tak banyak orang yang berani turun ke dalam kawah dibawah sana. Namun melewati semua itu adalah rutinitas harian bagi sebagian orang. Mereka adalah orang-orang yang mencari nafkah dengan menambang belerang secara tradisional di kawah Gunung Ijen.
Hari menjelang pagi ketika Muchtar, 29 tahun, turun ke bawah membawa peralatannya, dua buah keranjang dan sebuah potongan batang bambu untuk memikul. Sesekali ia menepi ketika berpapasan dengan penambang lain dari bawah yang membawa belerang. Jalan begitu sempit dan terjal sehingga nyaris tak mungkin dilewati dua orang bersamaan. Mereka saling sapa bahkan beberapa kali obrolan singkat berlangsung dalam bahasa Madura. Ya, sebagian besar dari sekitar 200 penambang di Ijen adalah orang Madura. Sisanya orang Jawa dan Osing.
Kebutuhan belerang sebagai bahan baku makanan, obat, kosmetik dan berbagai industri kimia lainnya yang semakin meningkat telah membuat beberapa orang seperti Muchtar menjadi penambang sejak usia remaja. Muchtar sendiri pertama kali menambang belerang sejak umur 19 tahun. Beberapa yang lain bahkan lebih muda. Sementara itu penambang senior juga masih aktif. Salah satunya yaitu Budi, 50 tahun, yang sudah menambang dari tahun 1970an. Ia cukup populer karena sering diliput oleh media nasional dan internasional.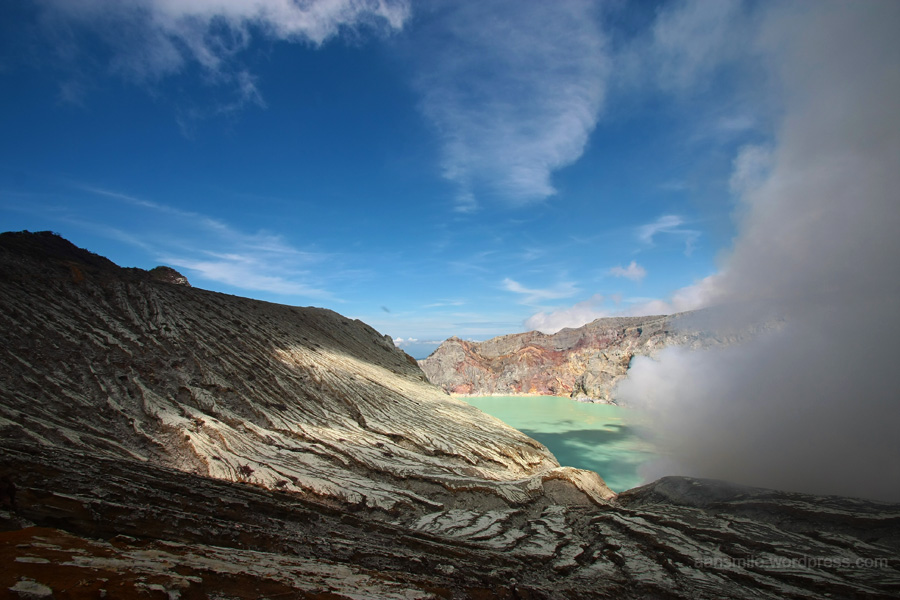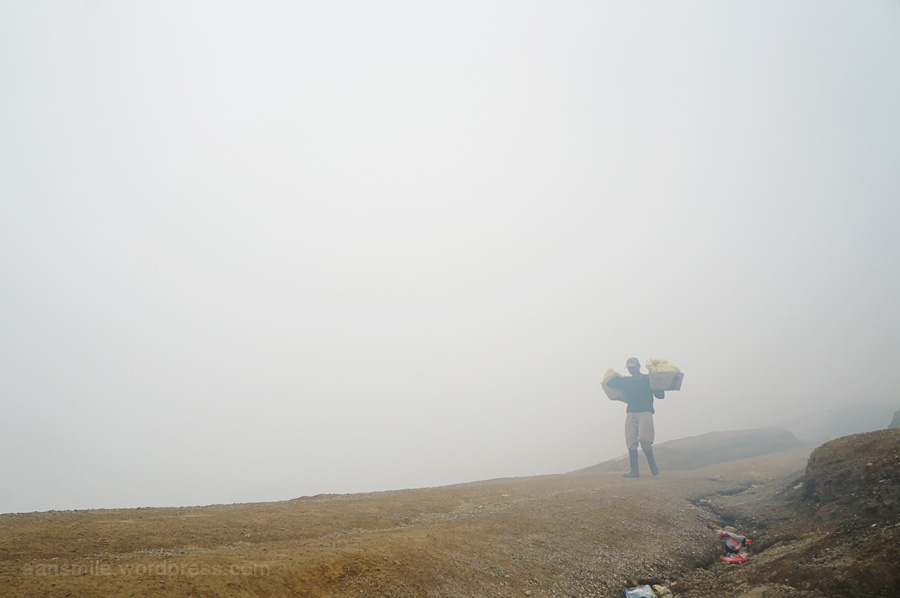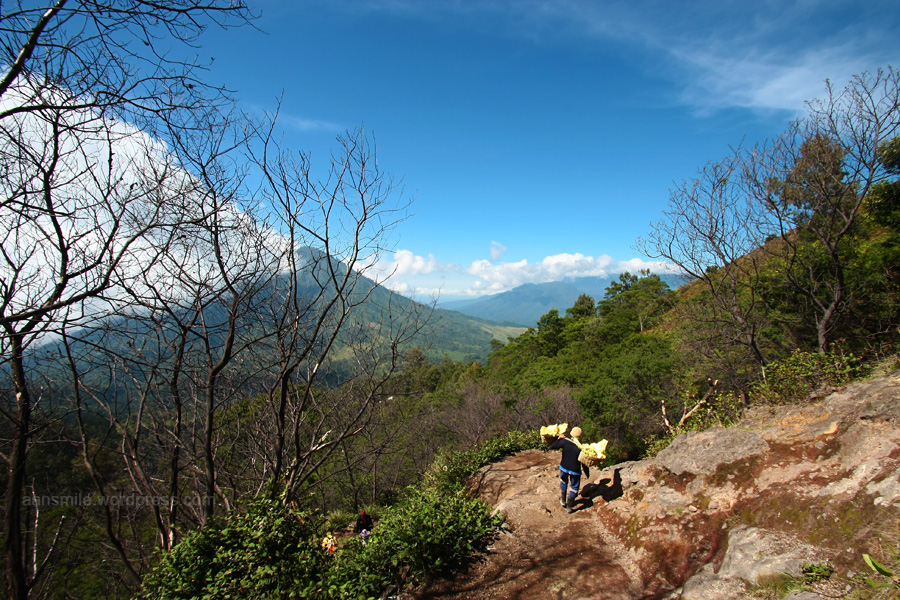 Muchtar tiba di area penambangan ketika cahaya api biru yang membakar belerang di dinding kawah semakin meredup karena kalah terang dengan sinar matahari. Ia segera bergabung dengan beberapa rekannya memecah bongkahan besar belerang menggunakan linggis. Bongkahan belerang padat itu awalnya berupa gas yang menyembur dari sisi kawah yang disuling dengan cara dialirkan ke sisi tepi bawah kawah melalui pipa dan ditampung dalam drum yang sudah dilubangi bagian bawahnya. Akhirnya gas menjadi cair lalu padat karena mengalami proses pendinginan. Tak jauh dari situ beberapa penambang lain melakukan aktifitas yang berbeda yaitu membuat kerajinan cetakan dari belerang. Mereka menuangkan belerang cair ke cetakan plastik dengan aneka bentuk seperti hati, bunga dan berbagai karakter tokoh populer lalu menjualnya ke para pengunjung. Sepertinya mereka mengharapkan usaha yang lebih ringan untuk mendapatkan uang dengan memanfaatkan ramainya turis yang berkunjung ke Ijen.
Bau belerang yang sangat menyengat seolah tak mengganggu para penambang. Bahkan tak jarang angin meniupkan asap belerang tepat ke lokasi penambangan, membuat hidung terasa gatal, tenggorokan nyeri, dan mata berair. Maka suara batuk pun sepertinya menjadi satu-satunya suara manusia yang terdengar di bawah sini. Sungguh kondisi yang jauh dari ideal sebagai tempat bekerja setiap hari. Tapi itu semua tak menghentikan mereka untuk terus mencari nafkah. Muchtar tak punya rahasia khusus untuk yang satu ini. Untuk mengurangi resiko kesehatan akibat asap belerang ia hanya perlu minum susu dan air putih yang banyak setiap hari.
Muchtar telah selesai dengan bagiannya. Kini saatnya memasukkan bongkahan kuning ke dalam keranjang. Setelah kedua keranjang penuh ia menaruh keranjangnya ke atas dua buah kolom besi dan melakukan tes kekuatan untuk memastikan ia mampu membawa beban tersebut sampai tujuan akhir. Setiap penambang rata-rata mampu membawa 70 kilogram beban sekali angkut. Jika si penambang sedang dalam kondisi terbaik, ia mampu mengangkut sebanyak tiga kali sehari. Namun rata-rata hanya dua kali.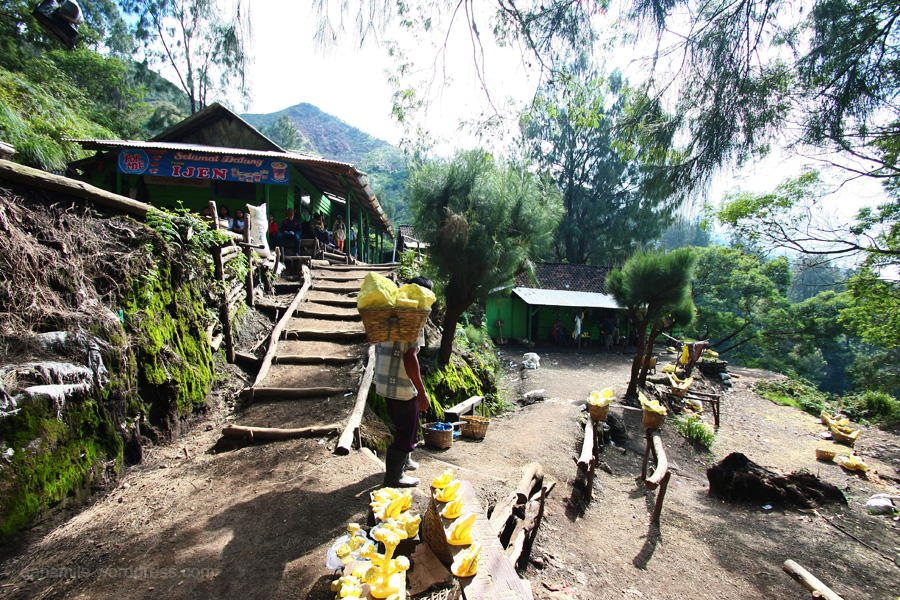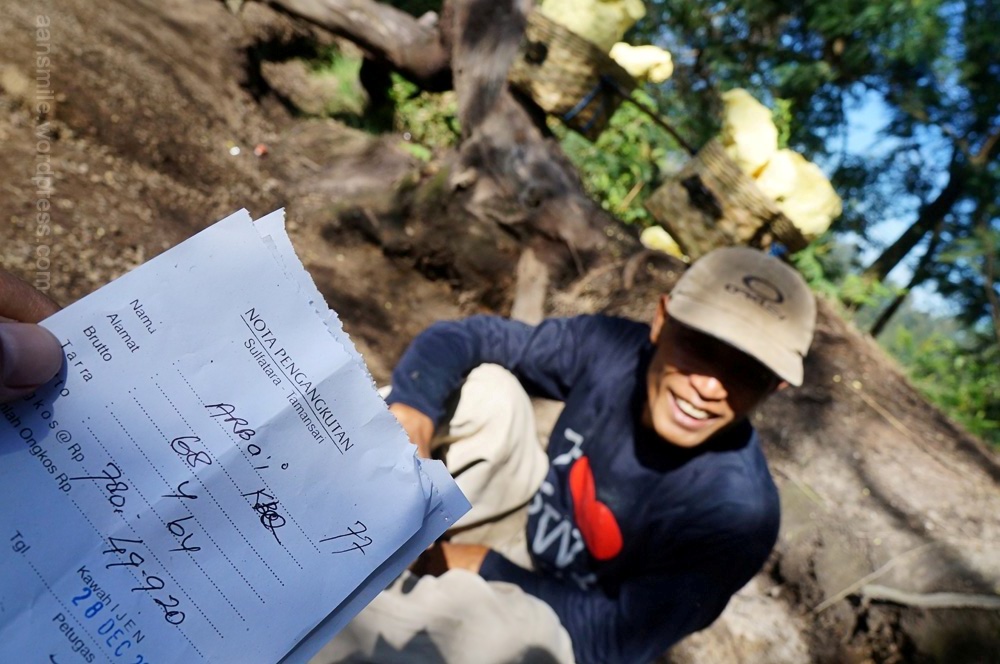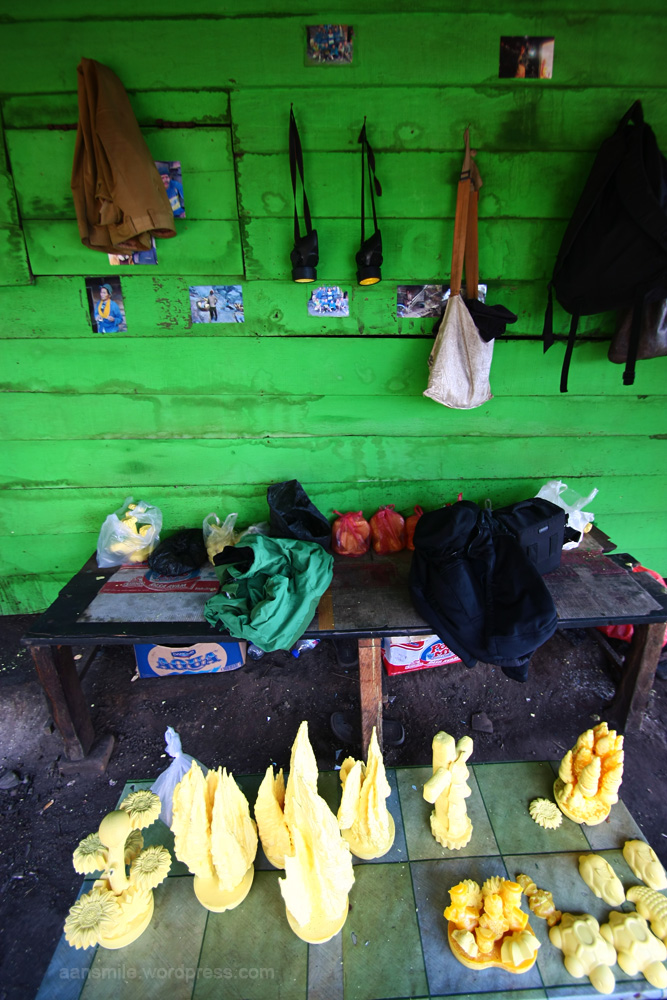 Usaha sesungguhnya baru akan dimulai. Setelah Muchtar menaruh kedua keranjang belerangnya ke bahunya menggunakan bambu, kini ia harus membawanya naik melalui rute sepanjang 600 meter, jalan yang sama yang ia lewati tadi ketika turun. Satu-satunya yang bisa dilakukannya sekarang hanyalah berusaha untuk tetap fokus menapaki satu demi satu batuan terjal dan licin. Setidaknya ketika ia sampai di bibir kawah ia telah menyelesaikan bagian terberat. Kadang ia terbatuk-batuk sambil menutupi hidung dan matanya dengan kain basah yang ia gigit ketika asap belerang menyerang. Sesekali Muchtar beristirahat dengan duduk bersandar pada dinding batu sementara keranjang ia letakkan di sampingnya. Bahkan dalam istirahatnya pun Muchtar belum mengetahui berapa jumlah uang yang akan ia dapat hari ini. Ia baru akan mengetahuinya ketika menimbang belerangnya nanti di bagian paling akhir perjalanan panjangnya itu.
Hampir satu jam kemudian Muchtar sampai di bibir kawah. Langkah kakinya jauh lebih cepat sekarang. Ia melewati jalan menurun sepanjang kurang lebih satu kilometer menuju Pos Bunder. Disinilah ia akan menimbang hasil kerjanya untuk pertama kali. Di samping tempat penimbangan terdapat sebuah rumah kayu kecil berwarna hijau yang dijadikan tempat beristirahat oleh para penambang. Selain itu juga terdapat sebuah warung makan yang biasa digunakan oleh pengunjung yang beristirahat dan mengisi perut. Perjalanan masih berlanjut. Setelah cukup berisitirahat, Muchtar segera melanjutkan perjalanan membawa emas kuningnya dan selembar kertas berisi catatan hasil timbangannya yang diberikan oleh petugas.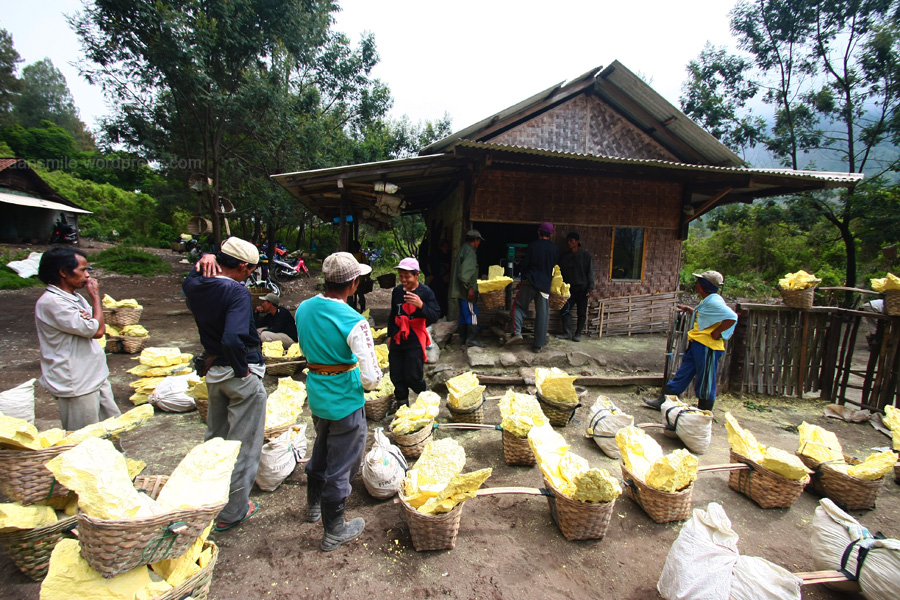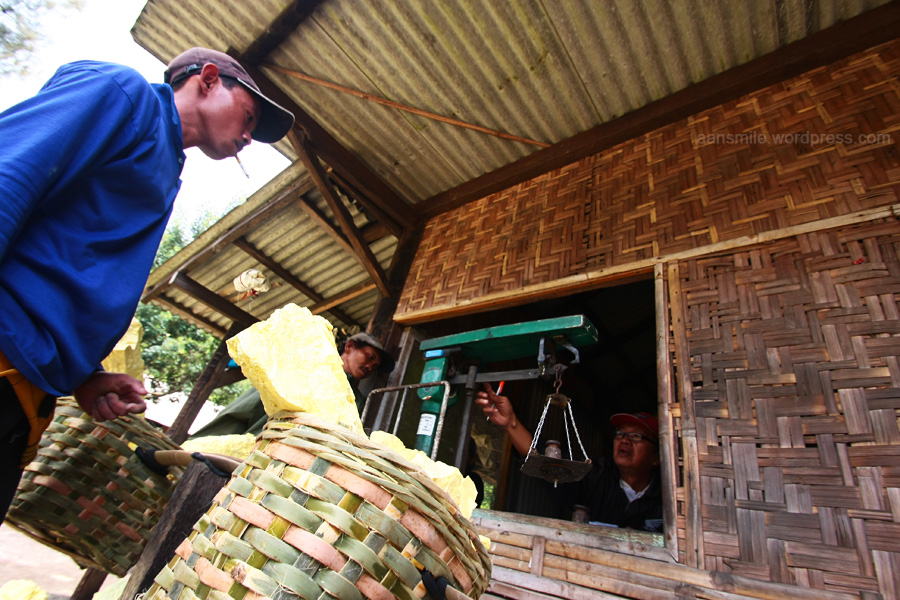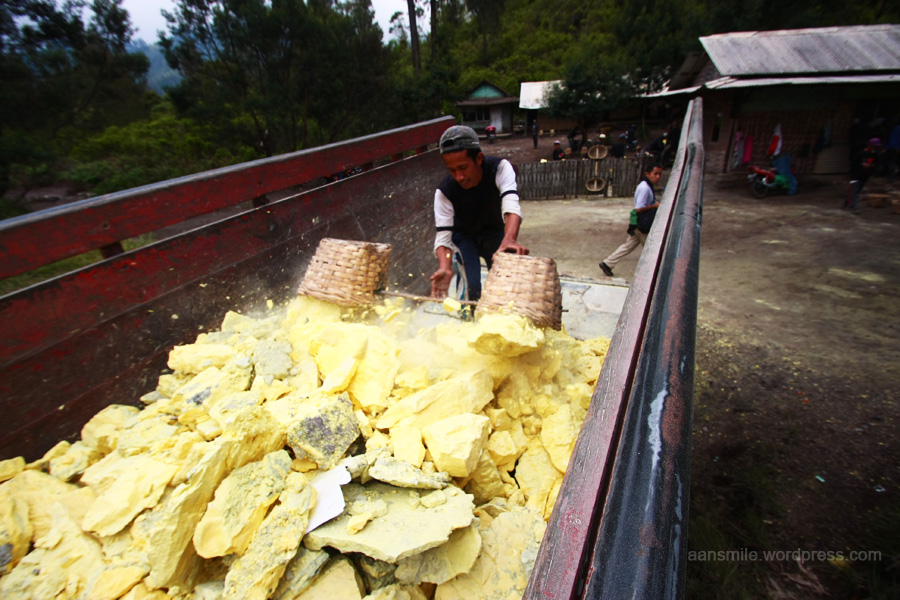 Akhirnya titik akhir perjalanan tercapai setelah berjalan kira-kira dua kilometer. Sebuah rumah kecil terbuat dari kayu yang terletak tak jauh dari pintu masuk utama kawasan Ijen itu bernama Pos Sodong. Para penambang dengan keranjangnya masing-masing berkumpul di samping rumah. Seorang petugas memanggil satu per satu para penambang dari balik bilik dalam rumah untuk menimbang ulang belerang mereka. Setelah ditimbang, bongkahan belerang lalu dibawa ke dalam sebuah truk yang sudah menunggu di samping rumah. Nanti truk akan membawa belerang tersebut ke tempa pengolahan berikutnya di desa Paltuding, sekitar 12 kilometer dari situ. Di sana belerang diolah lebih lanjut menjadi bahan siap pakai untuk berbagai industri kimia.
Di sebuah loket di sisi rumah yang lain Muchtar mengantri mendapatkan bayarannya. Hari itu ia menambang tak lebih dari 65 kilogram sementara belerang dihargai Rp 780 per kilo saat itu. Ia siap pulang ke rumahnya di Banyuwangi, satu jam berkendara dengan sepeda motor, membawa rezekinya untuk menghidupi seorang istri dan seorang anaknya. Jumlah yang mungkin tak seberapa dibanding usaha dan resikonya. Mungkin bagi sebagian besar orang menjadi penambang belerang tradisional adalah pekerjaan yang tak pernah terpikirkan sebelumnya. Tempat bekerja yang berbahaya, resiko kesehatan yang tinggi, kerja fisik yang sangat berat dan penghasilan yang tak banyak. Sungguh kombinasi yang mengerikan. Namun bagi sebagian lain, inilah rutinitas harian yang harus dihadapi. Dibalik keindahan alam Ijen terdapat sebuah cerita nyata akan kerja keras demi sebuah penghidupan. Walaupun terlihat selalu tersenyum semoga suatu saat nanti mereka mendapatkan imbalan yang lebih layak. Dan semoga kisah ini menjadikan kita lebih menghargai hidup dan bersyukur atas apa yang dimiliki.