The west side of Bandung railway station looks crowded at that time. Sunday afternoon the working class leave their home town back to their arena, the capital. A few steps before entering the building the faint sound of music coming from inside, nice and comfortable. The song was familiar, "Even Out of the Light" by Peterpan. Having checked in, I leaned into a bench at the inside of the platform. I 've been here a few times but I have to admit even if it turns out the place is crowded, it can bring a comfort for me. Maybe because many plants on the outside that brings coolness, or a wide views towards the train emplacement, yes I am a railfans anyway. May also chanting songs played live by the band there. Well, not so many public place, public service at the same time, provide an opportunity for artists to entertain it's guests, yet. The songs were easy listening and also pleasant decibel level, making lips softly singing along or just stomping lightly following the tempo. Or maybe combination of all that . But wait, there's something different.
Six man were there to play their musical instruments while many passenger trains pass through them, putting cash into a box. I hope not because of pity, but rather because the band was able to play entertaining song. Yes , the band was different than before on my previous visits. They were a bunch of young man with visual impairment who play musical instruments and collaborate each other into a band. Apparently it was their last song. I look at my watch. Ah, there is still enough time. The cajon player was already finished packing earlier than his friends. I greet him and ask for a chat and he served my talks friendly even his friends had leave first. "It's alright. I am waiting for a friend here. So I can waste my time to chat" , he was smiling as he tightens his cajon case.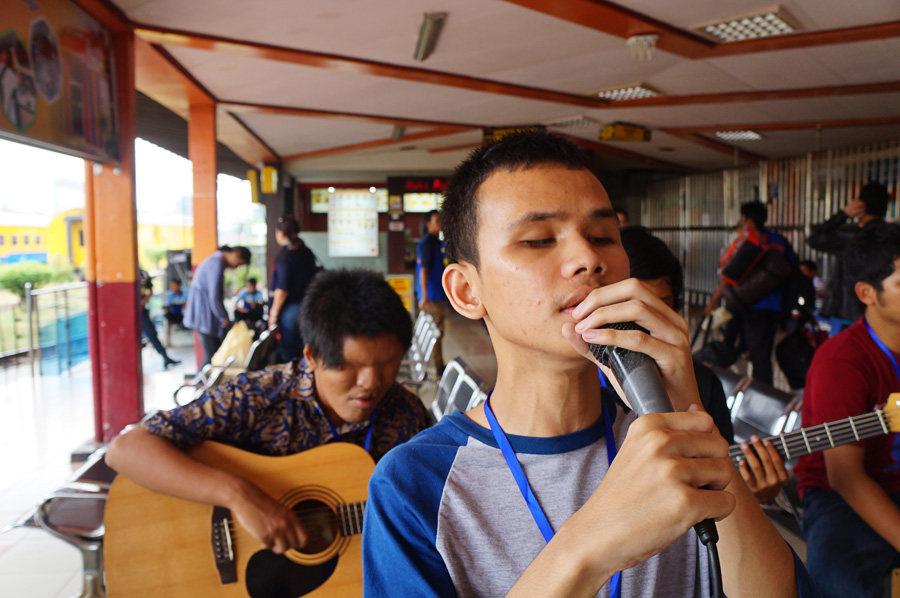 Agung Riyadi, 23 years old and their band named Inklusi (Inclusion), a name inspired by their specificity. While his friends are Kharisma Nurhakim, guitarist, 20 years. Yohanes Teguh, guitarist, 18 years old. Sony, bassist, 19 years old. And Femy Fahrizal, the 21 years old vocalist. In Bandung they stayed at Wiyata Guna dormitory which is not far from there, a special dorm for the blind that is financed by the local government. It has been almost a year every Sunday afternoon they playing music there regularly as they entertain the train passengers. It all started with an invitation from their senior fellow band that got the chance first. On normal days they followed the formal education for the disabled. Since 2009 Agung himself was a student of Islamic Nusantara University, Bandung, having previously graduated from SLB (disability special school) Padjadjaran majored in music class in the same city.
"We love to playing music and want to be like normal people who can have their activity according to their interests", Agung voiced his conscience. Suddenly I remember an article in Intisari magazine, "We do not need your pity, we just need an opportunity and equality", said Mimi Mariani Lusli whose profile featured in the magazine. The 51-year-old woman with visual impairment is a founder of Mimi Institute, a foundation that provides personal development programs and debriefing skills for persons with disabilities to be independent and have the skills for a career in the community. Not so many people with special needs as lucky as Mimi who completed the British Council scholarship in Master of Communication, Leeds University, UK. In fact she is currently studied for her doctoral degree at the Faculty of Life & Earth Sciences, University of Amsterdam, The Netherlands.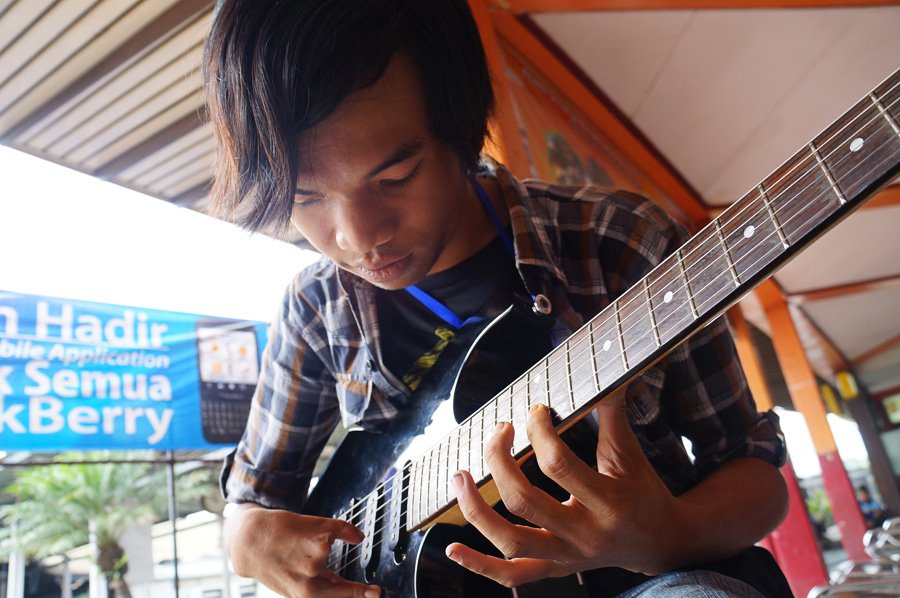 Recently even many people with special needs sell their handicap on the streets to earn money. Even for the blind they are fortunate enough to be certified masseur. Indonesia is obviously a tough place for persons with disabilities. Instead have normal job, dedicated facility in public place for supporting the daily activities are somewhat out of number. Less government attention as to make them like second-class citizens. But for Mimi the most important thing is self-reliance and to care for themselves, in addition to demanding equality. She wanted to show that people with disabilities can work and perform like normal person as long as they have willingness and ability as well as given equal opportunities.
"Once I wanted to ngamen* on the street or public transport. But after a second thought, finally I discouraged it". Drifted for a moment, my mind back to my interluctor. For Agung that kind of street singing makes no difference to become beggars in more subtle way, only concerned about the money since the singers come to people and asking for cash regardless of whether people entertained with the song or not. Unlike as he is now. People came to him and more sincere giving money certainly. No big deal about the how much money he can earned since the most important are playing music as well as entertaining others.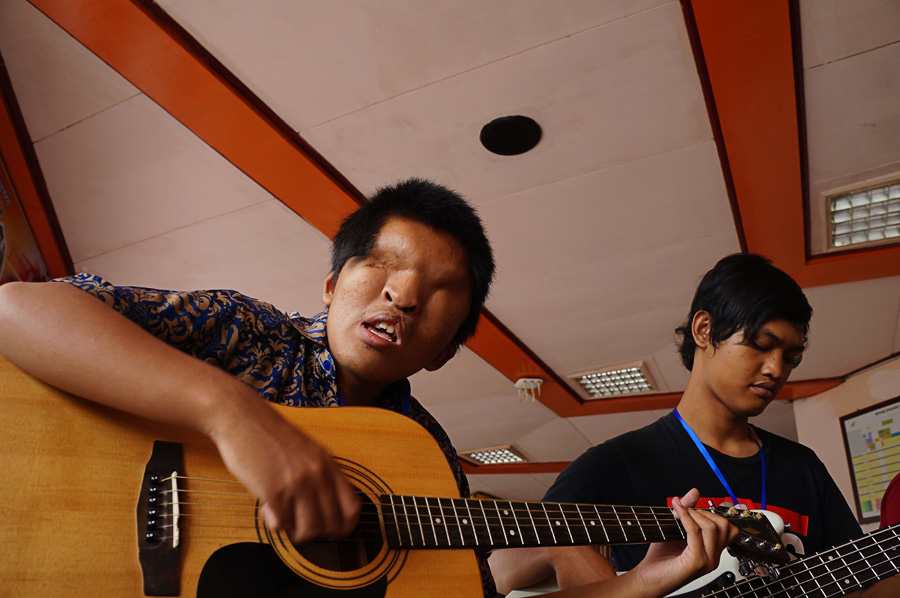 Five minutes. I wish I have more time to have a chat with him, exploring all of his mind. The last fact I know that Agung and his friends already had their own song. He still reluctant to say how many songs written by them. Just a little bit, that's all that came out. "We're not too confident yet. The arrangements and lyrics still not suit. Mean while we just play famous top fourty songs", he smiled. I can see his spirit clearly even not his eyes. A spirit of entertaining others without having to be embarrassed by his condition because he knew it's just a part of a difference, not a disability. Can't wait to see Agung with his Inklusi in action playing their own song. Hopefully I can meet my expectations at the next opportunity to come here.
*) Ngamen, means street singing. But in Indonesia mostly street singing is done by approaching people and asking for money.
***
Saat itu sisi barat Stasiun Bandung terlihat ramai. Minggu sore para petarung ibukota hendak kembali ke arenanya. Beberapa langkah sebelum memasuki fasad bangunan itu, sayup suara musik terdengar dari dalam, enak dan nyaman di telinga. Lagu itu tak asing, "Walau Habis Terang" oleh Peterpan. Terus masuk ke bagian dalam peron, setelah pemeriksaan tiket saya menyandarkan badan ke sebuah bangku panjang. Sudah beberapa kali saya kesini tapi harus diakui walau ramai ternyata tempat ini bisa membawa kenyamanan tersendiri bagi saya. Mungkin saja karena banyak tanaman di sisi luarnya yang membawa kesejukan, atau karena pemandangan luas ke arah emplasemen kereta, ya saya adalah seorang railfans. Mungkin juga suara lantunan lagu yang dimainkan live oleh band disitu. Well, belum banyak public space sekaligus public service yang memberi kesempatan bagi seniman untuk menghibur tamunya. Lagu-lagu yang easy listening dan level desibel yang pas mampu membuat bibir secara tak sadar ikut berkomat-kamit atau sekedar menghentakkan kaki dengan ringan mengikuti tempo lagu. Atau bisa juga karena gabungan semua itu. Tapi tunggu dulu, ada yang berbeda.
Enam orang disana memainkan alat musik masing-masing sementara banyak calon penumpang kereta yang melewati mereka sambil memasukkan rupiah ke sebuah kotak. Saya harap bukan karena kasihan, tapi lebih karena band itu memang sanggup memainkan lagu yang menghibur. Ya, para personil band itu berbeda dibanding beberapa kali kunjungan saya sebelumnya. Mereka adalah para penyandang tuna netra yang mahir memainkan alat musik lalu berkolaborasi membentuk sebuah band. Rupanya itu lagu terakhir mereka. Saya lihat jam tangan. Ah, masih ada cukup waktu. Pemain cajon itu sudah selesai berkemas lebih dulu dibanding teman-temannya. Saya menyapa dan berkenalan dengannya untuk sekedar mengobrol ringan. Dan dengan senang hati ia melayani ajakan saya bahkan ketika teman-temannya sudah pulang terlebih dulu. "Tak apa mas. Saya memang sedang menunggu teman disini. Jadi saya ada teman ngobrol sambil menunggu", ia tersenyum ramah sambil mengencangkan tas cajon nya.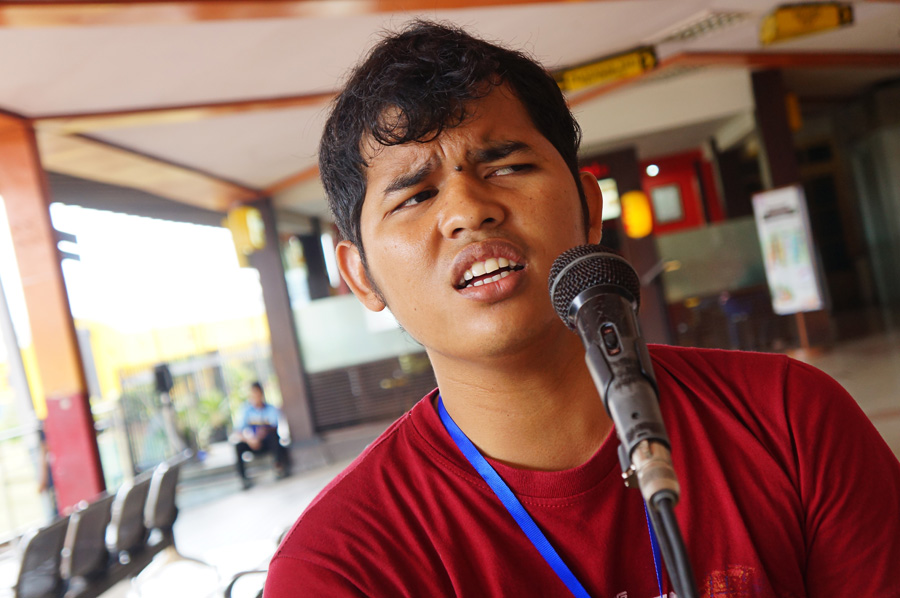 Agung Riyadi, 23 tahun dan band mereka bernama Inklusi, sebuah nama yang terinspirasi dari kekhususan mereka. Sementara teman-temannya yaitu Kharisma Nurhakim, gitaris, 20 tahun, Yohanes Teguh, gitaris, 18 tahun, Sony, bassis, 19 tahun, Femy Fahrizal serta Rizkar, keduanya vokalis dan berumur 21 tahun. Di Bandung mereka tinggal di panti Wiyata Guna yang tak jauh dari situ, sebuah asrama khusus bagi para tuna netra yang dibiayai oleh pemda setempat. Sudah hampir satu tahun tiap Minggu sore mereka rutin menghibur para calon penumpang kereta. Semuanya berawal dari ajakan rekan senior sesama band penyandang tuna netra yang terlebih dulu mendapat kesempatan. Di hari biasa mereka mengikuti pendidikan formal bagi difabel. Agung sendiri sejak tahun 2009 tercatat sebagai mahasiswa Universitas Islam Nusantara, Bandung, setelah sebelumnya menyelesaikan pendidikan di SLB Negeri Padjajaran jurusan musik di kota yang sama.
"Kami senang bermusik dan ingin seperti orang normal pada umumnya yang bisa berkarya sesuai dengan kesukaan mereka", Agung menyuarakan kata hatinya. Tiba-tiba Saya teringat sebuah tulisan di majalah Intisari, "Kami tak butuh rasa kasihan, kami hanya butuh kesempatan dan kesetaraan". Begitu ungkap Mimi Mariani Lusli yang kebetulan profilnya diulas di majalah itu. Wanita 51 tahun tersebut adalah seorang penyandang tuna netra sekaligus pendiri Mimi Institute, sebuah yayasan yang menyediakan program pengembangan kepribadian dan pembekalan ketrampilan bagi penyandang disabilitas agar bisa mandiri serta mempunyai keahlian untuk berkarir di tengah masyarakat. Tak banyak penyandang kebutuhan khusus seberuntung mbak Mimi yang menyelesaikan beasiswa S2 Master of Communication dari British Council di Leeds University, Inggris, bahkan ia sekarang sedang mengambil S3 di Faculty of Life & Earth Sciences di University of Amsterdam, Belanda.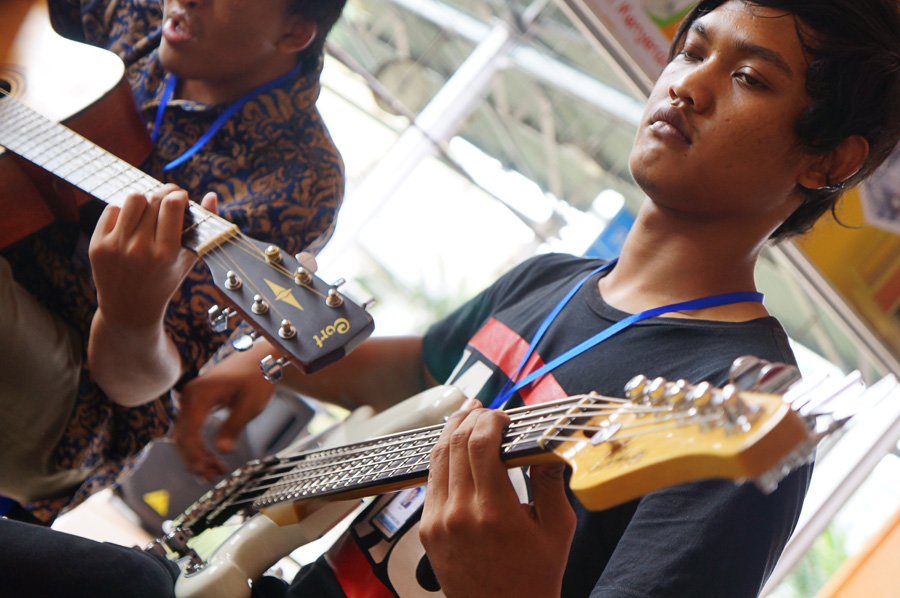 Selama ini banyak para difabel menjual kekurangan mereka di jalanan untuk mengais rupiah. Bahkan bagi tuna netra menjadi tukang pijat saja sudah lumayan. Sulit dielakkan Indonesia adalah tempat yang belum ramah bagi penyandang disabilitas. Jangankan bekerja normal, kesempatan untuk bisa beraktifitas sehari-hari berupa fasilitas khusus difabel di tempat-tempat umum saja sangat minim. Perhatian pemerintah yang kurang seolah menjadikan mereka seperti warga negara kelas dua. Tapi yang paling penting bagi mbak Mimi adalah kemandirian dan mampu merawat diri sendiri selain tentunya menuntut kesetaraan. Ia ingin menunjukkan bahwa orang-orang berkebutuhan khusus juga bisa berkarya dan berprestasi seperti orang normal lain asalkan punya kemauan dan kemampuan serta diberi kesempatan yang sama.
"Dulu sempat mau ngamen di jalan atau angkot mas. Tapi setelah dipikir lagi ga jadi deh, mas". Pikiran yang sempat melayang sesaat kembali ke lawan bicara di depan saya. Bagi Agung ngamen yang seperti itu sama saja seperti ngemis tapi dengan cara yang sedikit halus, lebih mementingkan uangnya dan membuat orang kurang nyaman karena si pengamen mendatangi orang dan meminta uang. Beda jika ia bermain musik seperti sekarang. Orang lah yang mendatanginya dan tentu lebih ikhlas memberikan uang. Banyak atau sedikit tak masalah karena yang paling penting bagi Agung dan teman-temannya adalah bisa melakukan sesuatu yang disukai sekaligus menghibur orang lain.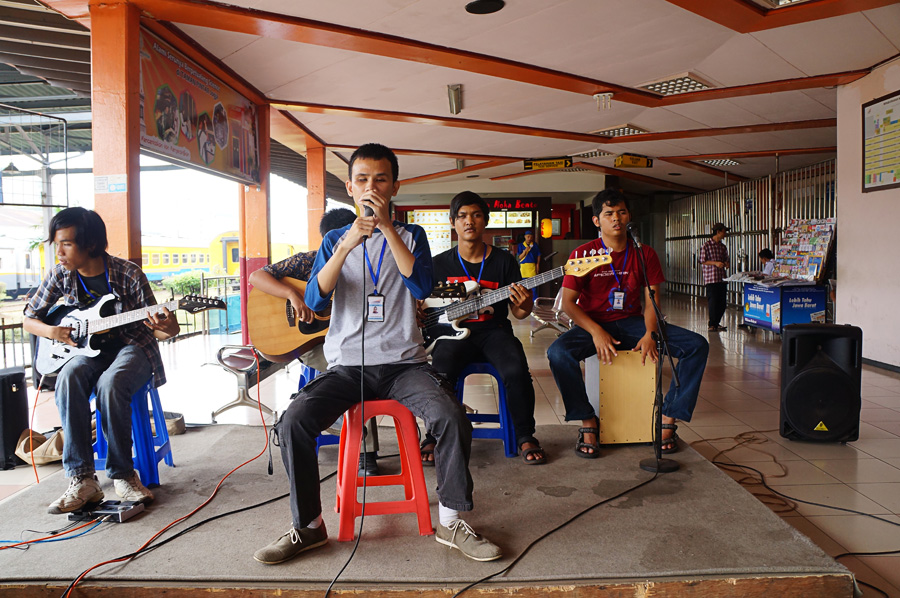 Duh, lima menit lagi. Rasanya masih ingin ngobrol lama dengan anak muda satu ini menggali semua isi pikirannya. Fakta terakhir yang saya dapat adalah Agung cs sudah punya beberapa lagu ciptaan sendiri. Ia masih enggan menyebut berapa lagu karya mereka. Baru sedikit, cuma itu yang terucap. "Ah belum pede, mas. Belum dapat aransemen dan lirik yang pas. Sementara lagu orang dulu deh yang kami mainkan disini", Agung tersenyum kecil. Meskipun tak bisa melihat bola matanya dengan jelas tapi saya bisa melihat semangatnya yang ingin menghibur orang lain tanpa harus malu dengan kondisinya karena itu bagian dari perbedaan, bukan keterbatasan. Tak sabar melihat Agung dan teman-temannya beraksi memainkan buah karya mereka sendiri. Semoga harapan saya terpenuhi pada kesempatan berikutnya berkunjung lagi kesini.