2012, began to leave the job without any apparent reason for the sake of traveling. Many new things came and it was so fun. And became more interested to photography in the same year. I had been visited some of the best spot to take picture in Java. Soon I realized that now I have more than a pair of eyes to see. The other eye has become a gift and I'm so grateful. Yep, the camera.
2012, when my journey's getting farther. Enjoy, fellas.
Tahun 2012, mulai meninggalkan tempat kerja tanpa alasan jelas demi suatu perjalanan. Mulai sering melihat hal-hal baru, dan itu menyenangkan. Di tahun yang sama, hasrat untuk memperdalam dunia melukis cahaya semakin besar. Beberapa tempat terbaik untuk melukis cahaya di pulau Jawa terjejaki. Mulai tersadar juga bahwa kini saya tak hanya mempunyai sepasang mata yang harus disyukuri. Mata yang lain telah menjadi anugrah sekaligus amanah yang harus dijaga. Ya, kamera.
2012, berjalan lebih jauh. Selamat menikmati, kawan.
 ***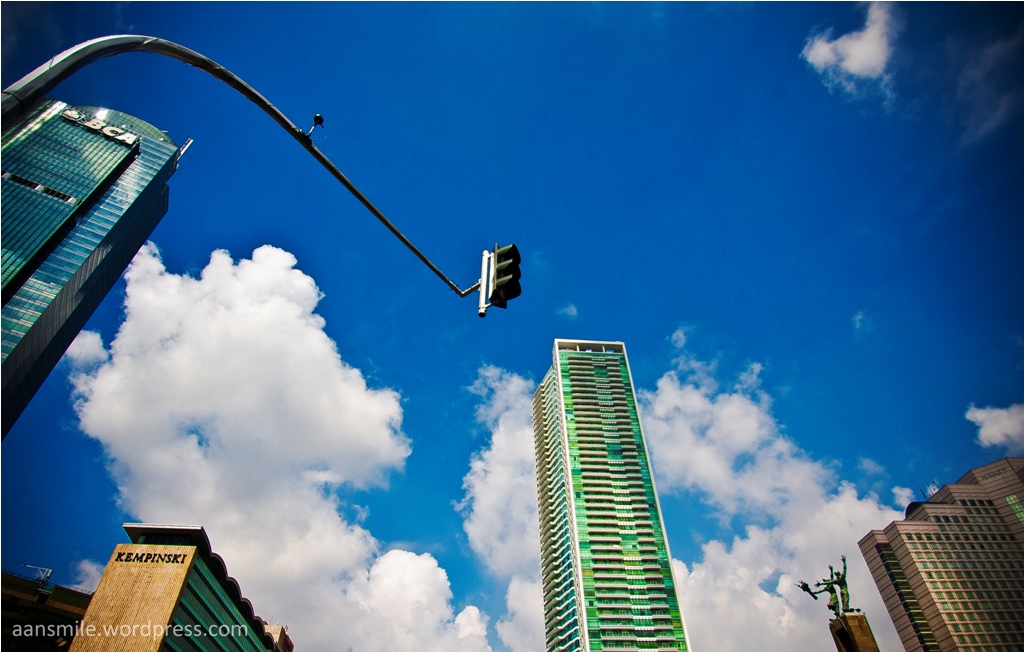 Jungle Of Steel
Belantara Beton
When doing his job, a photographer learn from other pictures both the angle and composition. Especially when it's a popular place like Selamat Datang Monument ( Selamat datang : Welcome ) or well known as Hotel Indonesia Roundabout. A lot of photos has been taken about this place from some mainstream angle. Same object but different and unique picture. Its one of must-have caharacter of a good photographer. That's what Arbain Rambey said.
This photo is my answer to the challenge. One of my few photos with different perspective. I got this angle accidentally while resting just below the traffic light.
Seorang fotografer pasti belajar dari referensi gambar yang pernah dilihatnya baik itu sudut dan komposisinya. Apalagi jika itu tempat yang populer seperti Tugu Selamat Datang atau yang biasa disebut Bundaran Hotel Indonesia ini. Sudah cukup banyak foto tempat ini dengan sudut yang itu-itu saja. Salah satu ciri fotografer handal adalah jika ia mampu memotret obyek yang sama namun dengan hasil gambar yang unik dan berbeda. Begitu kata Om Arbain Rambey.
Foto ini adalah jawaban tantangan tersebut. Satu dari sedikit foto saya dengan perspektif yang berbeda. Sudut ini saya dapatkan tidak sengaja ketika sedang duduk beristirahat tepat di bawah tiang lampu lalu lintas.
***
Greeting The Sun
Menyambut Surya
A few years ago an international traveling magazine released an article about top ten sunrise spots in the world. One of the list is here, at Sikunir Hill in Dieng plateau, Central Java. Almost to missed it because my hitchhiked car broke down, but thank God I succesfully got to the place on time. Mount Sindoro and Sumbing were clearly seen. And the horizontal line as well. What a majestic view. Holy God. "Then which of the favours of your Lord will you deny?" Quran surat Ar-Rahman, The Most Gracious. Enjoy my other photos of beautifully Dieng here.
Sebuah majalah traveling terbitan luar negeri pernah merilis artikel tentang sepuluh besar tempat dengan matahari terbit terbaik. Salah satunya disini, Bukit Sikunir di dataran tinggi Dieng, Jawa Tengah. Dan saya membuktikannya sendiri walaupun hampir melewatkannya gara-gara mobil yang saya tumpangi mogok. Gunung Sindoro dan Sumbing terlihat dengan jelas. Garis batas horizon juga tampak nyata. Sangat indah. Subhanallah, Tuhan Maha Besar. "Dan nikmat Tuhan mu manakah yang kau dustakan wahai manusia?" Quran surat Ar-Rahman. Berbagai penampakan keindahan Dataran Tinggi Dieng bisa dilihat di artikel saya ini.
***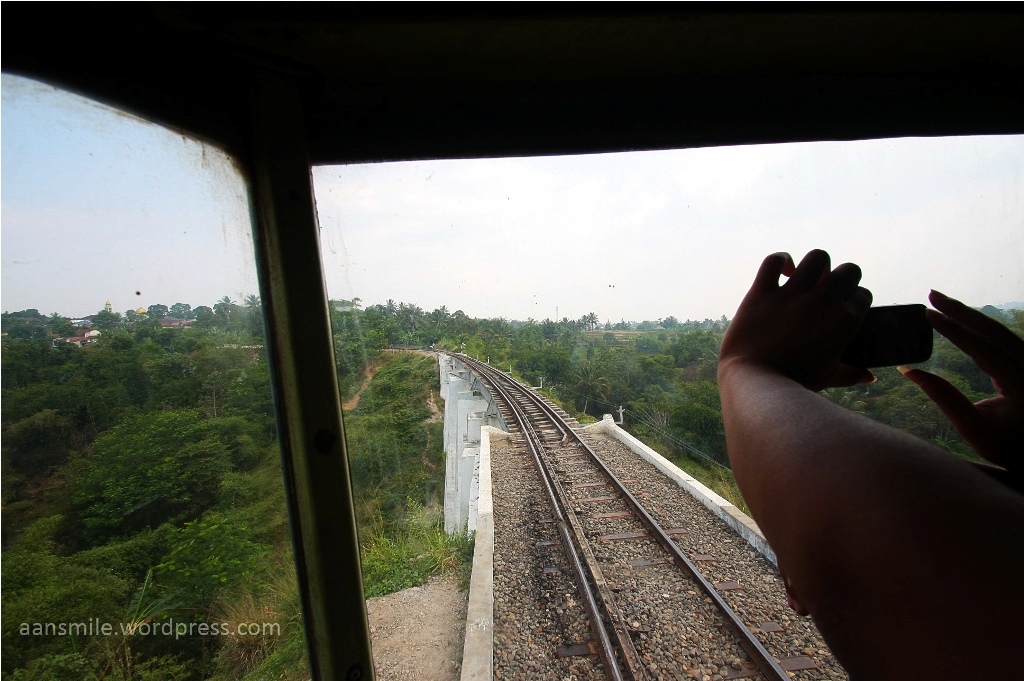 The (Almost) Forgotten
Yang Terpinggirkan
This is one of the view from Bogor-Sukabumi railway route. For me what makes it special is the train, KRD Bumi Geulis ( The Beautiful Land ). Pretty name but not with his story, sadly. Now he left nothing but a name. Time has made him helpless. I was lucky able to met him before being retired. Read the full story here.
Kurang lebih seperti inilah pemandangan yang tersaji di jalur kereta Bogor – Sukabumi. Namun bagi saya yang membuatnya istimewa adalah keretanya, KRD Bumi Geulis. Sayang nasibnya tak se geulis namanya. Kini ia tinggal nama. Usia uzur menjadi sebab utama. Saya cukup beruntung masih sempat menaikinya sebelum dipensiunkan. Baca kisah selengkapnya disini.
***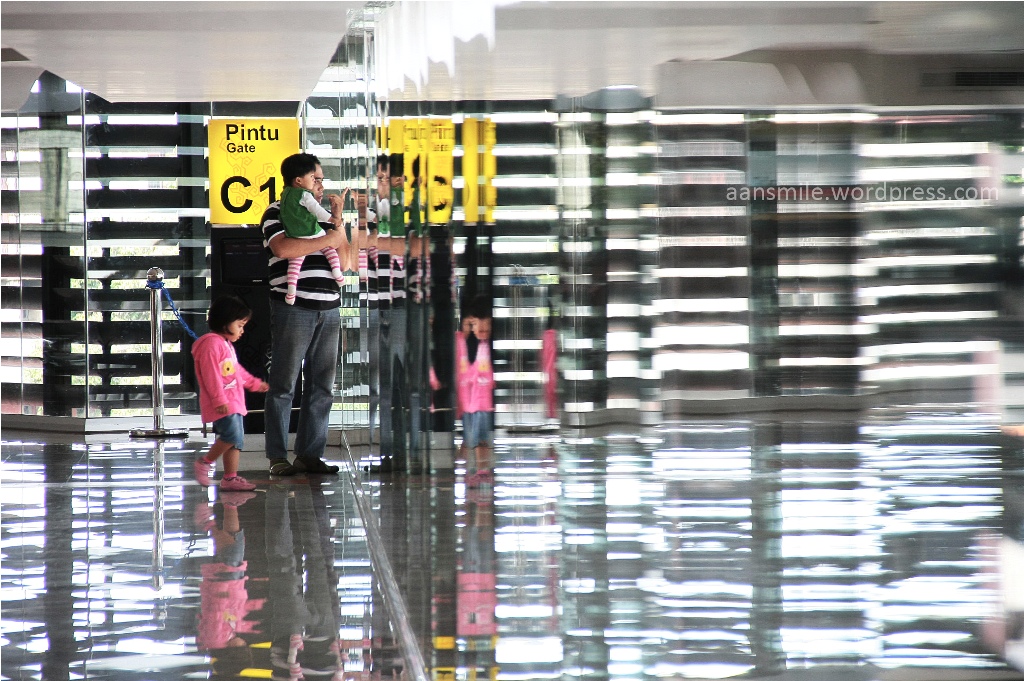 Look At That Big Plane, Son
Lihat Itu Pesawatnya Besar Ya, Nak
Maybe that's what the dad said to his son. I love the moment when the parents close to their kids. Because finally I will do the same thing. I also like the abstract reflection on the glass. Amazing.
Mungkin itu yang diucapkan oleh si ayah pada anaknya. Saya menyukai gambar ini karena hal seperti ini juga yang akan saya lakukan kelak. Selain itu saya juga menyukai refleksi abstrak pada dinding kacanya. Menakjubkan.
***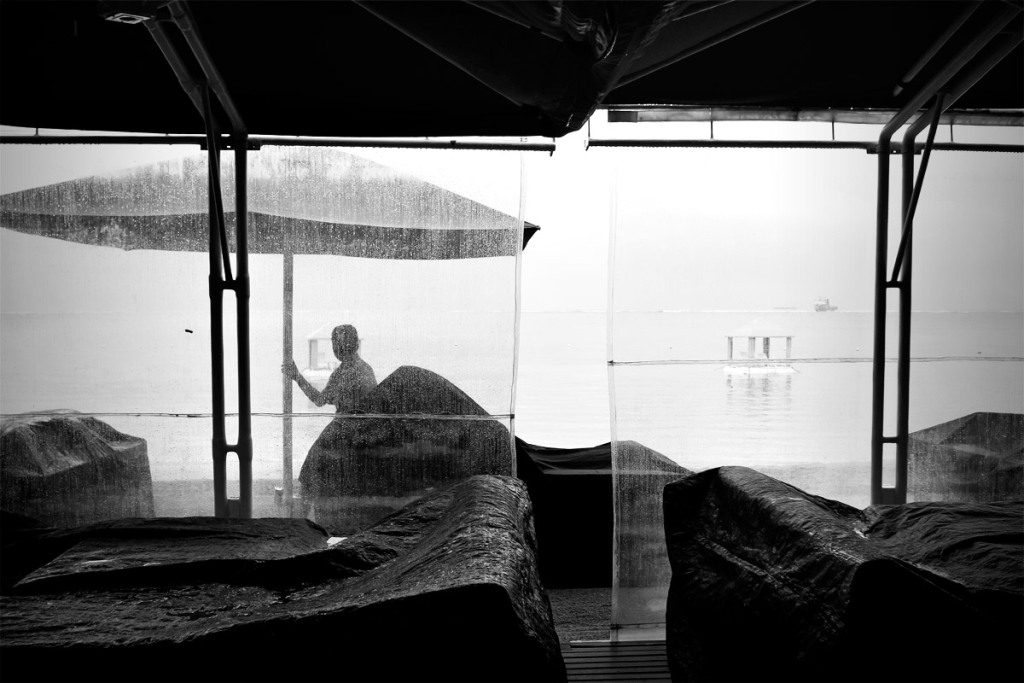 When The Water Kiss The Earth
Ketika Air Menghujani Bumi
Rain has always been an scourge for most photography enthusiasts including me. Well in fact it can create exciting moments. It only needs more effort. There is no such a thing as bad weather, only bad attitude. This photo is my first answer to the challenge. Taken in Sanur beach, Bali.
Hujan selalu menjadi momok bagi sebagian besar penggiat foto termasuk saya. Padahal sebenarnya hujan pun bisa menyuguhkan berbagai momen menarik asalkan mau berusaha lebih keras. There is no such a thing as bad weather, only bad attitude. Foto ini jawaban pertama saya akan tantangan tersebut. Diambil di pantai Sanur, Bali.
***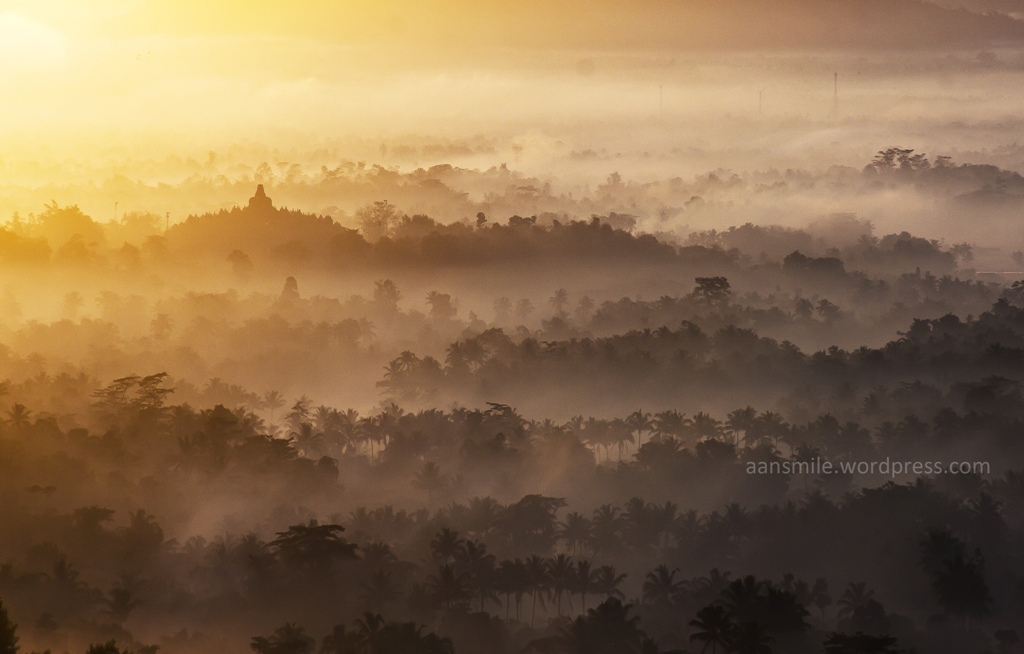 The Morning Painting
Lukisan Pagi
It's one of the favourite after my fifth years in photography. I took the picture in Setumbu Hill. Borobudur will always astonishing from here no matter the weather. Only the different color. No wonder this place known as one of the best photography spot in Java. I was there in early 2012 and still quite. I walked on narrow path and so slippery after night rain as well. There's only dim light from the local's bulb. I saw only five visitors and there were only private donation and guest book signing. Now they have a official ticket counter and it's so crowded especially on holiday. The good thing is the infrastructure is getting better. Cemented path and brighter lights. Enjoy my article about Setumbu here.
Lima tahun saya berkecemplung di dunia fotografi dan foto ini masih menjadi salah satu favorit. Bukit Setumbu adalah lokasi pengambilan gambar ini. Apapun cuacanya Borobudur akan selalu terlihat menawan dari sini. Hanya berbeda warna saja. Tak heran tempat ini adalah salah satu titik terbaik berburu foto di pulau Jawa. Terakhir kemari awal 2012 yang lalu, Setumbu masih sangat sepi. Rute berjalan kaki kesana masih berupa jalan setapak yang sangat licin jika setelah hujan. Hanya ada satu lampu bohlam yang menyala remang-remang. Waktu itupun saya hanya berjumpa dengan lima orang pengunjung dan hanya perlu mengisi buku tamu dan sumbangan seikhlasnya. Sekarang sudah ada loket dengan karcis resmi dan sangat ramai terutama di hari libur. Sisi baiknya infrastruktur sudah lebih layak. Lampu yang terang dan tangga bersemen. Nikmati foto dan tulisan saya yang lain tentang Setumbu disini.
***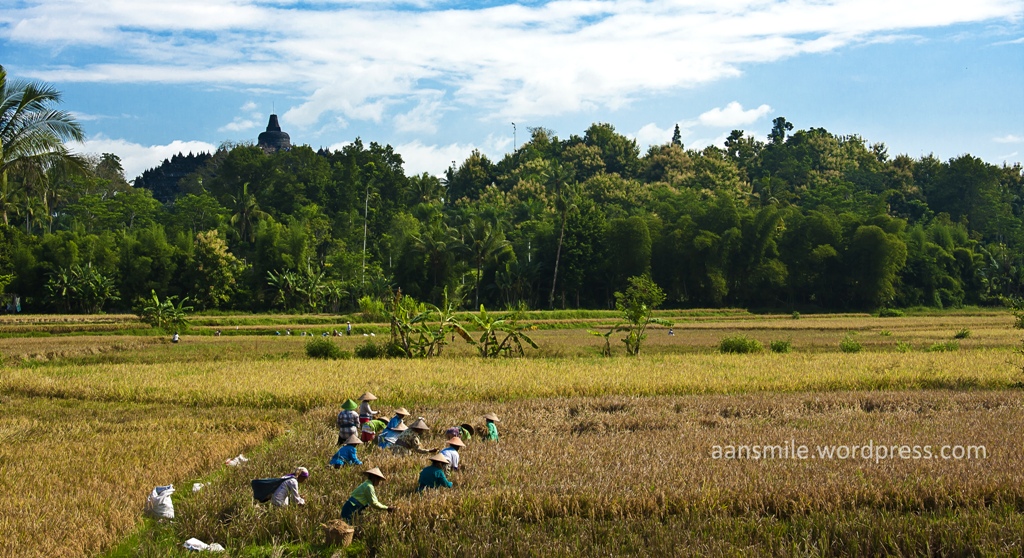 A Blessing
Berkah
Went down from Setumbu, I paused to stop by in rice fields around Borobudur. The farmers were having a harvest. What a coincident. Looking at this photo makes me think that the temple is like a blessing for the surroundings. Borobudur drives the tourism and the local agriculture as well. It is a lesson. A good man is who brings benefits and happiness to the others. Have we?
Sepulangnya dari Setumbu saya sempatkan mampir sejenak ke areal persawahan di sekitar Borobudur. Kebetulan waktu itu para petani disitu sedang panen raya. Bagi saya foto ini seolah menggambarkan bahwa Borobudur adalah berkah bagi lingkungan disekitarnya. Bukan hanya pariwisata tapi juga pertanian. Pelajaran yang bisa diambil adalah manusia yang baik adalah yang mebawa manfaat dan kebahagiaan bagi sekitarnya. Sudahkah kita menjadi orang yang baik?
***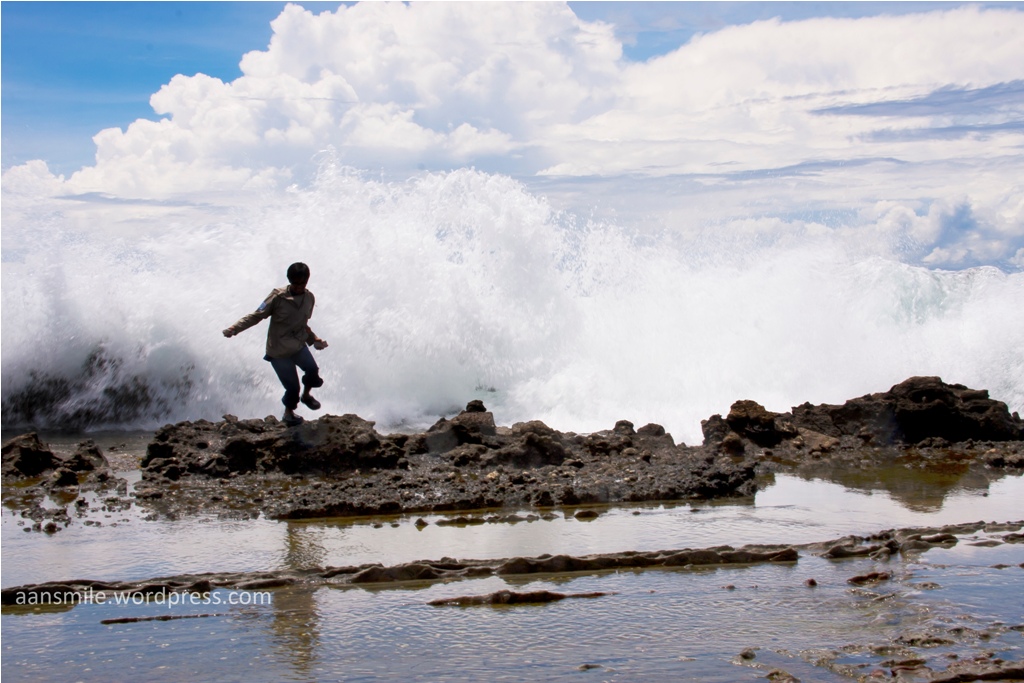 Jump, Hanif! Jump..!!
Lompat, Hanif! Lompat..!!
That morning at Sawarna, Banten, we roamed the Tanjung Layar beach which is so iconic with its huge rocks. Hanif was walking along the reef rows which seems like a barrier. It keeps the shoreline from the direct hit of ferocious waves from the southern sea. However the surf still able to smash unexpectedly as it did on this photo. Fortunately Hanif jumped right on time. Please enjoy rest of the pics here.
Pagi itu di Sawarna, Banten, kami menjelajah pantai Tanjung Layar yang begitu ikonik dengan batu karangnya yang besar. Hanif menjelajah di area barisan karang yang berfungsi seperti pagar agar ombak laut selatan yang ganas tak menerjang langsung ke pantai. Namun demikian pecahan ombak tetap saja bisa menerjang dengan tak terduga seperti yang terjadi pada foto ini. Untung Hanif sigap dan segera melompat. Nikmati foto-foto saya yang lain tentang pantai ini disini.
***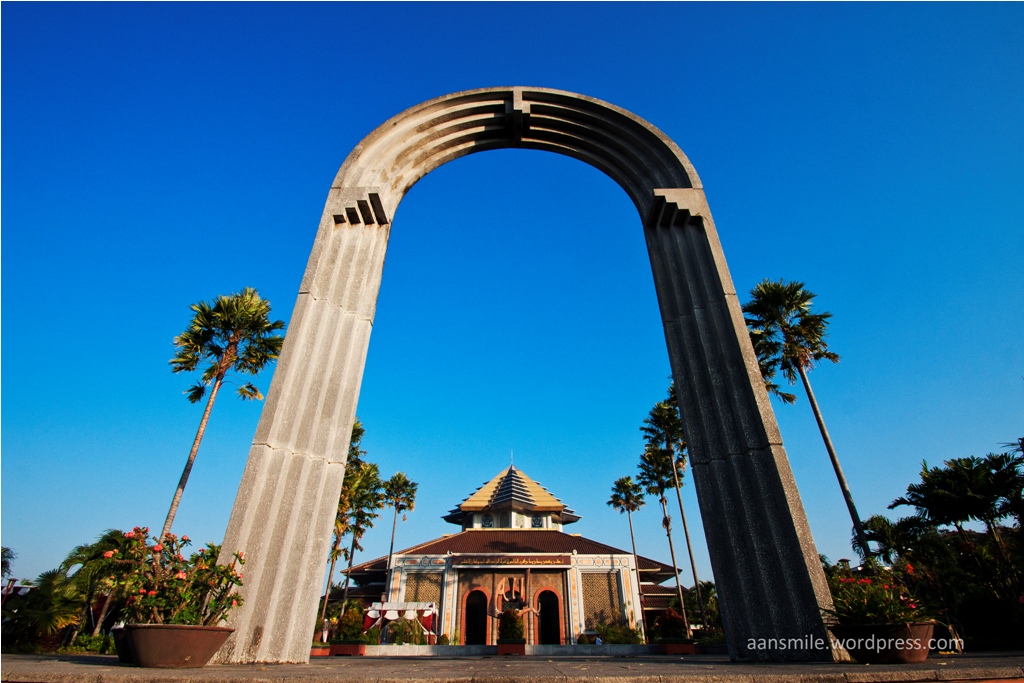 Campus Mosque Of UGM (University of Gadjah Mada)
Masjid Kampus UGM
As the name implies, Mosque of Jamaah Sholahudin or well know as Campus Mosque of UGM is located in area of UGM, Yogyakarta, the place where I got my higher education. I love the pic from this angle since its so photogenic. But moreover it also has multifunctional purpose especially for the academic community even a tourist spot. But who would have thought, the mosque once was an unkempt traditional chinese cemetery. Nobody wants to cross the area especially when the night falls. But now, the time has changed as you can see more here.
Sesuai namanya, Masjid Jamaah Sholahudin atau yang lebih dikenal sebagai Masjid Kampus UGM, terletak di area kampus UGM Yogyakarta, tempat dimana saya menempuh pendidikan tinggi. Saya menyukai foto dari sudut ini karena sangat fotogenik. Namun lebih dari itu, masjid ini juga menjadi pusat kegiatan para civitas akademika bahkan menjadi tujuan wisata. Namun siapa sangka kalau dulu tempat ini dulunya adalah area kuburan cina yang tak terawat. Hampir tak ada orang yang mau melewati daerah ini ketika malam tiba. Tapi sekarang, anda bisa menyaksikannya sendiri seperti foto-foto saya disini.
***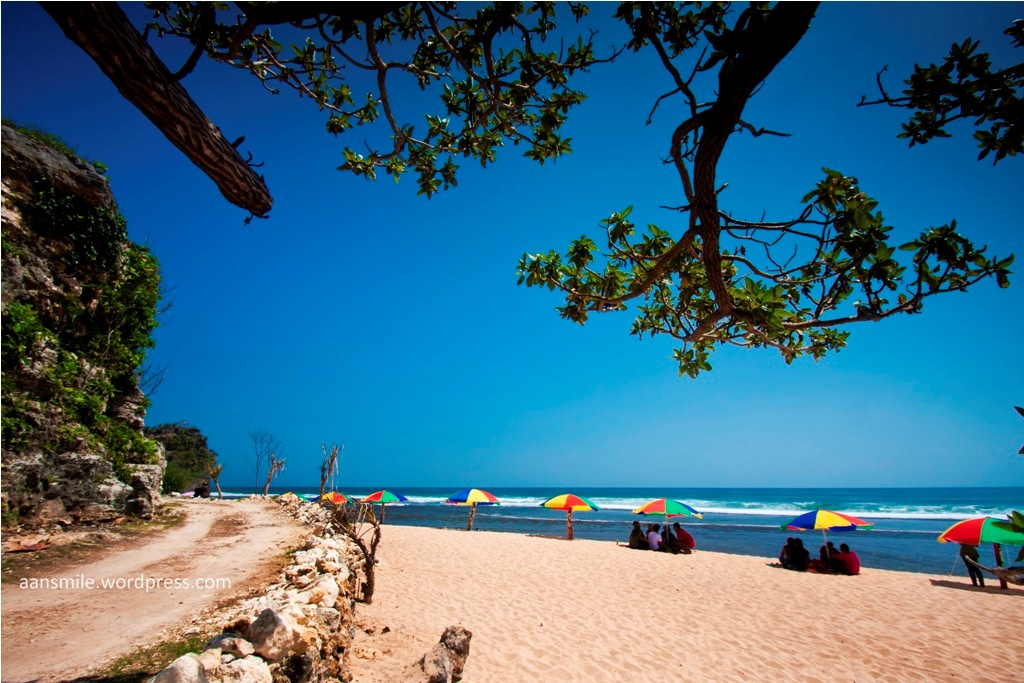 Pok Tunggal
Pok Tunggal
Just an ordinary landscape photo. It is Pok Tunggal beach, Gunungkidul, Yogyakarta. At the time it was lonesome beach with a bad road access. What interesting was when I published the pic into social media. So many comments. Most were asking about the beach and how to get there. But one of them appeared with an anger. This man seemed to be unhappy when the beach become crowded. "Pok Tunggal is my tranquility heaven. You people are just going to ruin it. Stay away! Find other beaches you can disturb!", that's what he said.
I am not blaming this guy entirely. Yet there are many tourists who dont care about the place they visit. Littering is an easy example. But as the internet growing rapidly, sooner or later all the hidden places will finally revealed. Then it is our responsibility to take care and provide education to others in order to preserve the nature. You can see others Pok Tunggal photos here.
Ini hanya foto pantai biasa. Saya ambil di Pantai Pok Tunggal, Gunungkidul, Yogyakarta. Waktu itu pantai ini masih sepi. Akses jalannya pun belum memadai. Yang menarik ketika saya menyebarkan foto ini di sosial media. Muncul begitu banyak komentar. Sebagian besar menanyakan seputar pantai ini termasuk lokasinya. Tapi salah satu komentar yang muncul berisi kemarahan. Orang ini tak suka jika pantai ini dipublikasikan ke umum dan menjadi ramai. "Pok Tunggal itu surgaku buat mencari ketenangan. Kalian hanya akan merusaknya. Jangan datang kesini! Sana cari pantai lain yang bisa kalian injak-injak!" Kurang lebih begitu isi komentarnya.
Saya tak sepenuhnya menyalahkan orang ini. Karena memang masih banyak orang berkunjung ke sebuah tempat tanpa peduli dengan kelestariannya. Membuang sampah sembarangan adalah contoh mudahnya. Tapi dengan dunia informasi yang semakin pesat, pada akhirnya semua tempat tersembunyi akan tersingkap. Tugas kita semua untuk peduli dan memberikan edukasi pada orang lain agar lingkungan terjaga. Foto-foto Pok Tunggal yang lain bisa dinikmati disini.