Anteng Kitiran, calm like a vane. A javanese metaphor means always on the move. He was talented to not stay still since his childhood. Then its not a surprise if he had almost made an accident. That day his father took him to a tennis court near the Lempuyangan Train Station, Yogyakarta. Easy to guess the six-year-old boy fled alone to the emplacement yard. Living in the neighborhood around a train workshop and a rail company worker father, were a perfect combination that made him fall in love with that snakey iron.
So what happened next was the little boy to finish his curiosity by moving the manual switch in branching rail lines. Fortunately an officer knew it and immediately restored the switch. A train were passed the branching line shortly. The officer then took him to the tennis court and told everything to his father. It turned out they knew each other. A high tone word rolled. Still, the boy did not realized what he had just done. Finally he understood what happened after he was grew enough. Thank God no fatal accident. The boy was me.
Piece of the story above shows how great is my hunger of exploration even till now. The desire intensified after college, right after I got a job in Jakarta. Freedom from parents confine and a financial independence are the major factor. Not to forget my passion for visual recording also played a role. And finally the Lord allowed me to have my own camera in 2011.
It is not just a matter of good pictures, but a personal story walk along these images. Not just about a distant place with spectacular views, but could be a simple place called home. This is a series of my top ten best picture in 2011, the year when I started thinking seriously about the world of visual recording. This article will continue into subsequent years. The years were getting more colorful.
Friends, please enjoy.
Anteng kitiran, sebuah istilah dalam bahasa jawa yang artinya tak bisa diam. Dari kecil ia memang berbakat untuk tidak bisa duduk tenang. Maka tak heran kalau ia pernah hampir membuat orang celaka. Hari itu sang ayah mengajaknya ke lapangan tenis dekat stasiun Lempuyangan, Yogyakarta. Dan mudah diduga, si bocah enam tahun itu kabur ke emplasemen kereta sendirian. Tinggal di lingkungan sekitar bengkel kereta dan seorang ayah pekerja kereta, adalah kombinasi sempurna yang membuatnya jatuh cinta pada kereta api.
Maka yang terjadi kemudian adalah si anak kecil tersebut menuntaskan penasarannya dengan memindahkan wesel manual pengalih jalur di percabangan rel. Beruntung seorang petugas lapangan mengetahui hal itu dan segera mengembalikan posisi wesel rel, karena sebuah rangkaian kereta melintas beberapa saat kemudian. Petugas itu lalu membawanya ke lapangan tenis dan menceritakan semua ke ayahnya. Ternyata mereka saling kenal. Nasehat dengan nada tinggi pun meluncur dari mulut sang ayah. Namun tetap saja ia tak mengerti apa yang baru saja dilakukannya. Si bocah akhirnya paham kejadian itu setelah ia cukup dewasa.  Syukur tidak ada yang celaka waktu itu. Bocah itu adalah saya.
Sepenggal cerita diatas menunjukkan betapa hasrat penjelajahan dalam diri saya begitu besar bahkan sampai sekarang. Penuntasan hasrat makin menjadi selepas kuliah, tepatnya setelah saya mendapat pekerjaan di ibukota. Terbebas dari pagar orang tua serta kemandirian finansial menjadi faktor utama. Tak lupa kecintaan saya pada rekaman visual juga ikut berperan. Dan akhirnya tahun 2011 Tuhan mengizinkan saya memiliki kamera sendiri.
Ini bukan sekedar masalah foto bagus yang mengundang pujian, tapi sebuah cerita personal yang mengiringi gambar-gambar tersebut. Tak sekedar mengenai tempat yang jauh dengan pemandangan memukau, tapi bisa saja sebuah tempat sederhana bernama rumah. Inilah rangkaian 10 gambar terbaik bagi saya di tahun 2011, tahun dimana saya mulai berpikir serius dengan dunia rekaman visual. Dan selanjutnya artikel ini akan berlanjut ke tahun-tahun berikutnya. Tahun-tahun yang semakin berwarna.
Teman, silahkan menikmati.
***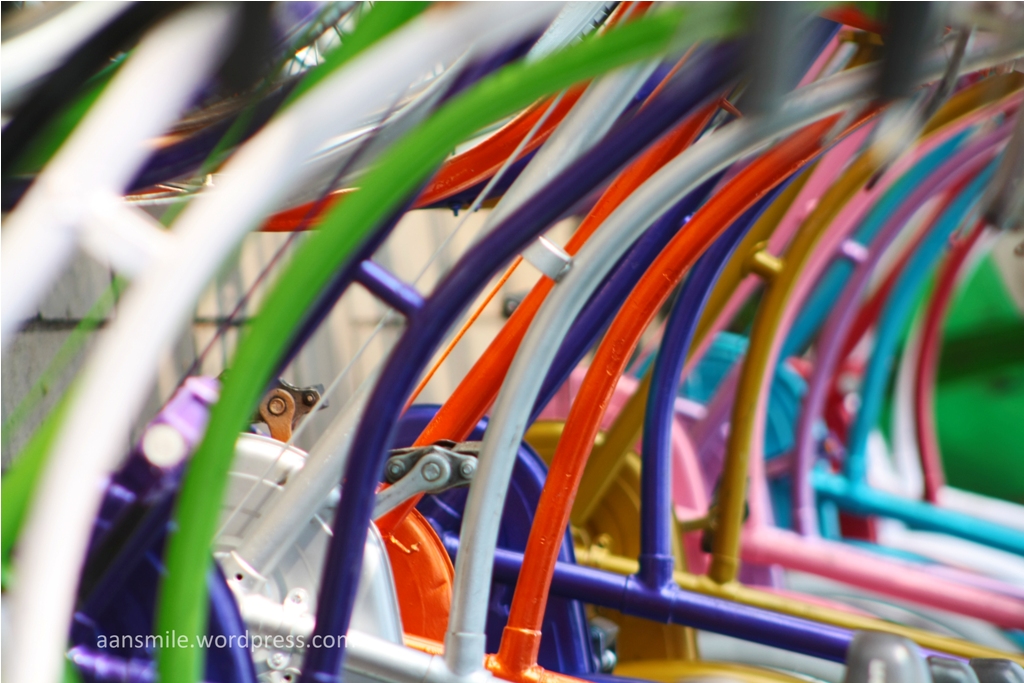 The Colors of Kota Tua
Warna-Warni Kota Tua
As part of the working class, the weekend is my only time for a refreshing. Kota Tua or 'The Old City' seems to be the first target especially for someone who has just bought a new camera. Popular, teeming, and strategic. What a mainstream place. It offers so many joy that can be reached easily, as these colorful rented bike. Technically, it is my first good photo from my new camera. I just bought the camera last night before took the picture.
Seperti halnya kelas pekerja yang lain, akhir minggu adalah satu-satunya waktu luang bagi saya untuk menyegarkan pikiran. Kota Tua seolah menjadi target pertama, apalagi bagi seseorang yang baru saja memiliki kamera. Populer, ramai dan strategis. Tempat ini sungguh mainstream. Ia menawarkan beragam warna yang dapat dijangkau dengan mudah, seperti warna-warni sepeda yang disewakan ini. Inilah foto terbagus pertama secara teknis dari kamera baru saya. Saya baru membeli kamera tersebut semalam sebelum memotret ini.
***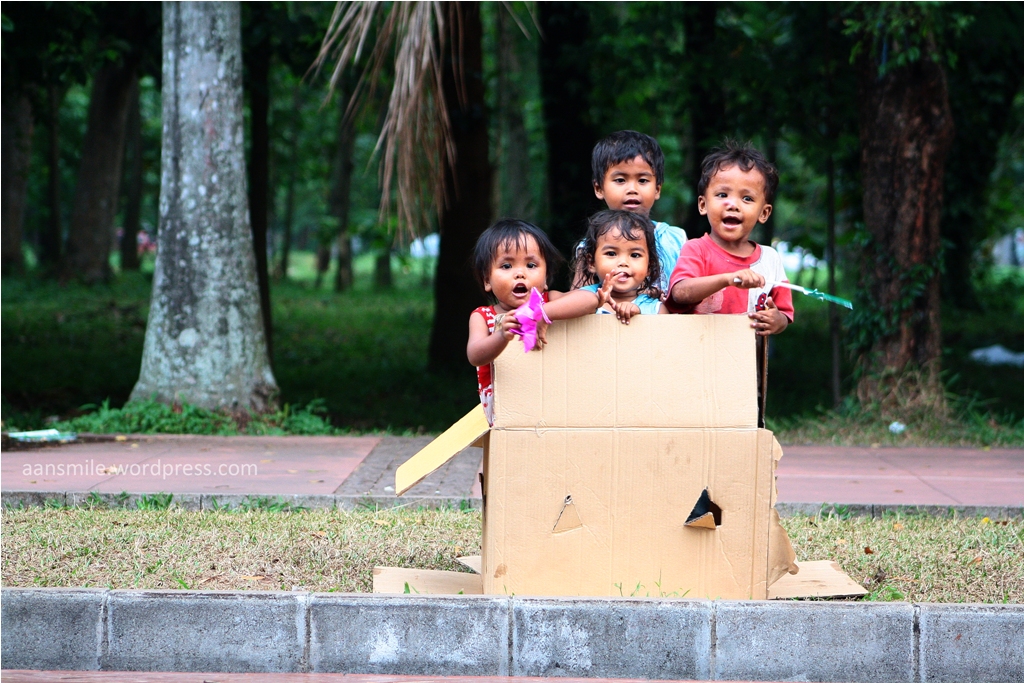 Being Happy Is Simple
Bahagia Itu Sederhana
I went to the Bung Karno Sport Center, Senayan that afternoon. I saw few scavengers were resting. However, their kids seemed to anteng kitiran. They were playing the junk including a  cardboard. They're looked very happy. Until finally the kids did this. I think happiness is not about what you do, when and where. But whom.
Sore itu saya iseng pergi ke Gelora Bung Karno, Senayan. Saya melihat beberapa pemulung sedang beristirahat. Namun anak-anak mereka sepertinya anteng kitiran. Mereka bermain dengan barang-barang seadanya termasuk dengan kardus bekas. Mereka tampak sangat bergembira. Hingga akhirnya bocah-bocah ini melakukan hal ini. Karena kebahagiaan itu bukan tentang apa yang anda lakukan, kapan dan dimana. Tapi dengan siapa.
***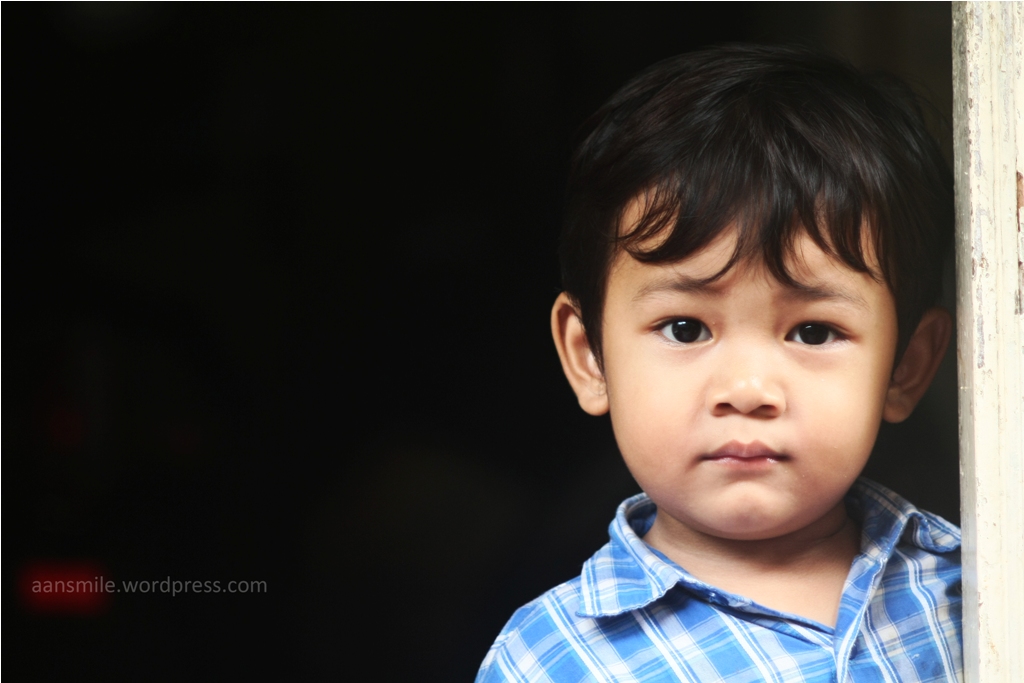 Kahfi
Kahfi
That's the name of this boy. My kos ( the boarding house) in Jakarta was like a daycare for him since his grandmother worked there as a housekeeper. Actually there is nothing special about this photo but I do like kids and this boy is handsome and adorable as well. His cheek is easy prey for my hand.
Itulah nama bocah ini. Hampir setiap hari ia datang ke kos saya di Jakarta untuk dititipkan pada neneknya yang juga pengurus di kos saya tersebut. Sebenarnya tidak ada yang istimewa dari foto ini kecuali saya memang menyukai anak-anak dan bocah ini memang tampan sekaligus menggemaskan. Pipinya adalah sasaran yang empuk bagi tangan saya tiap hari. Ya, empuk secara harfiah.
***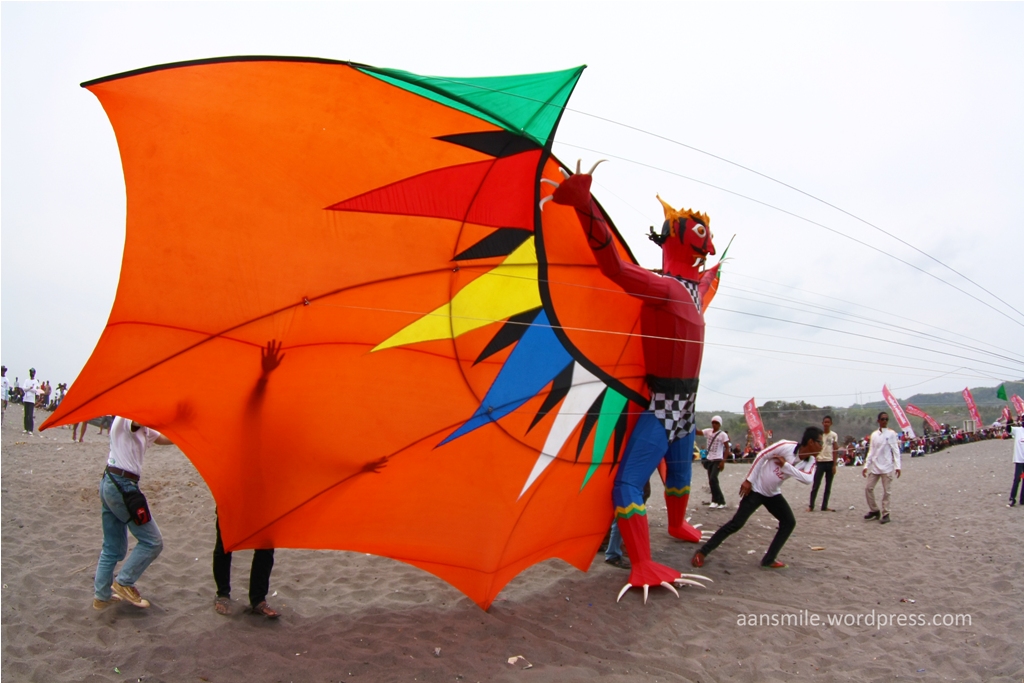 The Kite of Parangtritis.
Layang-layang Parangtritis
I took this photo at the National Kite Festival held on at Parangkusumo beach, Bantul, Yogyakarta. This photo as well as the writing is my first work on this blog (see here) and also the first work that goes in the mass media, precisely in Exposure online magazine. (download here)
Saya mengambil foto ini pada acara Festival Layang-Layang Indonesia di pantai Parangkusumo, Bantul, Yogyakarta. Foto ini dan beberapa foto lain, serta tulisan yang mengiringi adalah karya pertama saya di blog ini (baca disini) dan juga karya pertama yang masuk di media massa, tepatnya di majalah online Exposure. (unduh disini)
***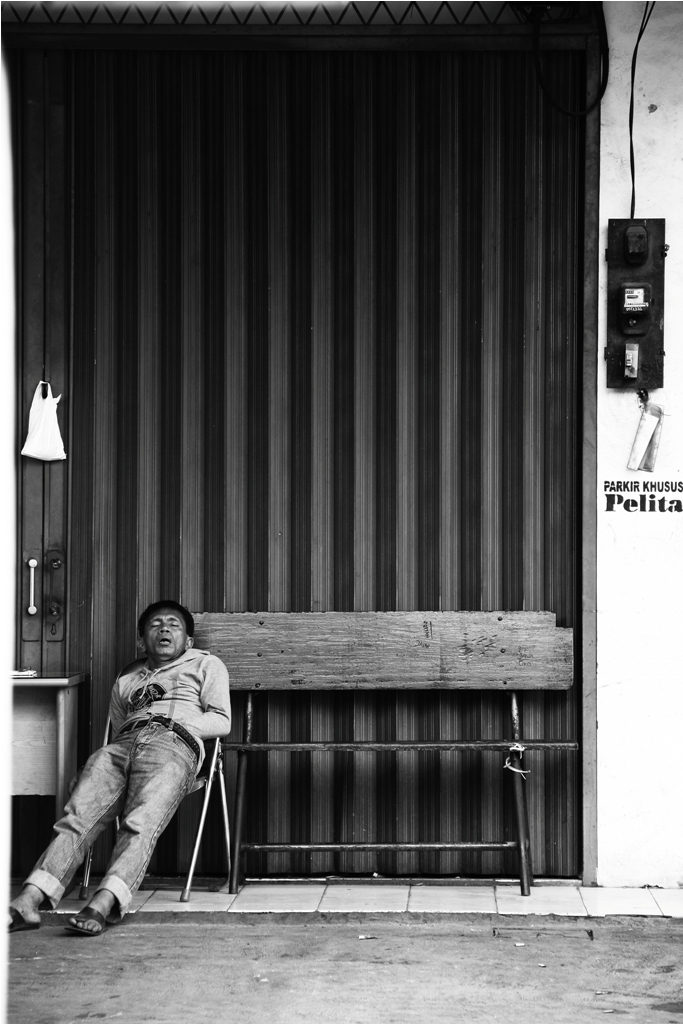 Deep
Lelap
I got this moment on my first mass-photo hunt in Jakarta Street Hunting (JASH) 2011. It was already noon at 10 and the shabby guy still fell asleep wakeless even with uncomfy position. This picture reminds me of superficial happiness. A story of a street worker looked at a rich man in his fancy car full of envy. He thought how happy he was if he became that lucky guy. Meanwhile behind the window, the rich man saw him fell asleep although only in a doorway. How frustating it is. All of his fortune could not give him the luxury to sleep easily since so much burden on his mind.
Saya mendapatkan momen ini ketika mengikuti hunting foto masal pertama kali pada acara Jakarta Street Hunting (JASH) 2011. Si bapak lusuh ini masih tertidur begitu nyenyak dengan posisi yang sebenarnya kurang nyaman, padahal saat itu sudah hampir jam 10 siang. Gambar ini seperti mengingatkan saya tentang kebahagiaan semu. Sebuah kisah tentang seorang pekerja jalanan memandang seorang pria kaya di dalam mobil mewahnya dengan penuh rasa iri. Ia berpikir betapa bahagia dirinya jika menjadi pria kaya itu. Sementara itu dari balik kaca jendela si orang kaya melihatnya terlelap walaupun hanya di emperan toko. Betapa frustasinya, semua hartanya itu tak sanggup memberinya kemewahan untuk mudah tidur karena begitu banyak beban dalam pikirannya.
***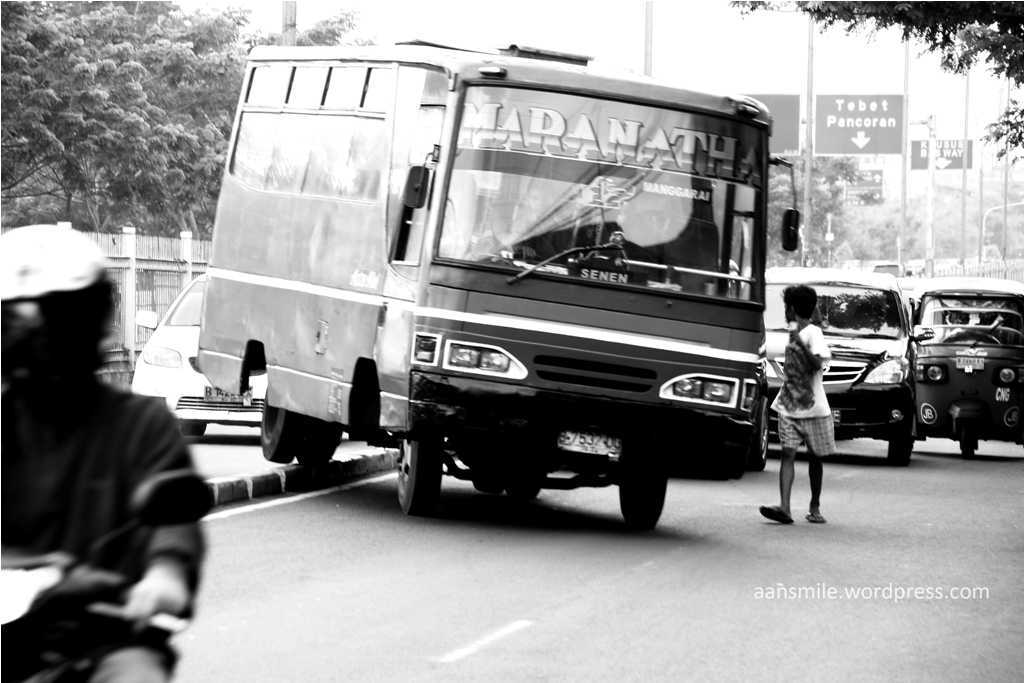 A Mirror
Cermin
The moment took place in Pasar Rumput, Jakarta. It reminds me of Cok Goh Tong who once said it is very easy to judge the quality of a nation just by looking at its streets. The better the traffic, the higher quality. Many rules found on street and it is a place where all different interests met. Discipline by complying the rules and respecting the difference are very basic attitude in society. No disrespect, this simple picture already show in what level is our country.
Kejadian ini berlangsung di daerah Pasar Rumput, Jakarta. Foto ini mengingatkan saya pada Goh Cok Tong yang pernah berkata bahwa sangat mudah menilai kualitas suatu bangsa hanya dengan melihat jalanannya. Semakin disiplin dan teratur keadaan jalanan suatu bangsa, semakin tinggi pula kualitas bangsa tersebut. Karena jalanan adalah  tempat dimana begitu banyak aturan dan wadah pertemuan semua kepentingan yang berbeda. Disiplin menaati aturan dan sikap menghormati kepentingan yang berbeda adalah sikap dasar dalam bermasyarakat. Tanpa maksud merendahkan, tapi gambar sederhana ini cukup menunjukkan seperti apa kualitas bangsa kita.
***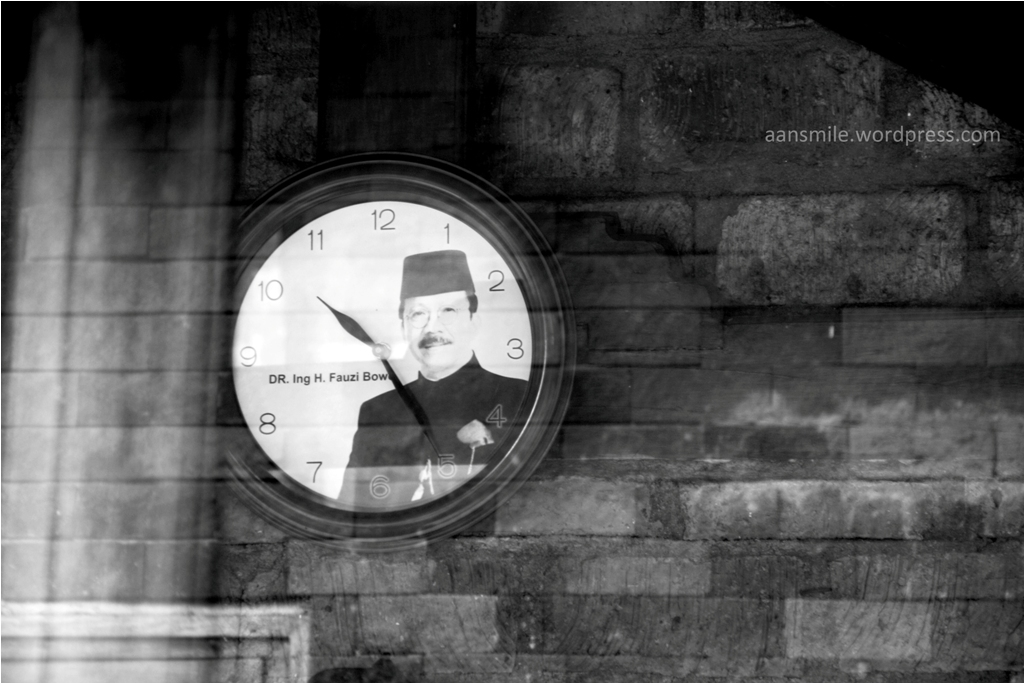 Time Is Running Out
Waktu Hampir Habis
Nothing special with this pic. Only in 2011 was the last chance for Mr. Foke to prove his quality as a governor of the capital. Next year Jakarta will elect their next leader. Perhaps this photo is saying, your time is running out, Foke.
Tak ada yang istimewa dengan foto ini. Hanya saja tahun 2011 adalah kesempatan terakhir bagi Bang Foke membuktikan kualitasnya sebagai gubernur ibukota. Tahun depan Jakarta akan memilih pemimpin berikutnya. Mungkin foto ini mengatakan, waktumu hampir habis, Foke.
***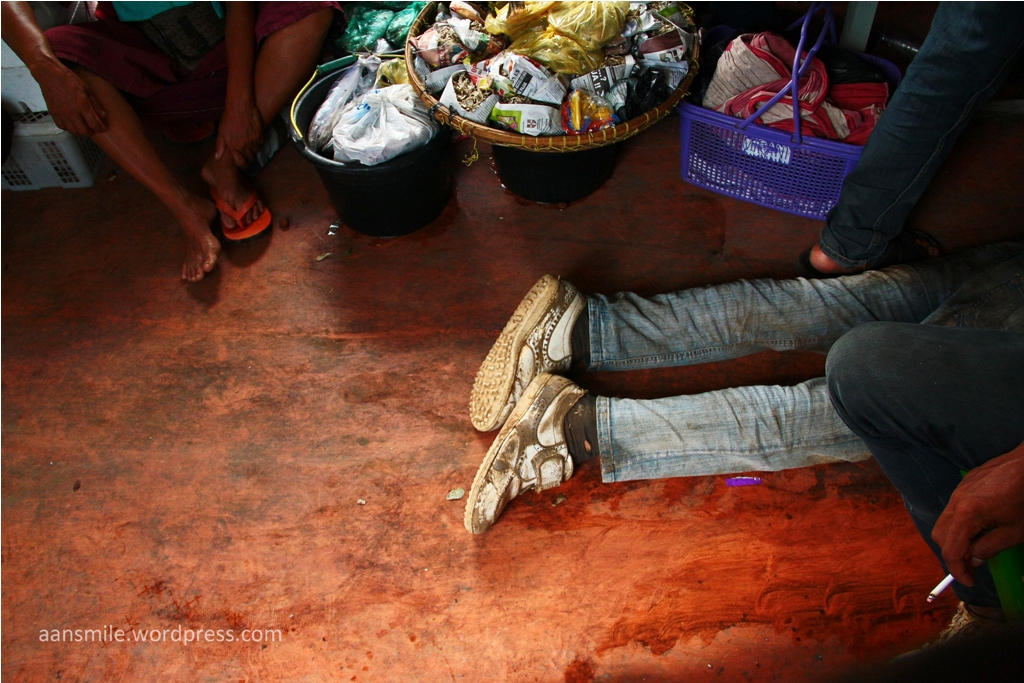 Redefining Helping Others
Mendefinisikan Ulang Tangan di Atas
On Merak Jaya express which more like a market on the train, a beggar guy did his job with dragged body on the floor. His voice was heavy and hoarse, so heartbreaking. People must thought this man was a disable, felt pity and gave him money. Somehow I stalked him to the end of of the car. Suddenly he stood up and sat down while counting money. He chatted with a mate and his voice back to 'normal'. What a liar!
The year 2011 was the last year I gave money to street beggars. What I saw in Merak Jaya and other incident has change my mind of helping others. Especially after I met a friend worked in a social NGO. He revealed that many social organization is trying to take care of the beggars, especially the children and teenagers. Instead given the 'fish', they're given a 'hook', so they can make a living with proper. But they often escape away back to the streets because it can give them cash easily. They can earn money in quite fantastic amount, even for a active-skilled worker. Beggar has become a profession.
My friend advised me to no longer give money to beggars. It is better to buy from street sellers even we do not need the goods. Buying from them means helping them to not make a living in improper way and respecting their efforts to survive as well.
Di kereta Merak Jaya yang sudah mirip pasar di atas kereta, seorang pria mengemis dengan cara tengkurap di lantai kereta dan menyeret badannya. Suaranya terdengar parau, menyayat hati. Sungguh pemandangan yang sangat mengundang iba, bagi yang tidak jeli. Benar saja. Ketika saya mengikutinya sampai ke ujung gerbong paling belakang, si pengemis itu tiba-tiba berdiri lalu duduk bersila sambil menghitung uang. Suaranya juga kembali 'normal' ketika mengobrol dengan rekan seprofesi. Dasar penipu!
Tahun 2011 adalah tahun terakhir saya memberikan uang pada pengemis. Kejadian diatas dan beberapa kejadian lain membuat saya berpikir ulang tentang definisi membantu sesama. Apalagi setelah saya bertemu seorang kawan yang bekerja di LSM penanggulangan kemiskinan. Ia membeberkan cerita bahwa sesungguhnya tak sedikit lembaga sosial yang mencoba mengurus para pengemis, terutama yang masih anak-anak dan remaja. Alih-alih diberi 'ikan', disana mereka diberi 'kail' agar lebih bermartabat. Namun mereka sering kabur kembali ke jalanan karena mereka dapat dengan mudah mendapatkan uang disana. Jumlah yang didapat tak jarang cukup fantastis, bahkan melebihi mereka yang benar-benar bekerja dengan ketrampilan aktif. Pengemis telah menjadi sebuah profesi.
Sang kawan menasehati saya agar tak lagi memberi uang pada pengemis. Lebih baik membeli dari pedagang kecil yang mungkin barangnya tak dibutuhkan. Dengan membeli dari mereka artinya kita telah membantu mereka terhindar dari mencari nafkah dengan cara yang tidak baik sekaligus bentuk penghargaan atas usaha mereka dalam bertahan hidup.
***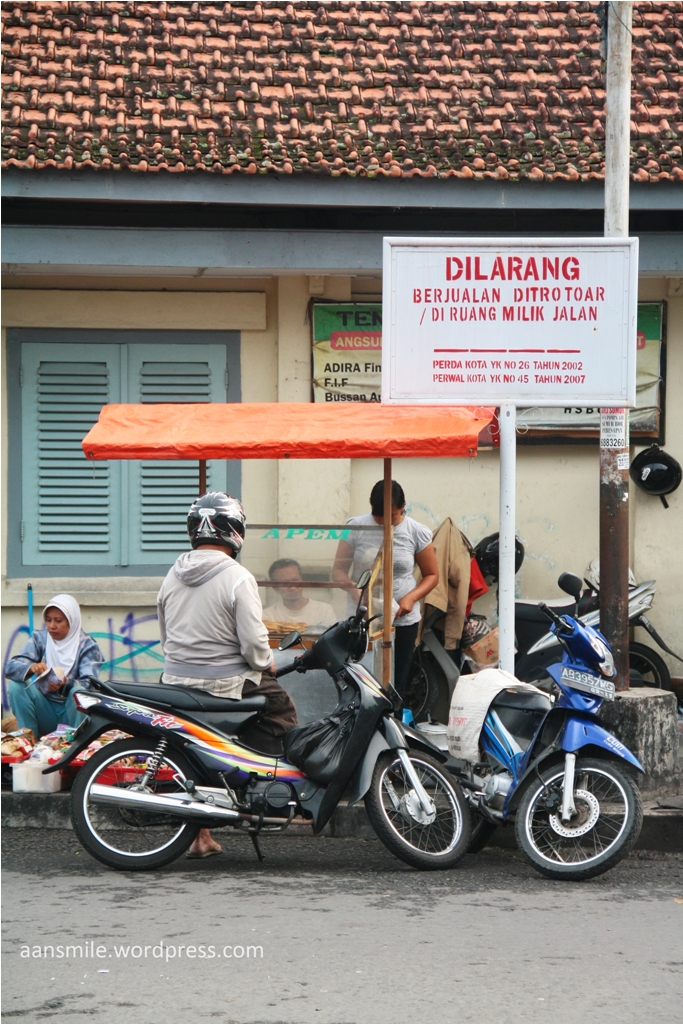 Rules Are Made To Be Broken
Peraturan Dibuat Untuk Dilanggar
Located in traditional market of Kotagede. There was a trading ban signs on the roadside. You know what does it mean.
Berlokasi di Pasar Kotagede, Yogyakarta. Anda tahu apa maksudnya.
***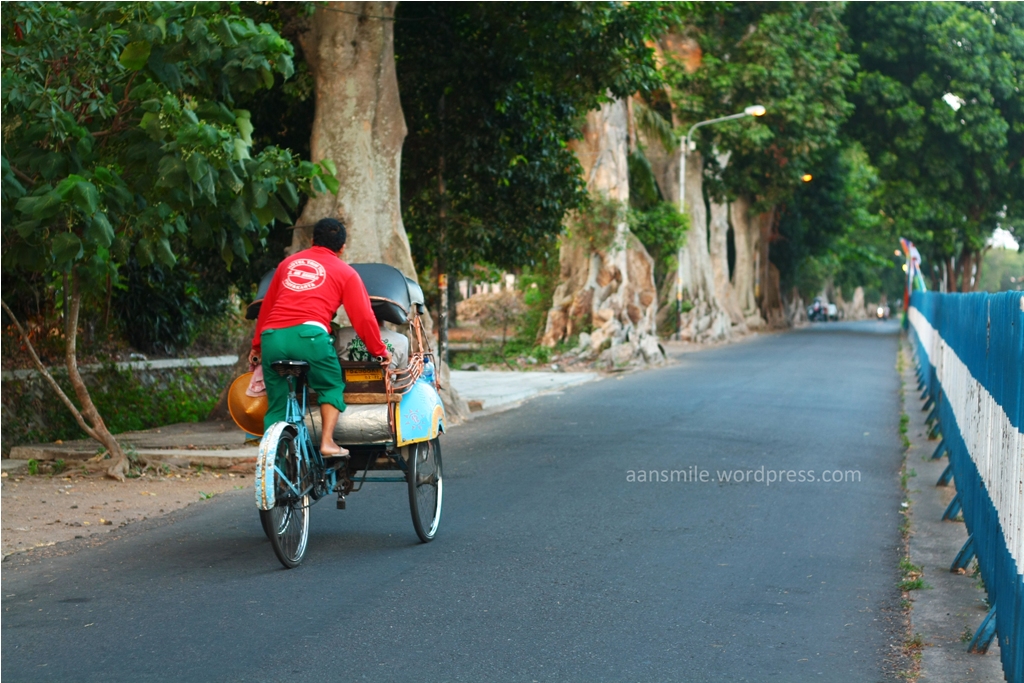 It Serves Me Well
Penawar Rindu
One more, nothing special. When I miss my home, this photo serves me well. Yes, its my front yard.
Satu lagi foto yang sebenarnya tidak ada yang istimewa. Inilah foto yang menjadi penawar rasa rindu akan rumah. Ya, seperti inilah penampakan di depan rumah saya.