Dieng name derived from the Sanskrit "Dihyang", means land of the gods. The 2000 ASL plateau, mostly situated in Wonosobo district, is one of the major attractions in Central Java. It was once formed from volcanic eruptions. No wonder you can find the volcanic activity even in mild scale. Besides its beautiful panorama, Dieng become main tourists destination as it offers quite a lot of tourist spot. Four of them are the most visited spot as they close to one another and not far from center of the crowd, so that can be reached in just one day around.
The first spot is  Bukit Sikunir (Sikunir Hill) to watch the sunrise. The hill is located about 7 km from center of the crowd and can be taken for half an hour by motor or car and another thirty minutes of walking There you can enjoy the sun rises behind the backs of Mount Sindoro and Merbabu clearly. On the way down you may also enjoying the beauty of Telaga Cebongan (Lake Cebongan) that lies just below the Sikunir.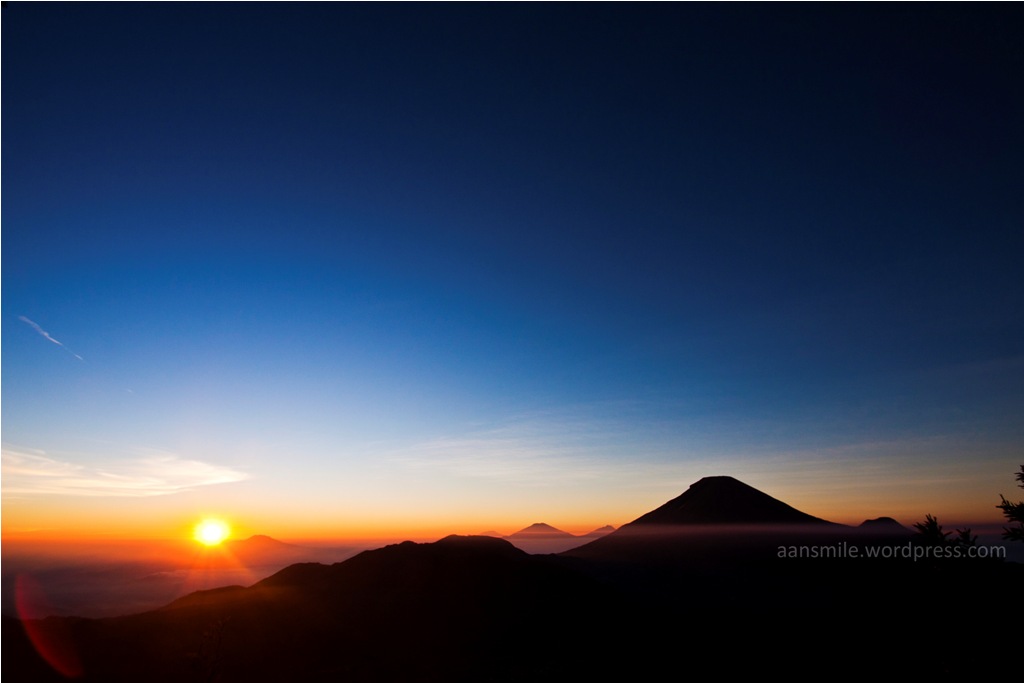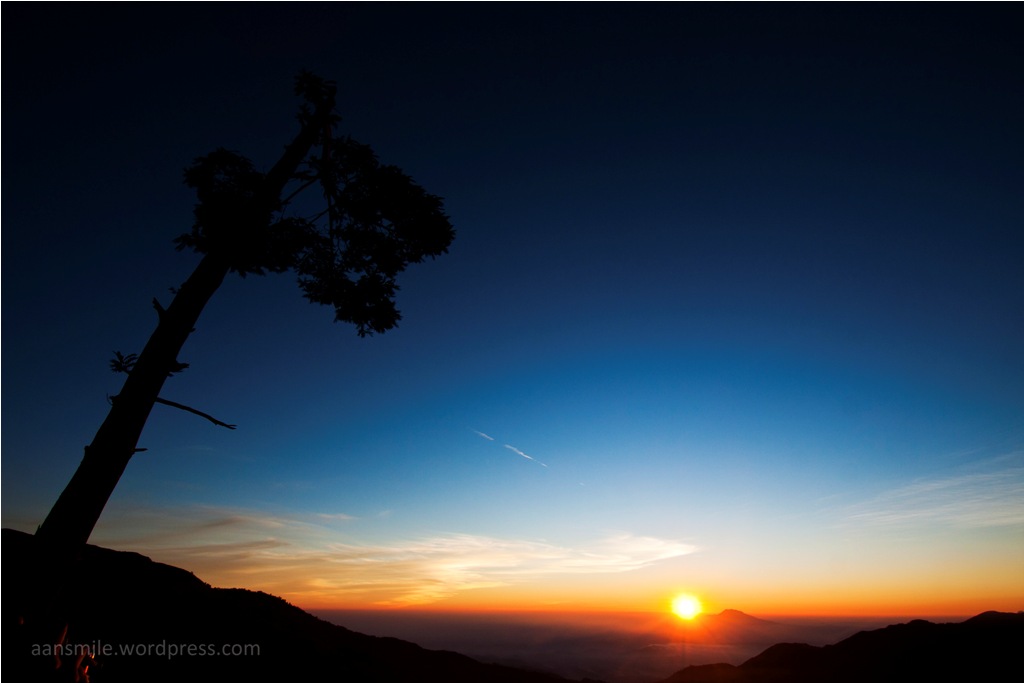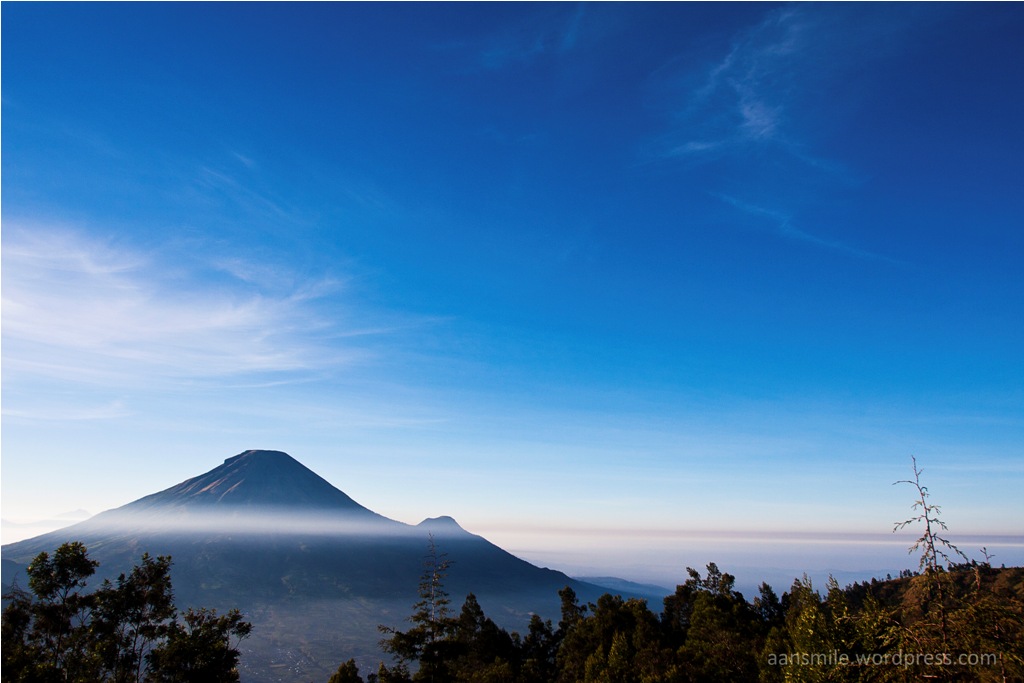 Telaga Warna, or Lake Color the most popular objects in Dieng, is a lake where the water can change it's color due to a chemical reaction between the algae and the sulfur contained in the lake. There is a good place to enjoy the Telaga Warna which can be reach about a half hour walk away from the lake. The place called Bukit Sikendil or Sikendil Hill. On top of the hill, an outstanding view outspread, Telaga Warna coupled next to Telaga Pengilon. Here you can also enjoy the 360 degrees view of Dieng plateau.
Next is heading to the temple area, consist of four temples, Arjuna, Gatotkaca, Dwarawati dan Bima The temples was built between 8th and 9th century during the Kingdom of Majapahit as depiction and worship of the figures in Hindu Syiwa. The temples were first discovered in 1814 by the British on submerged condition. Finally the restoration carried out in 1864 by the Dutch colonial government.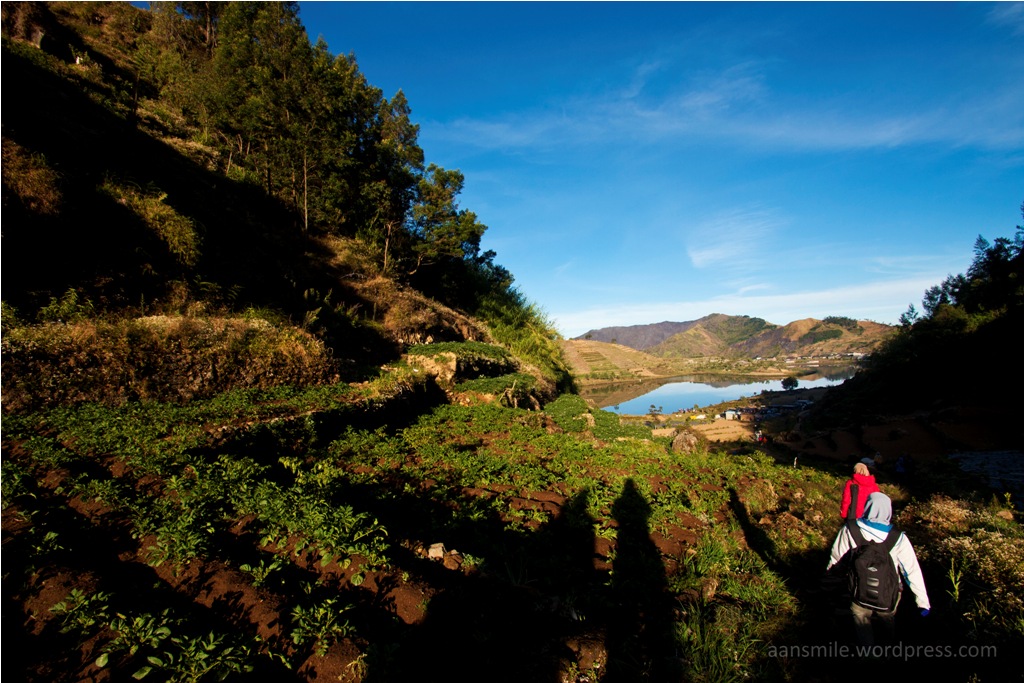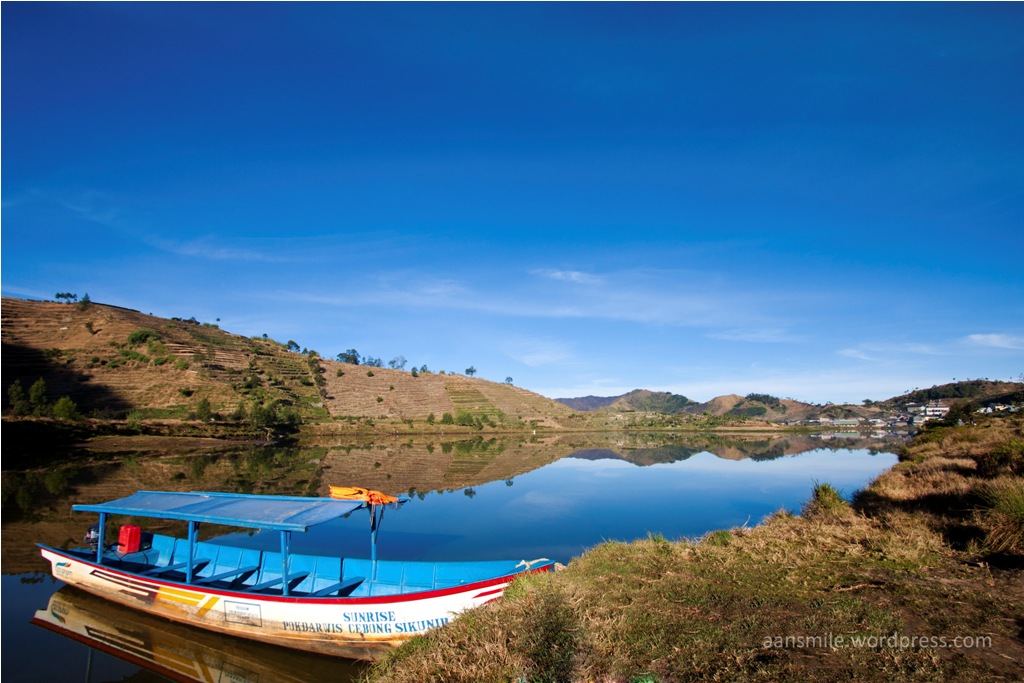 Finally, enjoying the Kawah Sikidang (Sikidang crater). You can find volcanic activity due to the heat of boiling water caused by Earth's magma. Need to careful since the smell of sulfur can be so pungent. Besides these attractive spots, you can also enjoy the Dieng's special culinary such as  strong drinks called purwaceng, carica syrups, and mie ongklok (ongklok noodles).
There are a few things to note before you go to Dieng. Make sure to come at dry season if you do not want to disturbed by overcast and even rainy. Take a thick jacket, hats, gloves and socks as body warmers since the temperature can be very cold especially at night. Also make sure you wear mountain footwear and masker for comforty and safety during your activity.
The article has been published in Sriwijaya in-flight magazine, September 2015 edition.
***
Nama Dieng berasal dari bahasa Sansekerta "Dihyang", yang diartikan tanah para dewa. Dataran tinggi berketinggian 2000 mdpl yang sebagian besar menempati Kabupaten Wonosobo ini adalah salah satu obyek wisata utama di Jawa Tengah. Tempat ini dulunya terbentuk dari letusan gunung api. Tidak heran Anda masih bisa menemukan aktifitas vulkanis meskipun dalam skala ringan. Selain karena panorama yang indah, Dieng menjadi sasaran utama wisatawan juga karena menawarkan cukup banyak obyek wisata. Dari sekian banyak spot, ada empat spot yang paling ramai dikunjungi karena saling berdekatan satu sama lain dan juga dekat dengan pusat keramaian, sehingga keempatnya bisa Anda datangi hanya dalam satu hari.
Obyek pertama yaitu menikmati matahari terbit di bukit Sikunir. Bukit ini terletak sekitar 7 km dari pusat keramaian dan dapat ditempuh selama setengah jam dengan motor atau mobil dan berlanjut dengan berjalan kaki selama kira-kira tiga puluh menit. Disitu Anda dapat menikmati matahari merekah dibalik punggung Gunung Sindoro dan Merbabu dengan jelas. Selanjutnya tidak ada salahnya Anda sejenak menikmati pesona Telaga Cebongan yang terletak tepat di bawah bukit Sikunir ketika perjalanan turun.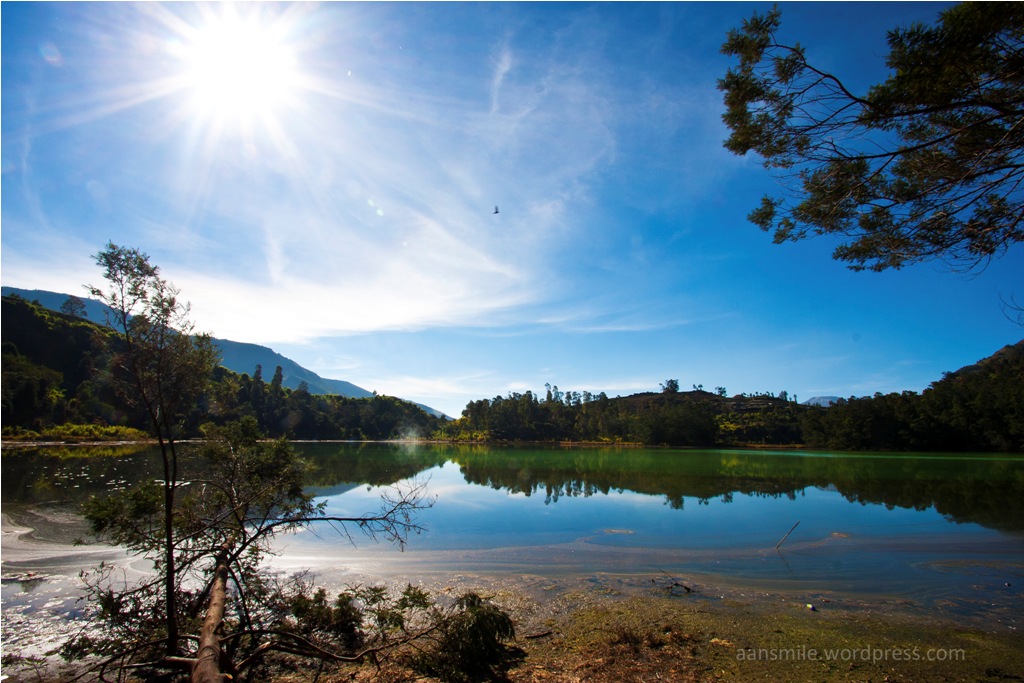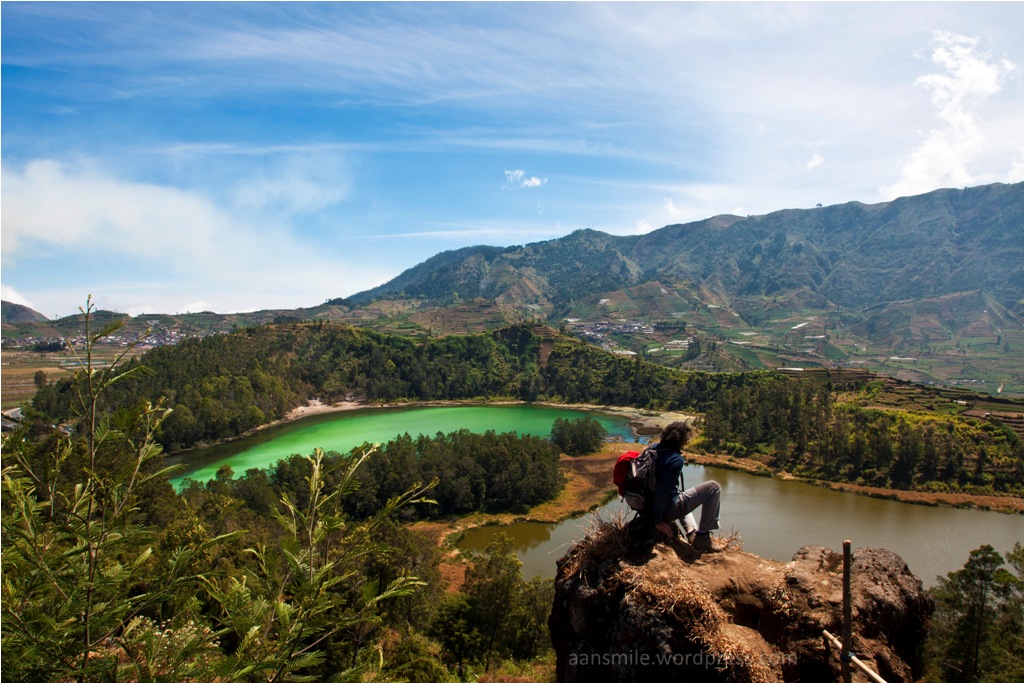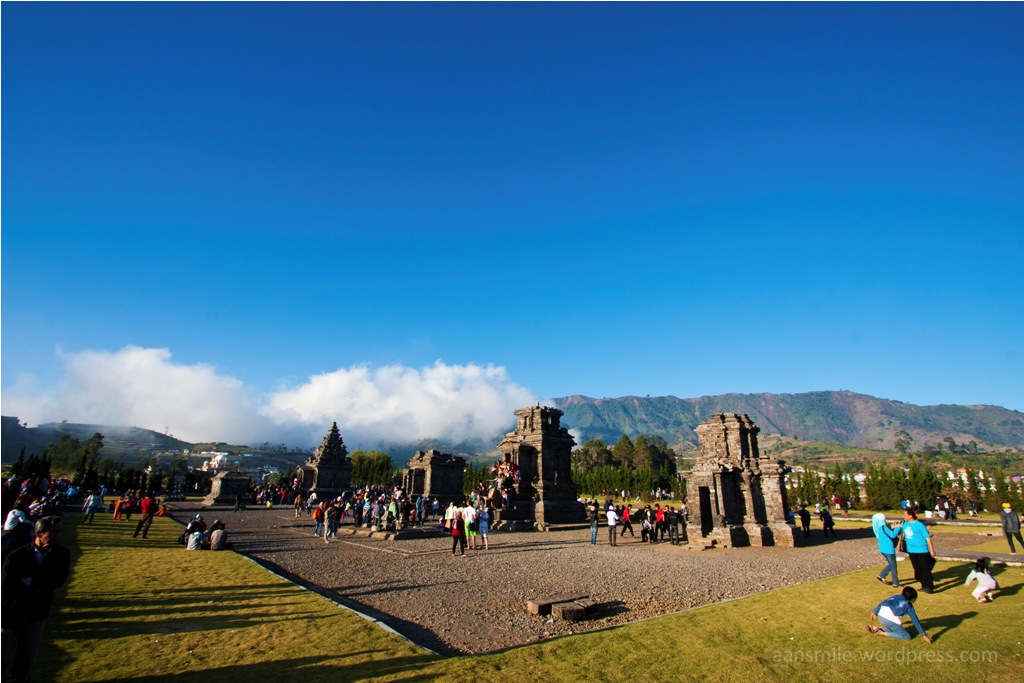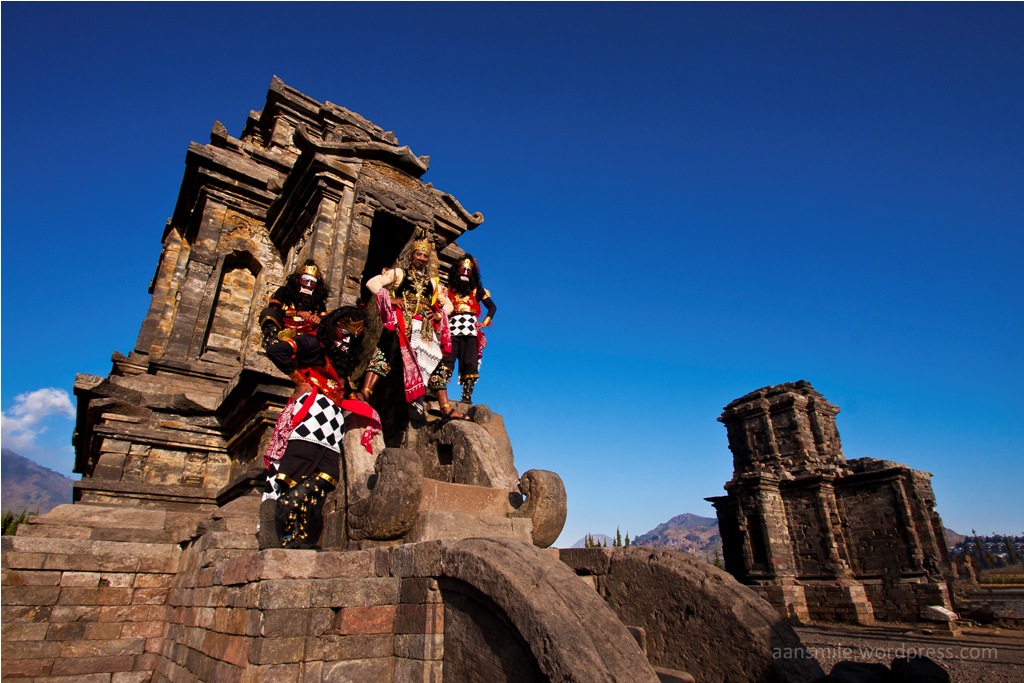 Telaga Warna, obyek paling populer di Dieng adalah sebuah danau yang airnya dapat berubah warna akibat reaksi kimia antara alga dan belerang yang terkandung dalam danau tersebut. Ada satu tempat yang sangat pas untuk menikmati indahnya Telaga Warna, dan dapat dijangkau kira-kira setengah jam berjalan kaki. Tempat ini biasa disebut Bukit Sikendil. Diatas bukit tersebut, tersaji pemandangan luar biasa Telaga Warna bersanding dengan Telaga Pengilon dari ketinggian. Selain itu hamparan lanskap Dieng secara keseluruhan dapat Anda nikmati.
Selanjutnya menuju kompleks candi yang terdiri dari empat buah candi, Arjuna, Gatotkaca, Dwarawati dan Bima. Merupakan kompleks candi yang dibangun antara abad ke 8 dan 9 pada masa kerajaan Majapahit sebagai wujud pemujaan terhadap tokoh-tokoh dalam agama Hindu aliran Syiwa. Candi-candi ini pertama kali ditemukan pada tahun 1814 oleh orang Inggris dalam keadaan terendam air. Restorasi baru dilakukan pada tahun 1864 oleh pemerintah kolonial Hindia Belanda.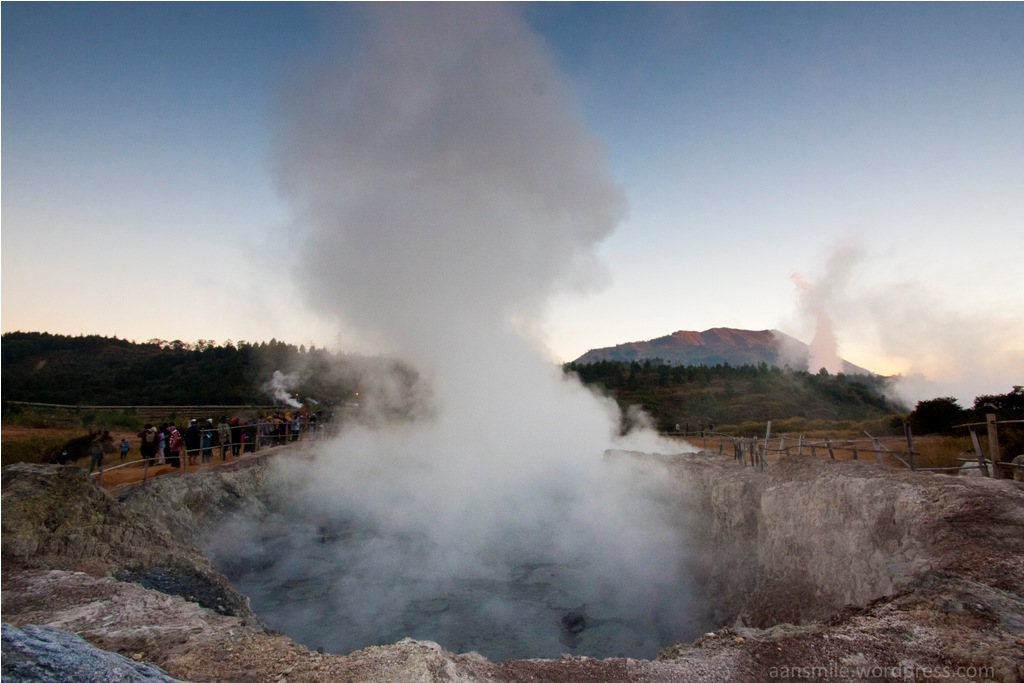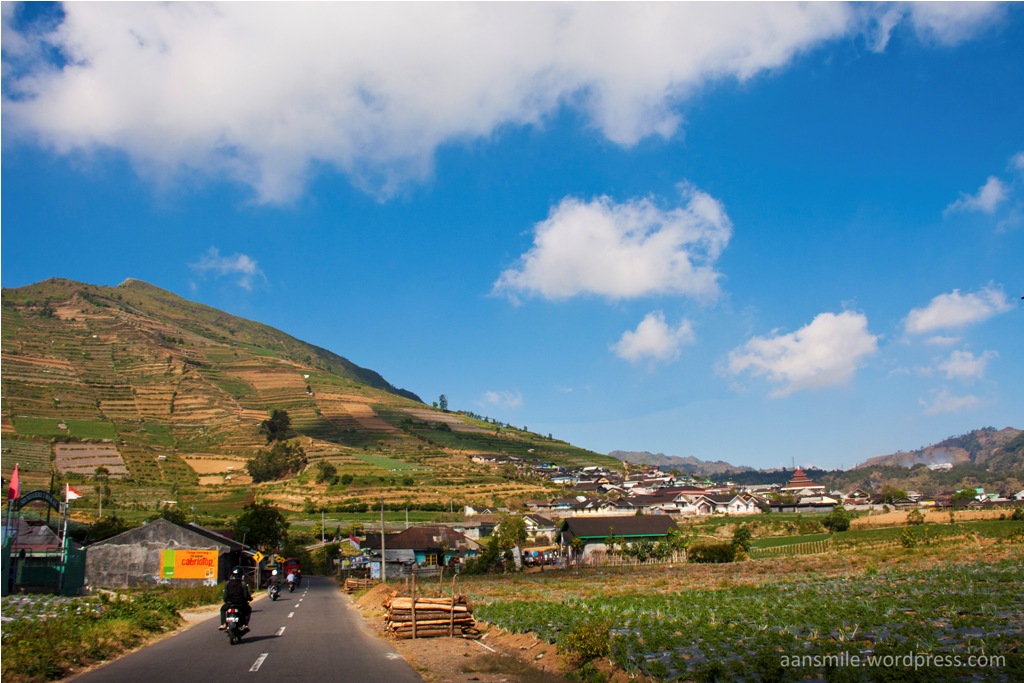 Terakhir Anda bisa menikmati kawah Sikidang. Anda dapat menjumpai aktifitas vulkanis berupa air mendidih akibat panas magma dalam bumi.  Berhati-hatilah karena bau belerang cukup menyengat. Selain obyek-obyek wisata tersebut, Anda juga bisa menikmati wisata kuliner khas Dieng yaitu minuman kuat purwaceng, sirup carica, dan mie ongklok.
Sebelum berkunjung ke Dieng, ada beberapa hal yang perlu diperhatikan. Pastikan Anda datang di musim kemarau jika tidak ingin terganggu dengan mendung bahkan hujan. Bawalah penghangat badan seperti jaket tebal, penutup kepala, kaos tangan dan kaos kaki. Hawa Dieng yang dingin bisa sangat menusuk terutama di malam hari. Pastikan juga Anda memakai sandal/sepatu gunung dan penutup hidung demi kenyamanan dan keamanan beraktifitas disana.
Artikel ini telah dipublikasikan di majalah Sriwijaya in-flight magz, edisi September 2015.